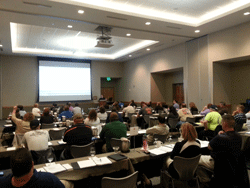 If you haven't signed up yet for the 2016 Ideal Fall Training Seminar, here's 5 reasons why you should consider attending:
#1 – You will learn something new about Ideal
Whether you're a new customer, a new employee, or a long-time veteran, you will come away from this seminar with new knowledge on the system. Every year attendees are amazed at what they learned about the system and are excited to bring their new found knowledge back to the dealership.
"I've attended several seminars already and I plan on attending every year from here on out. It is important to attend because there is so much to the software that you either forget, or you may not even know about. I've adapted to using the software at pretty good rate, but I know that we are not using it to its full potential. I do know now, however, that we are on the right track."
Jerod Ames – The Family Center Farm & Home (multi-location)
#2 – You'll gain best practice knowledge from dealership experts
We've been fortunate the last several years to have Dealership Expert Bob Clements present at the Ideal Seminar. Bob brings a wealth of dealership experience into his discussions and attendees rave about how valuable his presentations are. Bob's best practices combined with Ideal Lead Trainer Dave Baumgarten's product knowledge provides you with over 50 years of real-world dealership experience and expert advice.
"Bob Clements presented with lots of energy and got everyone involved. Setting up some of his processes with be the most important starting out and it will trickle down from there." 
Roger Vogler – MAG Small Engine in Boise, ID
"Dave is just awesome! The amount of knowledge he has and the way he presents it is first class."
Jeff Shoemaker – Schultz Power Equipment in Beloit, WI 
#3 – You'll have an exclusive preview as to what's on the horizon for Ideal product development
Our product development team will be on-hand to discuss the Ideal roadmap and where the product is headed. Their presentation allows you to see what plans are on the horizon, before any other customers, and provide feedback directly to the development team.
"I just love meeting the employees and knowing the future plans and direction of the company. It gives us positive feelings that we have made the right choice in Ideal."
Tanya Kistner – Eau Claire Lawn & Garden in Eau Claire, WI
#4 – You will have the opportunity to meet most of the Ideal employees face-to-face
One of the things attendees like most about attending the seminar is the fact that they get to match Ideal employee's voices to their faces. Since the seminar takes place at our home base of Cedar Rapids, IA, we make it a point to have everyone who is in town attend the seminar in some fashion, whether it's to be on hand answering questions, or to chat with you at lunch.
"Every Ideal user should attend this seminar. I learned a lot and I loved it. It was great to interact with other Ideal customers, see Bob Clements, stay at The Hotel at Kirkwood, and meet the Ideal team members."
Larry DeLong – Triple D Equipment, Inc. in DeLand, FL
#5 – You will discover new tips and tricks from other dealers who use the system
Attendees also enjoy the fact they can network with Ideal users from all over North America and exchange best practices. We provide several opportunities for you to interact with other attendees.
"The best thing is that the seminar gives me an opportunity to know that we're not alone as business owners who use Ideal on a daily basis. When we get to know other dealers on a personal and business level, it allows us to interact and maybe change some ways of doing business that we've never thought of doing before." 
Lori Sobetski – Sobetski Enterprises in Beausejour, MB
Seats are available, but filling up fast!
Click here to register before August 19th and take advantage of our early bird pricing >
We look forward to seeing you there!
Erin Scott-Burnham
Marketing Coordinator
escott-burnham@constellationdealer.com