Guide: How to Evaluate Departments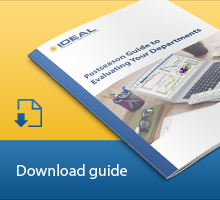 Once your busy season winds down and you find a little time to breathe, it's time to start reviewing several key metrics and processes in your dealership.
​With the help of dealership expert Bob Clements, we've come up with an effective plan to evaluate your departments during your postseason.
The guide will:
Help you evaluate your dealership performance effectively.
Give you a list of metrics to review in Service, Parts and Sales at the end of a busy season.
Provide you with metrics to evaluate your dealership on an ongoing basis.
Get the Guide
Provide your contact information in the form below to have this guide emailed to you so you can download and review it at your leisure: