Guide: Measuring the Right Metrics in Your Service Department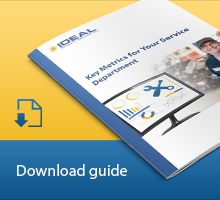 Everything in business revolves around numbers and each department in your business is unique with what numbers you measure.
One department dealers tend to struggle with getting the most profitability out of is their service department. Dealers tend to look at profitability in service as the measurement of dollars being sold which, in reality, isn't the case.
This guide will show you how to:
Determine your Recovery Rate.
Measure and boost your Tech Efficiency.
Increase your customer satisfaction by accurately measuring your Average Completion Time.
Download the guide:
Provide your contact information in the form below to have this guide emailed to you so you can download and review it at your leisure: