Guide: 10 Tips for Staying Busy During Off-Season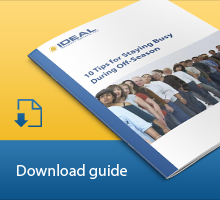 When the busy season winds down, it's time to start thinking about how to stay occupied and keep your business flowing during your slow season.
Download this free eBook to find out how you can improve your business and cash flow during the slow season.
Download the guide:
Provide your contact information in the form below to have this guide emailed to you so you can download and review it at your leisure.