Interview with Lakes Area Powersports on Offering Top-Notch Customer Service Through Teamwork and Modern Technology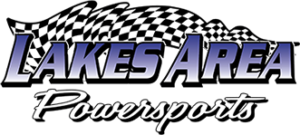 Creating an outstanding customer experience is not easy in a seasonal business with thousands of inventory items. Doug and Mary Jo Wolter of Lakes Area Powersports grew a successful business around their passion for powersports in the beautiful area where they were born and raised – Walker, Minnesota.
Sports enthusiasts and cabin-goers alike know the team at Lakes Area Powersports to be knowledgeable, passionate, fun and tech-savvy. They've attained the Platinum level dealer certification for all BRP products for two quarters in a row by exceeding all the elements and competencies required for operational standards and excellence, customer focus, and brand representation.
Let us take you behind the scenes in our interview with Mary Jo Wolter to find out what makes them so beloved.

How did you get into the business?
Mary Jo: "My husband, Doug, and I are originally from Walker – born and raised. We went to school here, have family here, and have had a lake place here for over 20 years. We have always loved it, though both of our careers took us elsewhere. We spent the last 30 years wondering, 'How can we get back to Walker and what can we do?'
In 2014, we approached the owners of a dealership called Walker Power Equipment and asked if they were interested in selling it, and they said 'yes.' In June of 2015, we took over the business and changed the name to Lakes Area Powersports. It was already a Polaris and Ski-Doo dealer, and we brought in the Sea-Doo and Can-Am lines. We also took on Toro, expanded the STIHL offerings, and then added Klim riding gear along with the FLOE docks, lifts and trailers.
We have a strong background in the powersports industry, having worked for a major competitor. Doug has a degree in industrial technology and over 20 years of powersports manufacturing experience. I have a degree in Business Administration and 11 years of powersports manufacturing support experience in both Accounting and IT."

What would you say separates your dealership from others in your area?
Mary Jo: "Our dealership has established a mission statement in which we truly believe. It's to provide exceptional products through exceptional service by exceeding the customer's expectations. In the short time that we've owned the dealership, we've implemented several changes. We've set goals for growth and have been working hard to achieve them.
One of the things we addressed when we created our business plan was to identify our competitors' strengths and weaknesses. By doing this, we could look at the ways to set ourselves apart from the pack."

How do you and Doug split your responsibilities as owners?
Mary Jo: "I take care of advertising, social media and administrative functions, whereas Doug handles most of the front-line sales. We have a fantastic staff here and everybody wears multiple hats."

What would you say is the highlight of the work that you do?
Mary Jo: "I would say, at the top of the list is our staff. We have a great dealership team and we couldn't do what we do without them. Everybody plays an integral part in the whole customer service experience, and it's the dedication of our staff that makes our customers' dealership experience the best it can be."

Why did you implement Ideal?
Mary Jo: "The previous dealership management system was inadequate for tracking the things we wanted in our dealership. We needed a system with strong reporting capabilities as well as CRM, so that we could track inventory, sales and efficiencies. We also wanted the general ledger functionality since the previous system did not have that."

What were some of the highlights of the implementation process of Ideal?
Mary Jo: "Our trainer was the highlight. He was extremely knowledgeable, helpful, and a strong advocate for Ideal. In fact, the entire Ideal team is dynamite."

How does the previous system compare to Ideal?
Mary Jo: "When we took over, the prior system was essentially being used for sales orders, while work orders were being done by hand. Inventory was not really in the system either, so you could never depend on the accuracy of what was in there. It was difficult, so we knew we had to do something; we looked at Ideal and really didn't look at anything else."

What part of Ideal has helped your dealership the most?
Mary Jo: "The fact that it is an integrated system. You need to have all the pieces of the puzzle. I know there are some dealerships that don't implement the financial part, but in my opinion, that's the key component. Integration is the most important part. You want to have reporting that's up-to-the-minute."

How does your team use the Ideal Mobile App?
Mary Jo: "Our techs have the mobile app on their tablets and have just started using the 'clock' feature to log their time on each job. The Parts and Service Manager is actively using the scheduler, and we constantly discover new functionalities to enhance the business. It's easy for them.
Now, we can see how much they're being charged for each job and how much time each job is taking. It's been beneficial for them and for us to track."

Where do you see your business in the future, and what role do you think Ideal will play in that?
Mary Jo: "We predict continued growth as we keep looking for ways to increase revenue and better serve our customers. Using the Ideal system is going to help get us there. Having accurate inventory and financials, as well as the guys using mobile tablets and tracking efficiencies – that just makes us a better business."

In what way has Ideal changed your life as an owner?
Mary Jo: "I think continually learning and understanding the product through training whenever it's offered is critical. Ideal does a really great job of providing that – whether it's through the online news, tips, webinars and Resource Center or events like the training seminar that our office manager, Lori, and I attended in Iowa. The information is always very thorough, and the staff is very knowledgeable."