Nord Outdoor Power Equipment on Customer-Product Relationships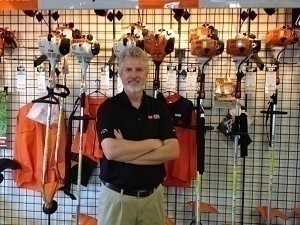 When Doug Nord, owner of Nord Outdoor Power Equipment in Bloomington, IL, purchased the business in 2004, he set a standard of great customer service and staying on top of innovative products that would greatly benefit his customers.
What are some of the things you've done to make your business successful?
Doug: "One of the things we've really tried to do is focus on our customers. We try to look for new and innovative things that are going to save them time, money, and may be safer to use. We're constantly looking for that type of product to bring to our store and make available to our customers. We like to show them how this product can impact either their work environment, or their lives, and have those available to them. Also, we try to have a lot of knowledge and take the time to review with the customer what their needs are. We help fit them into the product that is going to do the best job for them and give them the ability to make the best choices."
How do you attract new customers and maintain a base of return customers?
Doug: "The interesting thing about this business, compared to other businesses I've been in, is with other businesses you would sign a contract and you would have long-term contracts with businesses to provide services to them. In this business, you're basically signing that contract each time the customer walks through the door. So you have to meet or exceed their expectations each time. We try to do that through having the knowledge and the professionalism of our employees to work with them to provide the best solutions. That helps to bring in new customers through word-of-mouth. A lot of our new customers come in through old customers, or ones we've been working with. They say hey, these guys know what they're talking about and they do a great job. They don't try to sell me something just because they're trying to get rid of an item. They try to put me into the right piece of equipment and they answer all my questions. If they don't know a question, they go try and find out what the answer is and get back to me on it."
"The other way we're getting new customers is through advertising, whether it's co-op advertising with our manufacturers, or advertising we pay for on our own because we've got multiple manufacturers in it. We try to be out there in front of our customers. We drive awareness through radio advertising. We do some print advertising, and other things of that nature. However, one of the things I've really tried to drive over the last two years is our social media interaction. It's so expensive to do mailings, radio, and everything else that we need to have an economical way to communicate with our customers, whether there's a recall going on that everyone needs to be aware of, we have a special going on an item, or it's a new product we brought in that we want to make everyone aware of. So we try to do that primarily through Facebook and Twitter, and some other avenues. Social Media is an area where we've really tried to drive to connect with current customers and let others see what information we have to offer, or services and products, in a non-intrusive way. They can see it, come in and visit us, and become our customers."
Do you think the trend towards Social Media is going to continue?
Doug: "Oh absolutely. The tough part is a lot of companies I see are strictly trying to market to their customers through those avenues and you can't do that. People will turn you off if all they get is an ad. But, if you can communicate with them and provide information for them that is helpful and beneficial, then they're going to take and see that as something they're going to want to continue to get more of."
What do you consider to be the main strengths of your business compared to other retailers?
Doug: "It would probably be our commitment to our customers along with our product selection and knowledge. I think for the bigger picture for our customers coming in, we have an extensive product selection, so we really can be a one-stop shop for them to come in and see a broader range of products. They're probably going to see products that are innovative and that they're not going to find anywhere else. And, throughout that product line, we're going to be able to talk about the products, and what the features and benefits are for them in a knowledgeable way. And then we can back it up with parts and service that you won't see at the box stores."
How do you manage your inventory to keep the right items stocked?
Doug: "Well, a part of it is looking at your popular equipment historically. Let's say we have a model that hasn't been produced in 5 years, but it has generated parts. You've got to take a look and see historically what kind of parts you're moving on that unit. You may stock those, but you've also got to be looking forward. For instance, when we get a new model out, we'll try and take a look at what are going to be the fast moving parts on that model; blades, belts, plugs, filters, and those types of things and make sure we have those items in stock. There's nothing worse than when a customer comes in and they have a new unit, broke a belt, and you don't have a belt for them. The last thing they want to hear is that you're not stocking them yet."
"Ideal 's dealer management software has the features in it where we can take a look at a historical period and base our reorder quantities on that, which can be really good as those old models are coming down. In other words, I may have a model that I sold 20 coils for 2 years ago, but last year I only sold 3 coils. I can use Ideal to monitor or re-evaluate that for me and let me know that I shouldn't be stocking nearly as many of those because they're not moving."
What tools are you using to make sure your service department is efficient and profitable?
Doug: "Tools-wise, within Ideal we use the kits. We create kits to make it easier for our models. We also do flat-rate pricing. A lot of customers will say 'what's the price?' and a lot of dealers will say '$69 plus parts'. A lot of the time a customer just hears '$69' and then they come in and find out there was x amount of dollars in parts and they'll ask 'so how's come my bill is more?' and you have to say 'well parts weren't included'. We've gone to a pricing structure on a lot of units where the price includes the parts and everything. It's your full-service price. It's like a quick oil change place where the price includes the oil change, the filter, new oil, and that kind of stuff. The kits have helped efficiency-wise because you throw the kit on for the specific model and it automatically pulls the parts and just makes it a lot easier. The scheduling we use, but not nearly as much as I would like. But, we continue to work with Ideal's scheduling system to make it a more important part of our shop. But, it's not fully utilized at this point yet."
Consultants emphasize analyzing your financials on a daily, weekly, and monthly basis. How do you go about managing this aspect of your business?
Doug: "Obviously, there are very good tools within Ideal's OPE business software to be able to make that analysis. Currently, we use Quickbooks for our Payroll and we move those numbers over. Ideal has the ability to lay out some very good financials. I also think Ideal has come out with some nice new features, like the warranty reconciliation, that make it much easier to move and handle warranty reconciliations and get it moved to the right place. Often times there are situations with manufacturers where we'll receive a check and manufacturers where we'll receive credit on our account with our distributor for the warranty. So there's different ways those need to be moved around to be reflected correctly in the financial statements. I think Ideal continues to add the tools that make those things much easier for the dealer to handle."
"One package we're evaluating a little bit is the Finance and Insurance package, which looks like it could really add some benefit. That one we're not utilizing, but I think it's going to have some of the same benefits as the warranty does in that tying up transactions would be much easier and much quicker. Obviously, you can go in at any time and look at your financial statements within the system."
How has your experience been with Ideal's service and support?
Doug: "In our realm, we're here to take care of our customers and provide for their needs. If we have to spend a whole bunch of time on our internal system, on either trying to get information or deal with setup issues in the system, it takes away time we can spend with our customers. One of the things that works out well is your ability to jump into our system. Right now, I handle all of our computer issues, but there's times when I go on vacation and the ability for our guys to call you up and have you access the system and work to get it fixed takes a lot of issues off my back."
Is there anything you'd like to add?
Doug: "I know there are a lot of dealers out there, unfortunately, who are still running a manual system. I think in today's world with the number of parts that we have to deal with and the number of issues to deal with in a business, you really need to have a good under-lying software there to support your business, and we've been really pleased with the solution we have from you guys."