Dealership Performance Metrics You Should Be Tracking in 2022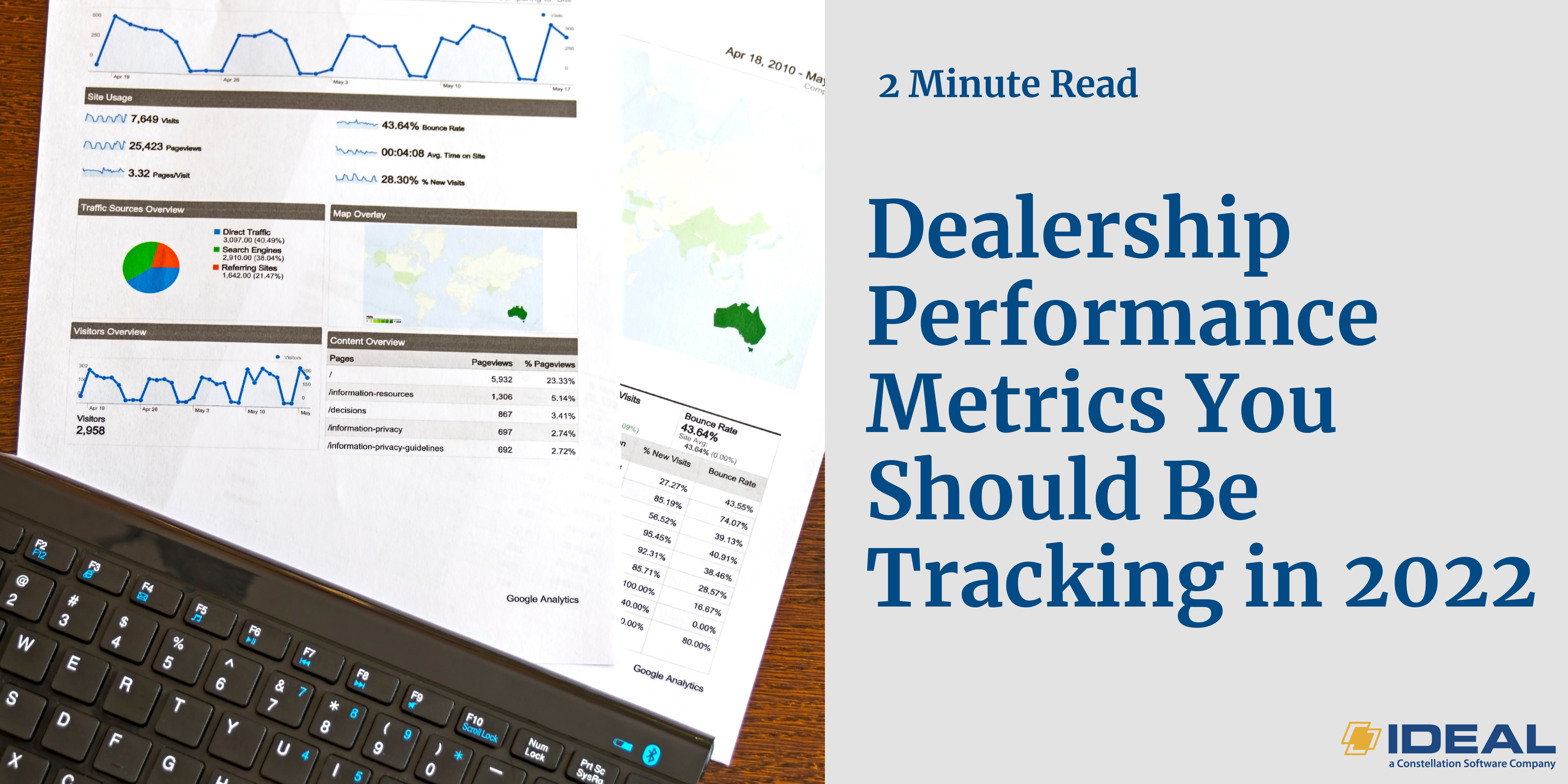 Dealership Performance Metrics You Should Be Tracking in 2022
Wondering which dealership performance metrics you should be tracking in 2022? In this blog, we will explore this topic in great detail with dealership experts who have over 20 years of experience.
Can you point at any given area of your dealership and tell how profitable it really is? If not, then you need to be better at tracking your profits – or risk losing thousands of dollars. In this blog, we will discuss why metrics are important, what metrics each department should be tracking, and how you can use this information to drive your dealership forward.
Numbers tell a story
Running a dealership is a lot like piloting a plane – there's lots of things to monitor, but in order to succeed you need to be focusing on the important things. While every process and item at your dealership has a number attached to it, these numbers mean nothing on their own. The key to understanding trends in your dealership is to compare these numbers against each other regularly so you know where your dealership is heading.
Consider this: you notice that your recovery rate for the year is 90%. That's great news, right?
Maybe! 
The only way to tell for sure is to compare it against prior years. Say at the same time last year, your year-to-date recovery rate was at 95%. That means that even though this year's rate is good, it's on a downward trend and you may need to take action to prevent it from declining further.
As outlined in the Planning for 2022 webinar, by leveraging data analytics at your dealership, you can uncover these trends, highlight growth opportunities and identify bottlenecks that you may not have been aware of.
So, how often should you be comparing these numbers? According to Bob Clements, you should be reviewing these numbers daily, weekly and monthly in order to understand what's happening at your dealership in a timely manner, and start acting on it right away. If you wait until the end of your season to make an adjustment, it could be too late.
To learn more about implementing dealership metrics, download our free guide.
What Metrics Should You Be Tracking?
Depending on the department, the metrics that you should be regularly tracking will change. That's why we've broken down a full list of ope dealership metrics to track specific to each department.
For Owners, it's very important to keep an eye on your top 10 customers. It's important to not only identify them, but make sure that you've spoken to them and that you have the right salesperson assigned to them. 
For Service Managers, monitoring a variety of metrics is important to making sure that you understand what's happening in the service department. 
For Sales Managers, it's very important to watch your customer acquisition cost in order to make sure that your marketing dollars are being spent in the right place. If the cost gets too high, you need to adjust your spending or adjust your strategy. 
For Parts Managers, a key metric to keep your eye on is the average transaction value. If you notice that it's tracking downwards, there may be an opportunity to re-train your employees on tactics for cross-selling and upselling in order to bring that parts sales value up. 
How to Track These Metrics Effectively
Now that you know what to track, you might be wondering how to track properly. According to Clements, the best way to implement an effective process is to invest in a DMS that can automate this reporting for you.
For example, in Ideal you can build customizable dashboards that will show you all the high-level information you need to know in one place. For a full tutorial of how you can build these dashboards in Ideal, click here to watch our webinar.
Interested in learning how Ideal can help you monitor your dealership? Click here for a demo of Ideal Reports.