Reputation Management: How to Get More Dealership Reviews to Stand Out Online

Now, more than ever, it's important for your dealership to stand out online.
That's why, in this first part of my Customer Experience series, I'm going to talk about standing out online—why it's important and some levers you can pull. I'm also going to talk about ways that you can take advantage of some tools that are available out there, and many of them free, to stand out.
Whether you have been managing your reputation for a while, or you're not even sure what is involved—there's going to be something for everyone in this guide.
Before diving in, a little bit about me. I am an Innovation Manager here with Ideal, c-Systems, and Charter. I work with dealers that use software from all three of these companies, and I help bring new apps and integrations to market.
Basically, I live and breathe talking with dealers. That's because I was an OPE tractor dealer for nearly 20 years, and I have a passion for helping dealers improve and grow.
Why do dealership reviews even matter?
So, first, I think it's important to talk about why reviews even matter.
I can tell you, having talked to many dealerships small business owners, they put up their hands and said, "I don't know about the whole online reviews thing. Do people even take those seriously? And it seems like the only people leaving reviews are the haters."
Well, and that can seem like it's the case sometimes, but I want to assure you dealership reviews do matter.
People want to shop at the go-to place. They want to shop where it's easy, where people are friendly, professional, and helpful. If customers don't know where to shop, they ask around.
These days, and especially over the last 12-plus months with the COVID-19 pandemic, there's been less sitting around the table at the gas station up the road and sipping coffee, and talking about local news and gossip. Or sitting together at ball games. These are the kinds of settings, where people are with their friends, family, and neighbors, are recommendations are made for the "go-to" places. Last year underscored how many people went to other places to get those referrals.
So, where do they go?
Google.
People Google and search, "lawnmowers for sale near me," or "Toro mowers for sale near me," or "Kubota tractors for sale near me," or "service," or "parts," or whatever it is ("near me" searches, by the way, continue to go through the roof).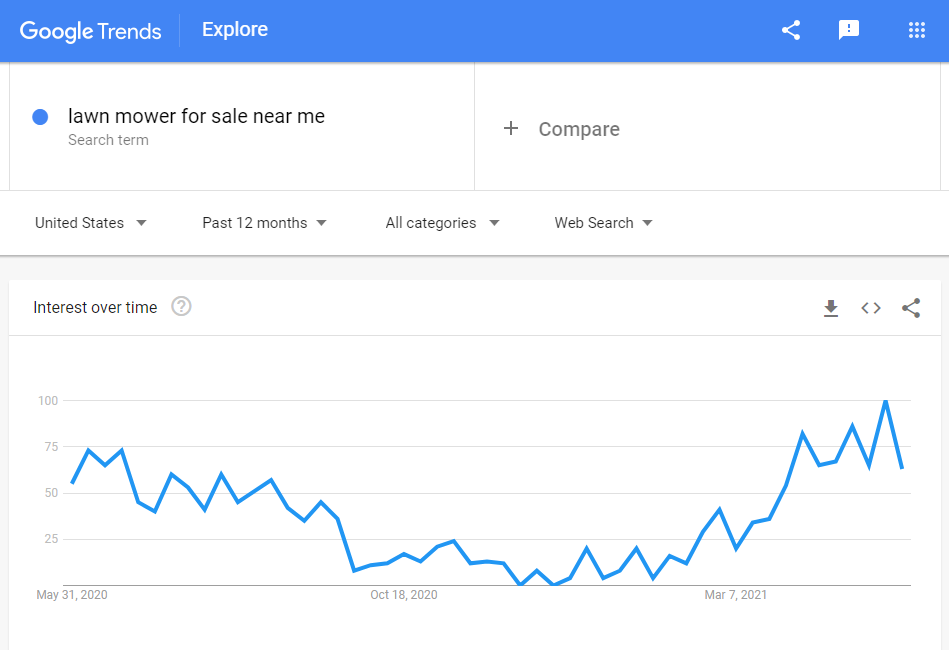 And what does Google do? It shows them options. Once they see their options, then they go, "Okay, well, with which of these should I do business with?"
So, when customers get to this point, how do we make sure they pick us?
We can't guarantee they're going to pick us every time, but there are levers we can pull to make sure that they're going to pick us most of the time.
Quantity of reviews matters
Most dealers you come across have around 10-20 reviews, while the local Home Depot or Lowe's have hundreds of reviews. Why? Sure, they've got higher revenue. But it's also because they've got campaigns to get those reviews.
If you want reviews, you've got to have a strategy to get them. When you have a strategy in place, it's absolutely possible to go up against these mass merchants, both in the quantity and quality of reviews.
When people search for "lawn mowers for sale near me", they're going to look at two things:
1. The rating
2. The quantity of reviews
Most dealers I see that may have 3 or 3.5 stars and 15 reviews total. But I guarantee you, they have tens of thousands of customers with whom they've done business over the years. For whatever reason, we just haven't heard from them. And so, we have an unrealistic picture of what it's like to do business at our shop, most of the time.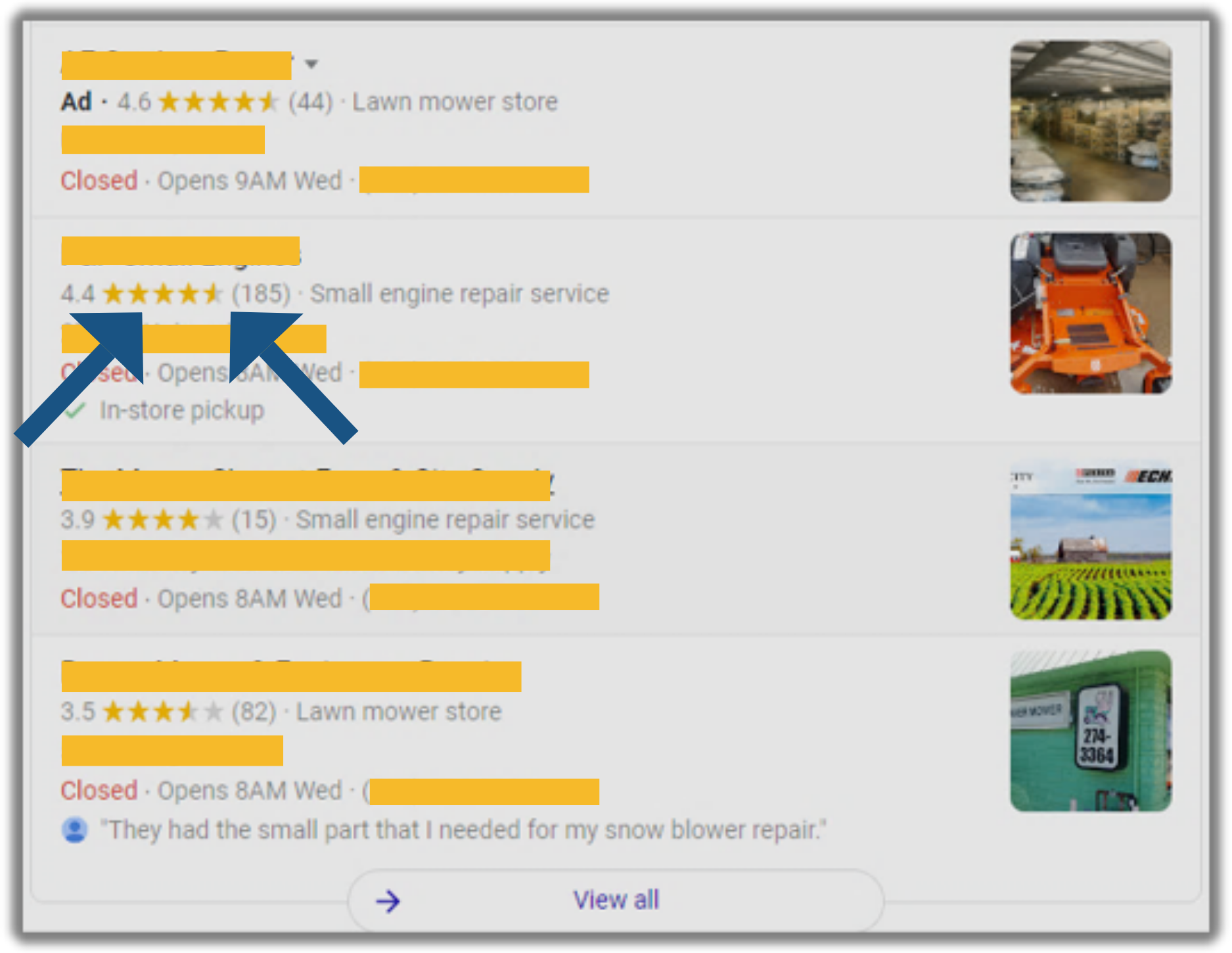 Customers are going to look at the rating as an indicator of which business to pick. If one dealership has a lot of 1-star reviews, their average rating is more like to be 3.5-stars then 4.4 or 4.6. And if you don't have a lot of reviews at all, a 1-star review can be devastating towards your average.
Typically, less than 5% of our customers are actually having a 1-star experience. It's just a couple here and there, most likely during the busy season when mistakes are more likely to happen.
So, we need to make sure an accurate picture is being put up on Google. We want to bury 1-star reviews, when we do get them, with good reviews. And plain and simple, we want to be the company with the best average and the highest quantity.
It really matters.
Which review sites matter?
When people search for "ABC Power Equipment Dealership reviews," they're going to see a number of different sites: Google, Facebook, Yelp, BBB, Angie's List, Home Adviser. There's a bunch of them. But very few people are going to go to all those sites. They're going to go to Google and they're going to look at the first two or three results.
Once people go in and start reading reviews on one of these sites, they're not going to go reading all the others. The only reason they would is if they click on one and think "Oh, there's only like two reviews here. Well, I wonder what the other ones say."
Typically, if there's 10, 20, 30 reviews, they're going to find the information they're looking for, and they're going to go, "Okay, this is the place," or, "This is not the place."
The two sites people are most likely to visit are Google and Facebook.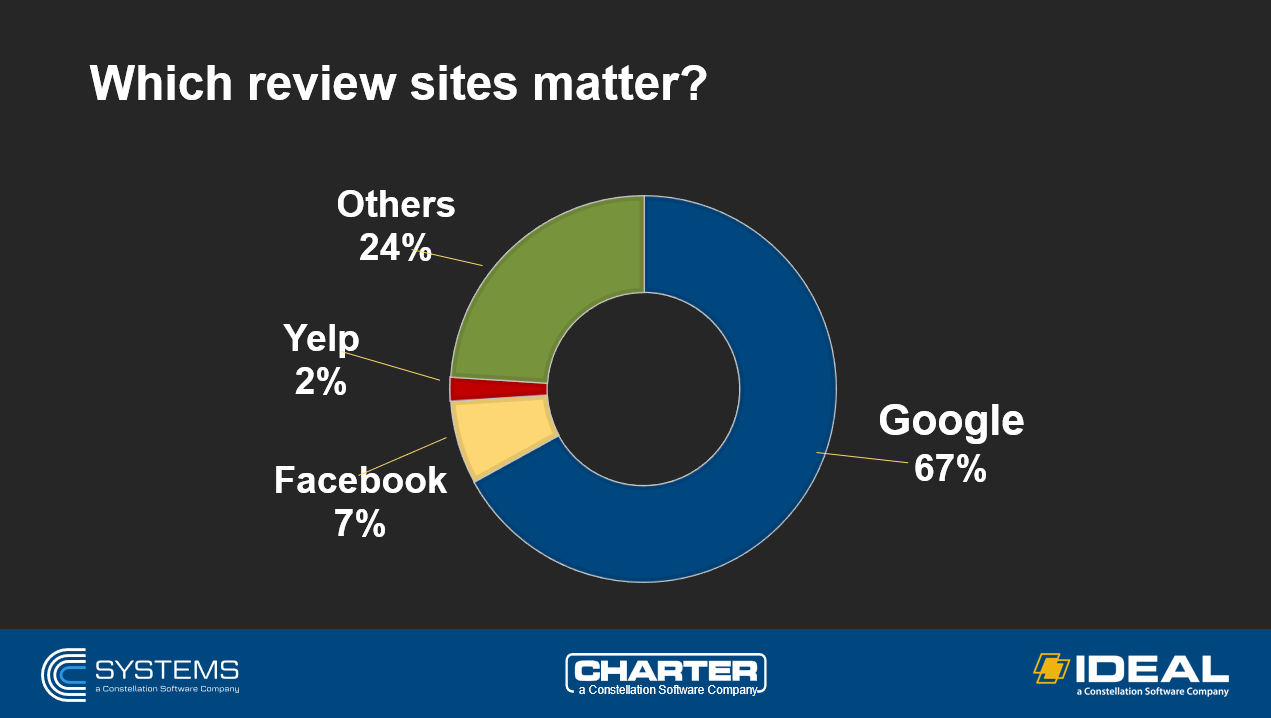 Even then, you'll be better off focusing most of your energy on Google. In 2020, Google got 67% of reviews, while Facebook only got 7%.
In years past, Facebook had a bigger market share. Yelp definitely had a bigger market share. But Yelp is becoming increasingly less relevant. Nobody likes Yelp anymore. I get dealers asking me all the time, "Well, can I refer our customers over to Yelp? Should I link my customers there?" No. I've spent money with Yelp before as a dealer. It's not even worth your time, for the number of reviews you are likely to get, and Yelp filters all reviews that come from customers linked directly to your page.
Now, I've seen dealers have a lot more reviews on Facebook if they spend a lot of money on Facebook marketing or share a lot of really engaging content. For a long time, I actually had a lot more reviews on Facebook than I did Google. But I was doing reputation management for a long time before Google really started to dominate in the review space.
So, Facebook is still relevant. There are still hundreds of millions of people who are reading reviews on Facebook—but do the math. If you're not currently managing your reputation, a good place to start is Google.
How to get lots of dealership reviews?
We get that quantity matters, we know where we want to get the reviews, but darn it, customers aren't leaving reviews. So, what are some strategies?
If you're like most equipment dealers, you're going to be doing probably 50%, 60%, 70%, 80% of your business during the spring and early summer. That means that peak season is the best time to get reviews. Now, I know that we typically don't like to course-correct during peak season. The strategies I'm going to talk about work year-round, but you just get a lot more reviews, of course, when you're selling more.
1. Ask customers to leave dealership reviews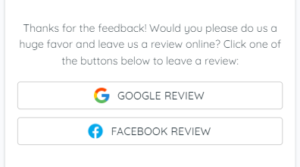 You may be thinking, "Well, I've been doing this for years, and most of the time, they don't leave a review."
Yeah, it's not really convenient. If you just asked someone to go to Google and leave you a review, there are a lot of steps to it.
The best way to do it is to not ask them in person. Instead, let them know you're going to send them a link to leave you a review. Then, text message and/or email them a review link. I would say, do both and then they can do it whenever it's convenient for them.
Using a tool like TargetCRM, you can create links where all the customer needs to do is click and it goes straight to your Google My Business page. Then, they'll get a pop-up where they just enter in their star rating and their review, and even take a picture.
2. Put review links in your email signatures
Another way is putting links in your email signatures. It looks something like this:

As you know, people love doing business with small businesses. They like to root for the underdog, compared to the likes of Amazon, Home Depot, and that kind of thing. So, appeal to that. Have your signature say, "Thanks for choosing ABC Equipment. Please help us grow by leaving us a Google review".
One of Ideal's dealers uses this line with some of his review requests: "We know you have choices, and we're glad you chose us." I love that.
So, put it in your email signature. It's free. The worst thing that happens is maybe people only use it a few times a year—but if you've got it in your signature, and you've pulled some other levers to get reviews, it adds up.
3. Send post-sale and service surveys
Some of the smallest dealers who use our software still do thousands of sales and service jobs each year. If you include the spark plugs, the STIHL MotoMix, the trimmer and walk-behind sales, apparel, safety gear—whatever you sell—there's no reason why these people shouldn't leave you a review.
You know why?
Google places just as much weight on a review left by somebody who spent $2 with you and somebody who spent $200,000.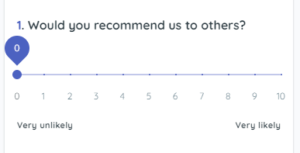 They have the exact same weight on your rating. Just like their 1-star reviews have the exact same weight. So, there's no reason why a $2 pissed-off customer should cost you a $200,000 sale.
This is a huge lever that you can pull.
If you have 20,000 transactions in a year, what if just one percent of those customers left a review on Google? Well, how many is that? That's 200. And I'm not saying that's going to happen. Everybody's scenarios are different. I'm just saying the math makes sense.
The key is to do it automatically without bombarding people who come in every day. So, you want to pick a tool that lets you set filters for that, and it knows who is a regular customer, like a lawn care operator.
4. Offer incentives to customers to review you
Finally, another lever would be to offer incentives to customers.
Now, I don't mean bribe your customers. That would be unethical.
What I do mean is, offer them incentives to give you reviews. Don't bribe them to give you a 5-star review. Just let them know you want to hear from them, either in a survey or over the counter. Then, ask them to text you a picture of the review they've left in exchange for some swag.
I've seen dealers get upwards of 100 reviews in a very short amount of time by doing this. That's because you're giving customers a reason to take time out of their day to do something that is a little inconvenient, but that can have a big impact on your business.
The time to care about reputation management is now
I strongly believe that reputation management is one of the most untapped areas of the power equipment industry. It will totally help you stand out.
Peak season is the time to take care of these things. Don't wait until the off-season, and don't feel like it's too late. It's never too late to get started on reputation management.
Almost everything I've covered in this guide can be done with the tools you already have. To help you drive even better results, we have a tool that can help you automate these tactics: TargetCRM.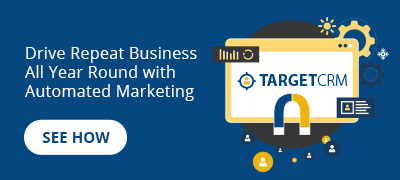 Learn more about how TargetCRM can help you drive repeat business year-round.