OPE Dealer Market Data You Should Know For 2022 [On-Demand Webinar]
Over the last two years, we've seen unprecedented changes in how the dealership market is behaving. No doubt, a pandemic certainly shakes things up. But despite the challenges dealers have faced, the market is still going strong, even when comparing the data with the market in 2019.
How is your dealership performing against industry benchmarks and what can you do to protect your dealership and ensure its growth?
At our 2021 Virtual Summit, the Constellation Data Solution team shared their insights into current OPE market data that dealers should be aware of when planning for the year ahead. Here are the key takeaways from their presentation.
Watch the full webinar below to see the solutions the Data Solutions team provides for some of the challenges highlighted in this article:
Where is our OPE dealer market data sourced?
It's important that dealers know where our market data is sourced so that they can understand its full meaning and value.
Constellation Software owns some of the most widely used dealer management systems across a number of dealership industries including OPE, powersports, construction, marine, and tractor dealers. Data from just over 3000 dealers across those industries feed into our data warehouse. You can access our free Monthly Market report here.
The OPE market is growing significantly
Despite the difficulty dealers faced in 2020, dealers who are learning to work in the new economy are doing well. Overall, year-over-year sales are up over 2019.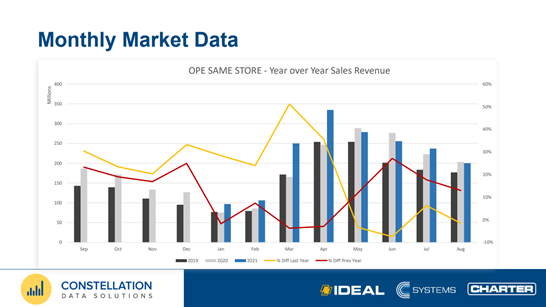 Record natural disasters in certain states caused spikes in wholegoods revenue
2020 was a record year for natural disasters, with multiple hurricanes hitting certain states. Revenue on products like chainsaws and generators was up 32% in states affected by natural disasters.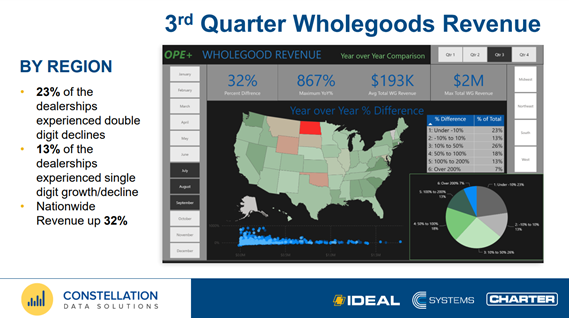 Chainsaw prices have gone up
We looked at sales for a particular well-known model of chainsaw. Chainsaw sales spiked in May 2020, around the time that many people had to stay at home due to pandemic restrictions.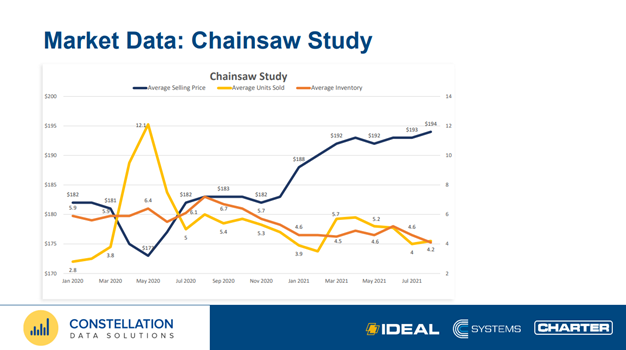 Zero-turn prices are going up
We looked at sales and inventory of a well-known zero-turn brand (kept anonymous here) over the last year and found that while prices began to climb at the beginning of 20211, they were able to hold inventory well up until the spring. There, we see prices continuing to climb while inventory declines.
Lawnmower attachments saw the biggest increase in sales
Maybe stay-at-home restrictions made people realize they need to take better care of their lawns. Second to lawnmower attachments was grass collection, followed by blades/line/chains. Looking at these numbers, dealers should take stock of how much of each category they're selling. If there's an opportunity to increase sales in one of these top categories, it may be worth investing in more their promotion.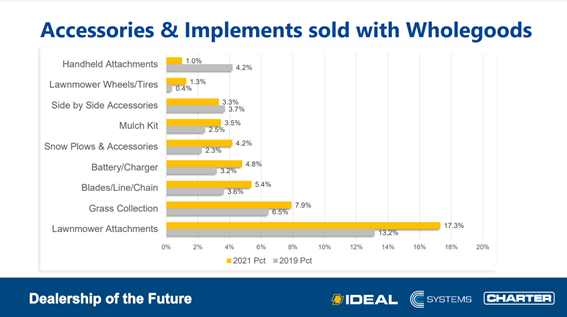 It may be time to consider increasing your labor rates
To mitigate the impact of product shortages on their sales, many dealers have been putting more focus on service to drive work order revenue. In an already competitive labor market, dealers are competing for top service talent. That means dealers need to offer more competitive labor rates.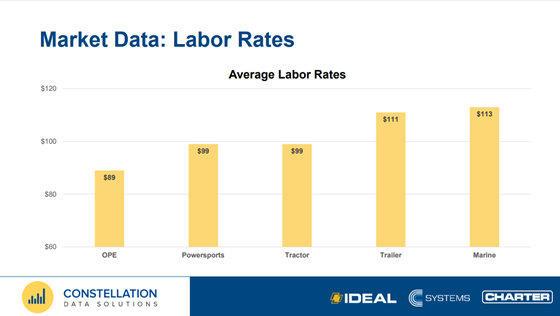 The top six OEMS are updating pricebooks more often
We picked six of the biggest OEMS (labeled A-F for anonymity) and compared how many pricebooks they're releasing per quarter in 2021 versus 2019 (Y-axis). The jury is still out on Q4 but of these six OEMs, two of them released two pricebook updates within Q2 of 2021. With this in mind, it's more important than ever for dealers to stay on top of pricing, so no money is left on the table.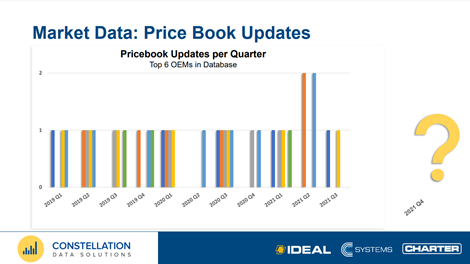 The top five market condition challenges OPE dealers are facing
We're not out of the weeds yet. OPE dealers will need to be mindful of trends in the market to guide their business strategy in the year ahead. We hope that this data has helped provide some direction.
To summarize, here are five of the biggest challenges OPE dealers are currently facing: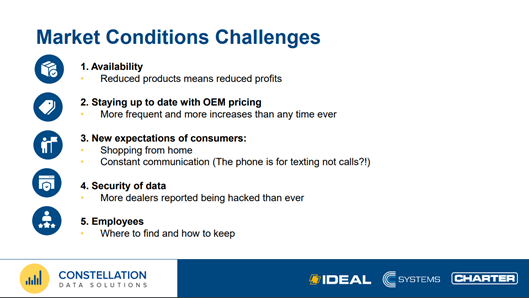 Want to see how your dealership is performing against market benchmarks? Read this month's OPE Market Data Report: