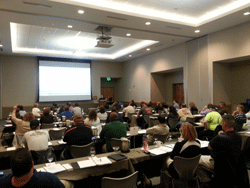 Ideal users who attend this year's Ideal Training Seminar can expect to learn more in-depth usages of Ideal when it comes to monitoring success and boosting profitability in your business. We recently sat down with our presenters, Dave Baumgarten, Nicole Lindsey, and Bob Clements, to discuss the upcoming agenda and each shared what they want dealers to take away from their presentations.
"This year I plan on using a different approach from years past," said Ideal's Lead Trainer Dave Baumgarten. "I want the main focus of the material I present to revolve around reporting, controlling inventory, and becoming more profitable."
Dave, a 20+ veteran of the Ideal system, has been conducting these seminars throughout the majority of his career. Although his itinerary has always provided a wealth of information on each area of the Ideal system, he says this year he'd like to take the focus away from some of the routine processes and gear his training more toward using the system to monitor profitability in your dealership.
"Our customers have been given the right data and the right tools," said Dave. "I want to make sure they come away from this seminar knowing how to create and utilize the proper reports and features in Ideal that will manage their business more effectively."
In addition, Dave wants Ideal users to come away with more aggressive strategies to boost the overall profitability of their business.
"I want to show dealers more ways that Ideal can help them manage their inventory and create the proper pricing structure in order for them to gain maximum profitability while remaining competitive," added Dave.
Dealership expert Bob Clements plans to tie in his presentation with Dave's agenda. He will offer the group tips on understanding the key performance indicators for service parts and sales that high performance dealerships use as a baseline to measure performance for both their people and each department.
"There is an old saying in business that you can't manage what you don't measure, and you can't measure that you don't understand," said Bob. "The Ideal software gives a dealership all of the information they need to both measure and manage a dealership's people and their performance so that the business strong profits year in and year out for the owners.  In my workshop, I will show the dealers how to take the information that Dave and Nicole will share, and offer simple ways to leverage that information into driving the dealership's performance to a higher level."
At the 2014 seminar, we introduced our first dedicated day of AP and GL training, which proved to be a big hit with our attendees. Lead AP/GL Trainer, Nicole Lindsey, plans to take her presentation to a new level and provide more tips on the overall ins and outs on Ideal's Accounts Payable and General Ledger, and how it should be utilized in your business.
"I believe that certain aspects of the GL can be a telltale sign in regards to the system being used properly," said Nicole. "Since the GL contains so much information, I think people are sometimes afraid to make a mistake. My goal is to help attendees to become more self-sufficient and confident in the ability to handle certain situations on their own."
Seats are still available for Ideal's Fall Training Seminar which takes place September 21-23 at The Hotel at Kirkwood in Cedar Rapids, IA.