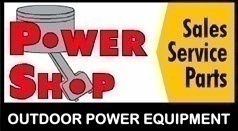 The Power Shop, located in Centralia, WA, has had a 60-year reputation of providing great service on Outdoor Power Equipment. When Cedric and Diane Pruitt bought the business 10 years ago, they wanted to maintain the same level of service, but knew some upgrades would have to be made. One of those upgrades was to computerize the business. Another was to put their daughter, Rebekah Oliver, in charge of the finances.
We recently spoke with Rebekah to find out how the business has been able to grow since her parents took over and how computerization has added a new sense of professionalism to the business.
Ideal: When your parents took over The Power Shop, they had to make some upgrades, which included computerization. Can you explain how that process went?
Rebekah: "When we purchased the business, there wasn't a complete computer system being that was being utilize. We felt for us to allow the business to grow and be able to accurately track our sales and inventory, we needed a complete and industry-specific solution. We chose to purchase the Ideal software. Overall we have been very happy with the program and look forward to continuing to grow our business with Ideal's help and support."