Due to our growing customer base, we're pleased to announce that Ideal now has two account managers in place to handle any questions you may have about new products, upgrades to your current system, and provide advice on ways to improve your system.
Ryan TeBockhorst has joined Brian Mohr and each will work with Ideal users in their respective regional territories.  Ryan's focus is on the Northeast and Southwest regions, while Brian will continue to work with his customer base in the Northwest and Southeast regions.  To make it easier for you to know who your account manager is, we have included a map.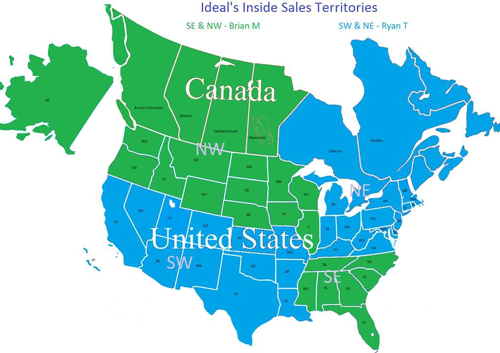 Click here to find your account manager

If you have any questions, software, or hardware needs, please contact your account manager.
Brian Mohr (Northwest and Southeast Regions)
800-737-1620 ext. 209
bmohr@constellationdealer.com
Ryan TeBockhorst (Northeast and Southwest Regions)
800-737-1620 ext. 231
rtebockhorst@constellationdealer.com