Communicate with customers when they want it, the way they want it.
Grow your dealership's online reputation. Get paid. Using text messaging.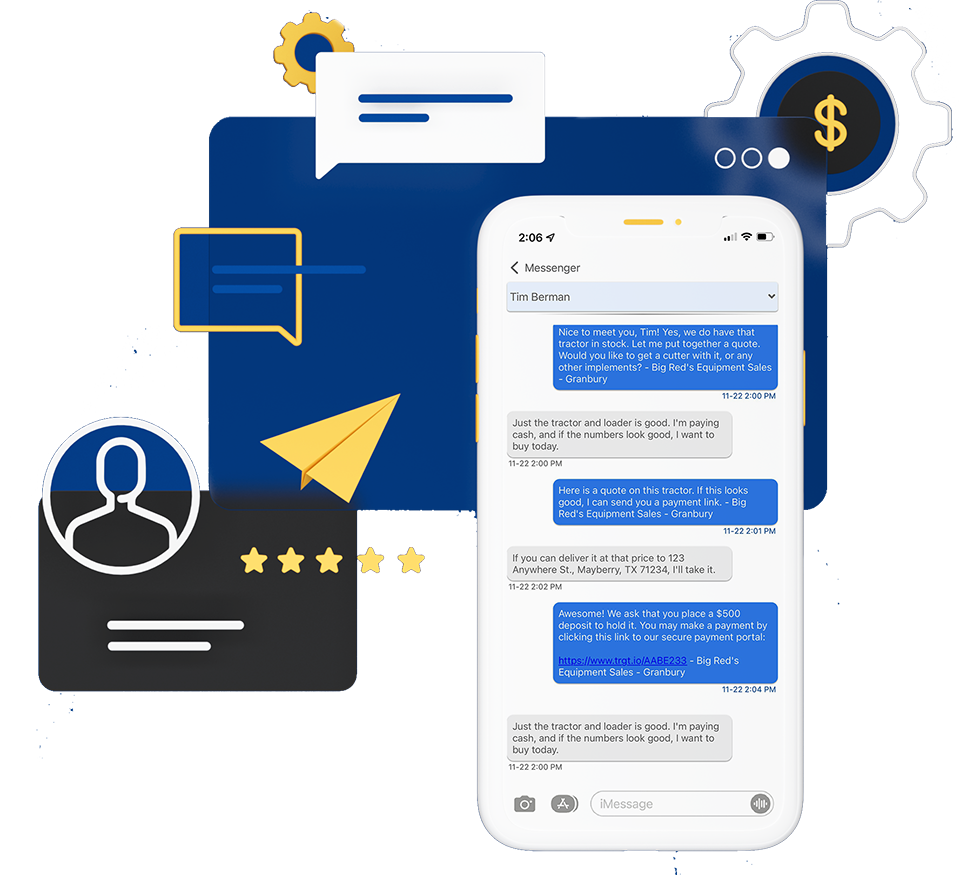 Michael Melton, Owner of Power Haus Equipment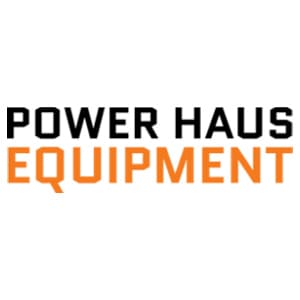 Literally overnight, we got like a 30% increase in online reviews, and almost all of them five-star. It really boosted our ratings. I think we were at like 4.7 with 40 reviews or 50 reviews, and now we're at 4.8 with 71 reviews. That was really encouraging.
Read the full story
Brandon Crawford, Sales Manager at ATS Outdoors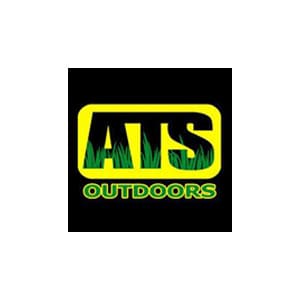 We love TargetCRM! Thanks to it, we now have a ton of positive reviews online. Almost 30 of them, I think. We all want good reviews, but occasionally you're going to get a bad one. What TargetCRM does is that it takes that bad review and notifies you immediately of the dissatisfied customer, so you can go and fix the problem. It's an opportunity to turn bad reviews into positive ones.
Mike Bridges, Owner of 3B Outdoor Equipment, Inc.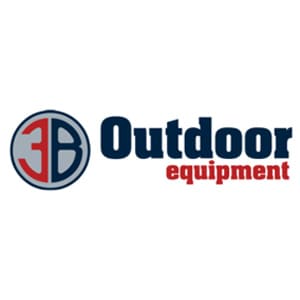 I was looking for something that would completely rid my business of human error. Now, with TargetCRM, everybody's trackable, whether it be sales or techs or accounting, with reports that you can run on that system. You get customer feedback constantly. That's a very cheap form of marketing. It just fit the bill perfectly for our business and multiple locations.
Watch this 2-minute video to see why OPE Dealers choose TargetCRM
Send targeted promotions that work
Send targeted promotions via text and email in just a few clicks
Tailor your marketing messaging to specific customer groups based on data like distance, purchase history and category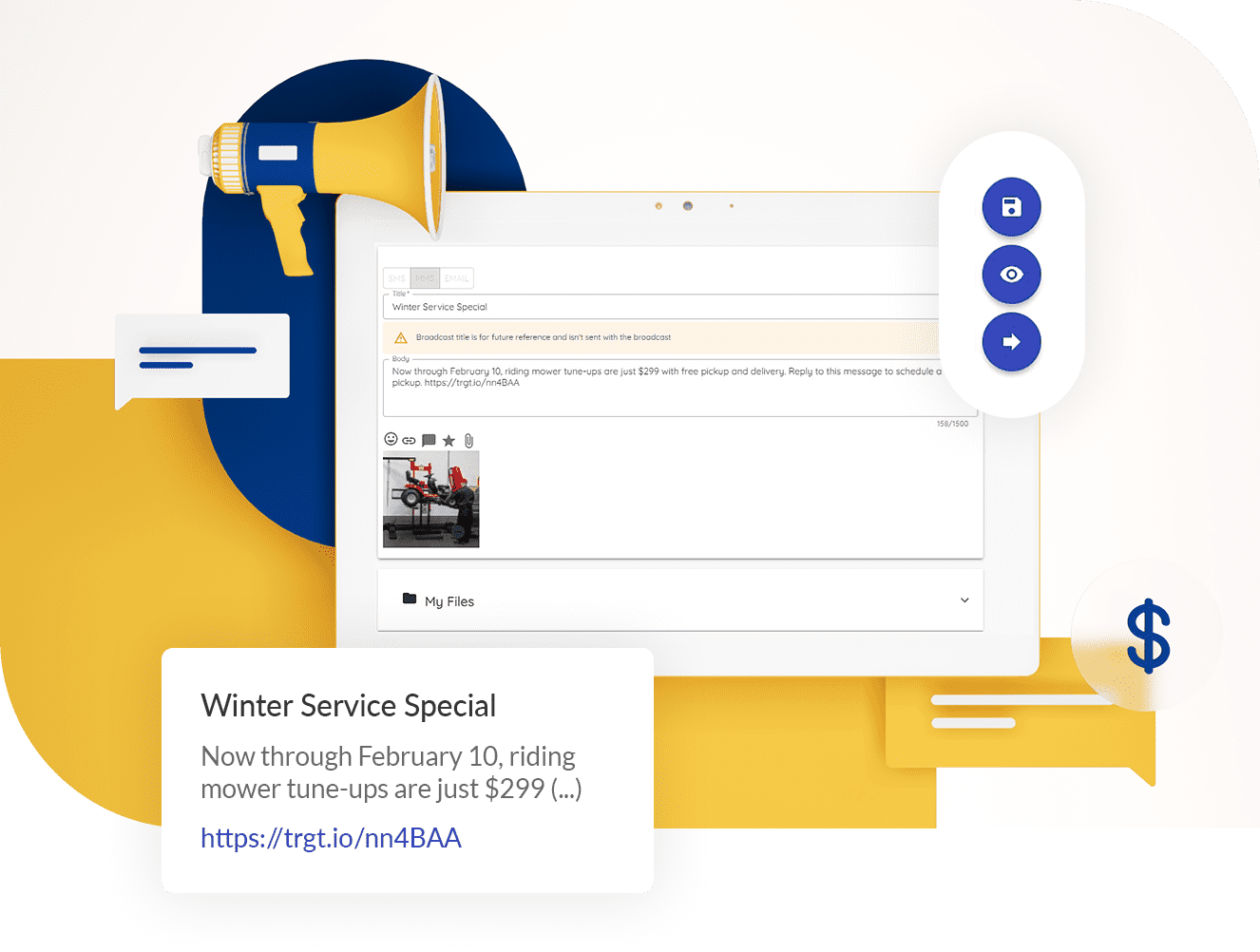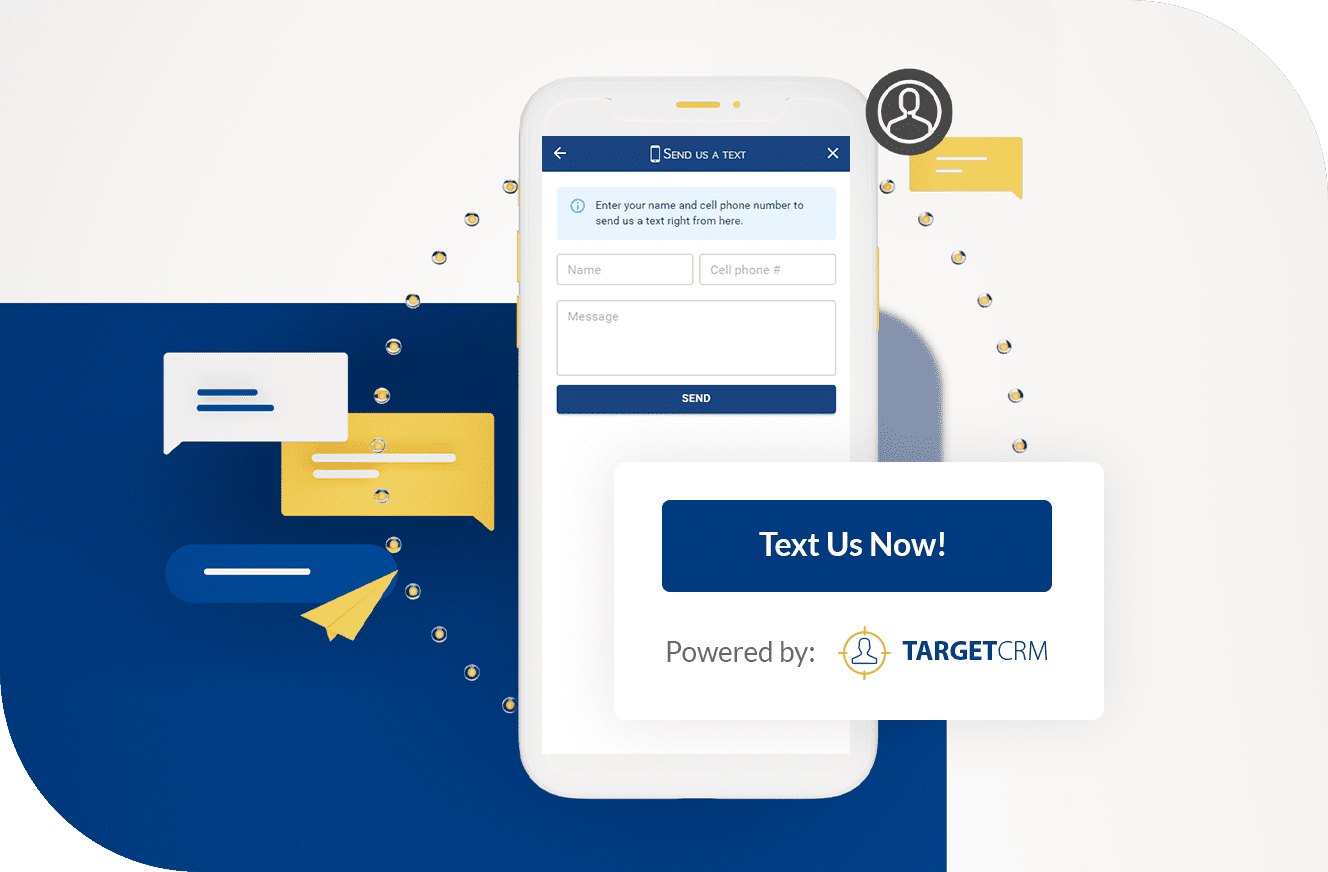 Put an end to phone tag
Reduce your voicemails by up to 80 percent by using text message to communicate with customers
Add a "Text Us Now!" button to your website to collect customer names, phone numbers, and messages
Offer text-to-pay convenience
Give customers the flexibility to pay on a mobile device using credit card and ACH
Make pre-selling and receiving deposits easier, get prepayment before a repair, or accept payment before a delivery is made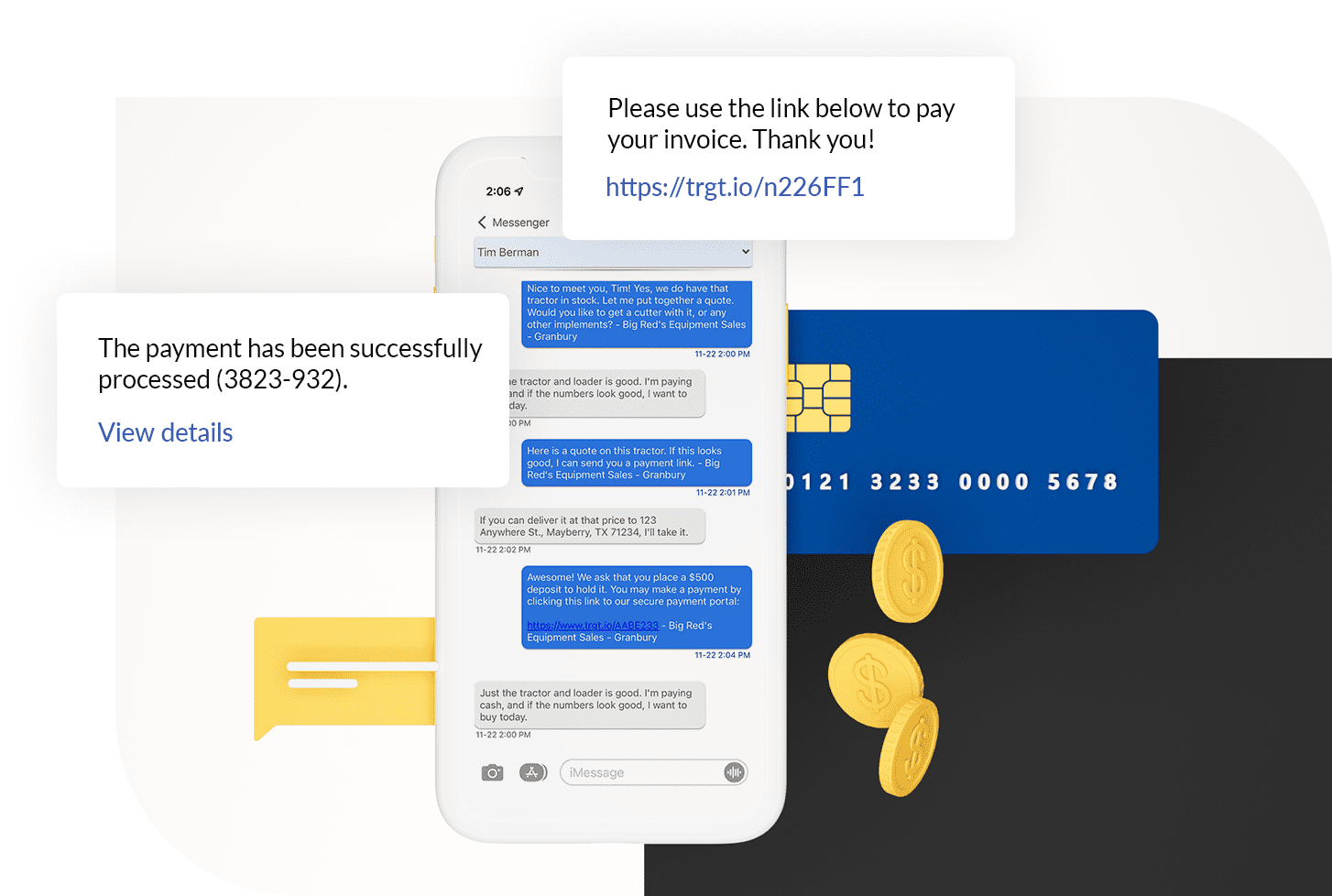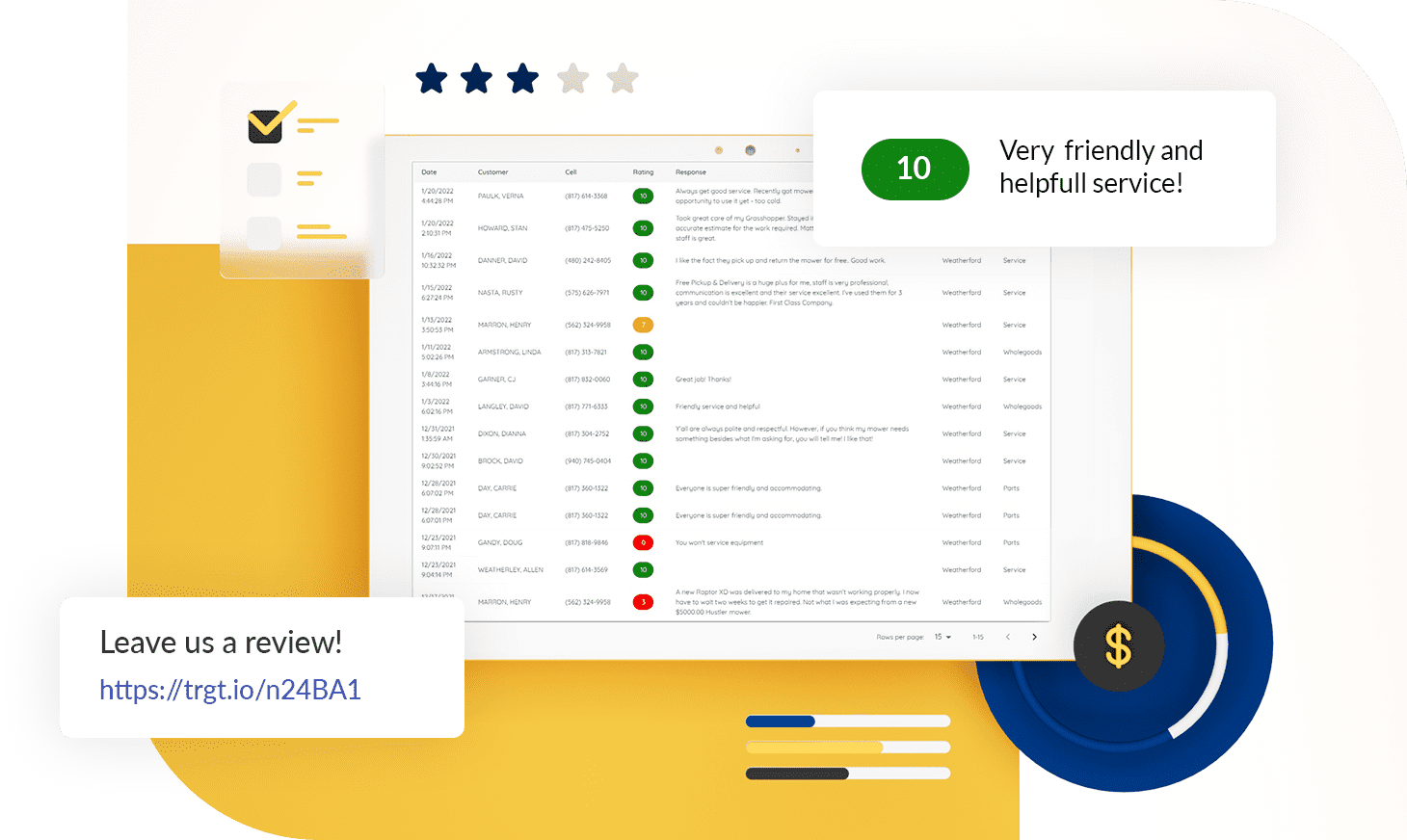 Measure the effectiveness of your communications
Automatically survey customers for every department and increase online reviews by up to 500%
Track detailed invoice data including invoice histories, invoice search, and whether a lead is a new or repeat customer
Access messages on the go
Stay in the loop with the TargetCRM mobile app, available on iOS and Android devices
See survey responses on your mobile device so you can address problems faster