How 3B Outdoor Equipment Leverages Technology to Serve Customers Better

Meet Matt Bridges, Owner of 3B Outdoor Equipment.
Founded over 50 years ago in Louisiana, 3B Outdoor Equipment has operated as a successful family-owned business. They maintain two locations, one in Monroe, and the other in West Monroe. They proudly service a wide range of recognizable brands, including ECHO, Scag, Exmark, Hustler, Toro, and more. Their long-term success stems from a strong commitment to the communities they serve and has made them one of the largest dealers in the region.
As the world becomes increasingly fast-paced, customers expect more from dealerships. 3B Outdoor equipment's biggest challenge in recent years has been to provide exceptional customer service and meet those increasing customer expectations.
In 2015, 3B Outdoor Equipment was bought by Matt Bridges. With a background in heavy highway and civil work, Matt comes from a space where activities and transactions are traceable end-to-end, and technology provides efficiency and accountability. It's with that frame of mind that he has set out to grow 3B Outdoor Equipment. Over the years, Matt continued to nurture a sense of community and connectedness between the business and its many patrons. But he has done it by leveraging new technology.
The problem: How to provide exceptional customer service to outshine big-box competitors.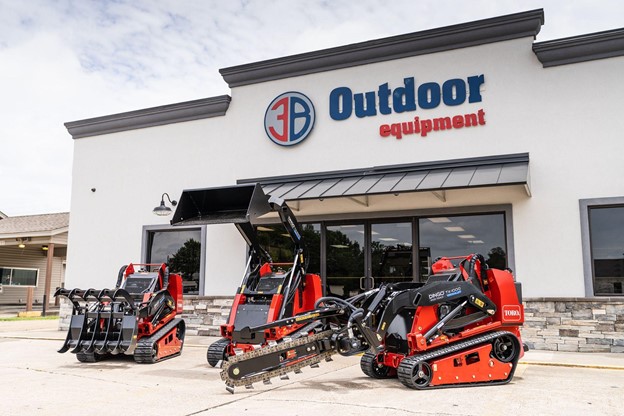 "We aim to be a one-stop shop for weekend warriors, commercial contractors, municipalities, local schools – the whole spectrum of customers. That's what we're doing, showing folks we're a local business that they can turn to instead of big box shops. We have multiple locations where we can take care of customers, and we also have a rental business we operate. What really sets us apart from other dealerships is that we embrace technology to better service our customers.
Everything in this world is so fast paced nowadays and customers have high expectations. But we meet them through the services that we offer. Curbside pickup and delivery services during the pandemic to keep businesses going, for example. Then in person, you've got staff that really look after your needs and help you see that your dollar is supporting a reliable, local business and your community."
In 2017, Matt got started with Ideal to effectively track sales, technician and accounting activities:
"I got started in 2017 with Ideal, and at the time they were fairly small. They've grown a lot since then and added more services because with that growth. I was looking for something that would
completely rid my business of human error. With Ideal, everybody's trackable, whether it be sales or techs or accounting, with reports that you can run on that system.
You also get customer feedback constantly through one of its products, TargetCRM. It just fit the bill perfectly for our business and multiple locations. With that improved clarity and insight, people know that they can just pick up the phone and deal with a regular, relatable person that you know and can trust."
Send targeted promos, ease customer communication, and automate customer feedback with one product.
Matt's Favorite Features:
Broadcasts
Messenger
Surveys
How 3B Outdoor Equipment use TargetCRM to keep customers informed year-round over SMS:
"This time of year, we're using the broadcast feature to let everybody know we're open and ready to help them. We want them to know now instead of waiting for things to just pick up. We can easily let people know to come in and get their equipment serviced, or what we've got in stock that people might have been waiting on."
How Matt connects personally with customers in a fast-paced world with TargetCRM:
"If you get negative feedback through the automated survey, TargetCRM lets you connect personally with those customers and address that situation. For example, let's say you send over the deal and let them know over SMS after they've left. They end up giving you a one out of ten on the survey. Right away, I can call customers back. I call them whether they leave good or negative reviews, but with the negative ones, I've found that just by calling them back, they usually come back to the shop.
People want to be heard and they want to know you care. And we do! TargetCRM gives us an opportunity that we never had before, where customers leave upset and never come back, and as a business you would never have known. This way, any time a customer isn't satisfied we can quickly right that wrong and keep them coming back."
Matt encourages dealership owners and staff to "embrace technology":
"The world we live in is what Amazon has created. They've created a technology world and no matter if you're fifteen years old or a hundred, you can operate a smartphone and buy anything you want. As a business, you're either going to join the party or you're going to get leap-frogged over. Embracing really is the keyword. You need to embrace technology and learn how to leverage it in order to continue growing your business. It's key if you want to survive.
Take the COVID-19 pandemic: you have less face-to-face interactions with a customer. Technology still makes you accessible to people and they really appreciate that. Our customers could pay over the phone, we could contact them over text message, and they could contact us to say they're outside the shop and tell us what they need."
Get started with TargetCRM and connect with your customers today!