Gardenland Power Equipment on Benefits of Real-Time Data and Forecasting Capabilities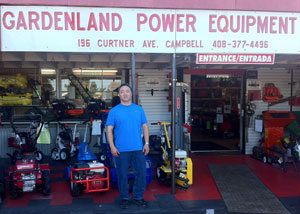 Here's your opportunity to learn how Richard Ogawa and Gardenland Power Equipment, a successful outdoor power equipment dealership in Campbell, CA, made the switch from a previous business management system and is now reaping the benefits of Ideal's forecasting and real-time data to make critical business decisions and provide better service.
What do you consider to be your strengths compared to other businesses and big box stores?
Richard: "It's really about being focused on the customer, and staying focused on what we do best. We don't have a broad assortment of products and we don't try to do a broad range of services. We stick to a few brands of power equipment and within that we make sure we're very deep in parts so that we make sure we can manage. We maintain those product lines for our customers the best way that we can. We have built a reputation for always having key parts in stock. After being in business since 1960, our customers know we always deliver on this promise."
How do you maintain return customers and at the same time attract new customers to the business?
Richard: "With new customers, we've started doing a lot of things different because the traditional media hasn't been that productive. We're being a lot more targeted in who we're advertising to and who we're marketing to. We're basically going after our new customers through radio advertisement, internet advertising, and through social media advertising. Our customer retention programs are through direct mail, email and other direct marketing tactics. Whether you are going after new customers or existing customers, the key is relevancy. Making sure whatever products or service you are offering is relevant and important to the customer."
You mentioned a focus on the customer, what do you do to stand out?
Richard: "On the customer service side, I believe there are several stages to a customer. There's the acquisition side where you're trying to attract them and get them to react to some type of promotion to get them into the store, but the important part once you gain a customer is the retention side. With Ideal, I have the ability to query up people who've purchased Stihl equipment in the past 12 months. There's a good likelihood they'll buy more Stihl products. So, by allowing me to dissect and quickly get to the point of finding out who bought Stihl equipment, or who had Stihl equipment in for repairs, allows me to create a very branded, targeted message to the customers that's really relevant to them. This gives a much higher likelihood they'll do something with whatever offer or promotion that I give them. I think being a lot more relevant to a customer makes us that much more meaningful than what you can get at a big box store where there's no personal contact after the repair or purchase. If they get something from us, they're excited to see it because it's relevant versus another card that has nothing to do with what they're interested in buying."
You mentioned maintaining certain product lines for your customers, how do you go about managing your inventory?
Richard: "That's one of the areas that I looked at Ideal for. One of the things that I really like about the Ideal product is the product recommendation engine. It literally will pull up recommended items to be fulfilled based off of sales history. That is really helpful for us in setting up our model stocks, making sure that we're in stock in the key items we should be stocked in. Ideal has a lot of different forecasting, real-time data capabilities that our old POS system didn't have. The ability to query, pull data out, and access it relatively easy really helps in that effort."
How are you ensuring that you have an effective and profitable service department?
Richard: "The main thing is to make sure the mechanics are doing what they do best and that's fixing and repairing equipment. So being able to manage them with the time clock and being able to see their hourly efficiency, and having that visibility in Ideal is really helpful. What's also real important is to make sure our mechanics have the parts they need prior to them getting the job on the bench. So the ability to be able to forecast, the ability to see and set model stock is pretty easy. The ability to adjust inventory based on sales trends and movements are really helpful in making sure that we have all the parts needed before the mechanic starts. It is absolutely critical for a dealer in terms of making sure you have the right parts on hand at the right times so you can turn jobs in a quick and efficient manner."
Consultants recommend analyzing your financials daily, weekly, and monthly. How do you manage this aspect of the business?
Richard: "We're always looking at profitability. The dashboard in Ideal's dealer management system gives us quick visibility into the profitability of parts and labor. Another feature that I really like is the price list updates. Ideal makes it really easy to upload and get the latest price updates. And then we can immediately see across the board that we're managing those margins properly. That's been really helpful for us."
What features in Ideal are the most beneficial to you?
Richard: "There's a lot Ideal can do, but the bottom line is that it gives you access to real-time data, any time, and in any way that you need to see it. That ability allows us to make decisions off of real data, at critical times for our business when we need to make some real decisions. The reporting features, the ability to query, filter, and scrub the data in any way you need to see it is Ideal's most powerful feature. That was always a struggle I had in my old system. I could never see the snapshot of the time I needed to see, in the way that I needed to see it, in an easy way. With the filtering capabilities of Ideal and the ability to attach different attributes to products, items, and things allows me to drill down as quickly as I need to get the right information at the right time."
Do you have any final thoughts?
Richard: "I'm very happy with Ideal. I'm happy with the support and with the abilities this system gives me to grow the business. I think you guys have a great product. The support I've been getting out of you is phenomenal. I can't ask for more than that."