Interview with Hank's Mower Repair on Growing Tenfold in 6 Years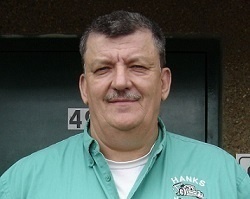 It's taken only six years for Hank Alredge and his wife Sheila to turn Hank's Mobile Mower Repair into one of the premiere OPE dealerships in the Virginia Beach, VA, area. By providing great customer service and implementing Ideal's business management software, Hank and his staff have the ability to service hundreds of mowers each month.
What do you consider to be the strengths of your business compared to other retailers?
Hank: "Customer service. My people know that whenever somebody comes in the door, they need to acknowledge them even though they're busy. We try to do more and more service for that customer."
How do you ensure your employees have the proper training?
Hank: "I'm here 70-75 hours per week. So if I hear of a problem I don't like, or how things look to customers, there would be a one-on-one at some time.
I try to see all the new customers and make sure they're happy with our service. If I see a customer pick up of a piece of equipment, I make sure they don't have a complaint. And if there is a complaint, I try to legitimize it and deal with it with my employees."
It appears that oversight and proper employee mindset is important to your business.
Hank: "I think that bigger shops get away from the 'mom-and-pop' mentality of service and are there as a 'job,' not as a livelihood. For my wife and me, we're here because we want to be here, not because we have to be here. There's a difference in that mindset."
How do you make sure your employees have that mindset? Is there something you're looking for when you hire new employees?
Hank: "I have been very fortunate that I have had people come looking for me as far as employees with experience are concerned. My store manager worked for Briggs and Stratton at one time and was also the co-owner of a shop. That gives me a lot of experience in the front to train my employees. Currently there are five of us holding down the front, including myself."
Are you always looking for employees with experience, or do you bring in those without experience and train them to follow your practices?
Hank: "One of the young members of my church just graduated from high school and didn't know what he wanted to do. His dad mentioned to me that he was looking for a job and I told him to come up and apply. He has computer skills, which in the front is about half the battle. Learning how to deal with customers is another part of it. He's been with me for about three months and today he was saying how much he likes the shop, how much he's learning and that the experience is good.
I think you can train new people as long as they have the mindset that you have to give good customer service. I'm not going to say that the customer is always right, but we can try to make sure that the customer is satisfied when he walks out of here."
Do you think customer service is the most important aspect of maintaining a returning customer base?
Hank: "I think trying to understand the customer and their concerns is important. I try to bend over backwards for some customers because I believe 'what goes around-comes around.' As far as that customer complaining, you have to take it in stride. We can make mistakes, customers can make mistakes. I had a perfect example today. A customer came in and her husband sent her in with a lawnmower. It was Tuesday and he had picked up the lawnmower on Saturday. Her husband got halfway done with the lawn and the lawnmower wouldn't start. I checked the oil which was fine. I checked the gas and there wasn't a drop in it. I asked the customer to come with me and we put gas in it and started it right in front of her. She wanted me to call her husband because he wouldn't believe her. So I talked to her husband and explained what I did and he said 'Oh, I'm in trouble.' I gave him back to his wife."
Do you use any advertising or other methods to attract new customers?
Hank: "I advertise, I have a good website, and I put parts out on the internet. I took a little time and set up a website based on somebody's recommendation, and that happened to be a customer. So, you've got to consider everything when you're trying to get customers in.
Word of mouth has probably made me grow, but I work one-on-one with all of my constituents at other outdoor shops. I do one-on-one with Lowe's, Wal-Mart, Navy Exchange, and landscaping companies. I'm not afraid to work. I try to stay out of the office. I try to stay out with the customers and out at different stores trying to gain business."
You mentioned purchasing Ideal to help control your inventory. How do you manage your inventory to keep the right products stocked?
Hank: "I'm still working on it, probably because we've only got a track record of about 4 years. But, because the previous owner kind of kept track of what he sold and what he didn't, we're constantly augmenting what our inventory is. And I hired a good manager that had parts experience. He works with these big companies and he knows what parts he sells commonly and what sells average.
When we're doing our spring order we can go back into the product activity, pull up the quantities we sold for the whole year, pull up the quantities we sold last year, and maybe the year before and take a percentage of those and keep them in stock. With Ideal knowing all that general information, we can compile our actual quantities. I sell certified parts to little mom-and-pop shops every day, and that has to be in my database to know what to keep in stock."
Consultants emphasize the importance of tracking your financials daily, weekly, and monthly. Do you think this is important and how do you manage this part of your business?
Hank: "If you don't know how much money is going out monthly then you don't know your cash flow on the inside. Income is inconsistent but outgoing expenses are always consistent. You still have the same bills per say every month. Depending on parts sales with your different manufacturers you're still with your basic line of what your building will cost you, so you have to use Ideal flow charts to do your high peaks and low peaks for the year and be able to track how much cash flow that you need a particular month to get you through."
Have you incorporated any practices in your service departments to manage your service department more efficiently?
Hank: "I try to go to the Expo every year. I learn a lot at Expo from Ideal and Bob Clements. Bob Clements came out to evaluate our shop. He said we sell a lot of product in a small space. I implemented the individual box system where we can pull parts for a Work Order ahead of time so they're ready when the mechanics need them.
We also tag our lawnmowers with different colored tags so we know what stage they're at, whether they've been staged, they've just come in, and whether they've already been looked at. So, we implemented this relatively inexpensive method which gives us a faster way of locating a particular lawnmower because we can eliminate a lot of the different colored tags. Sometimes we'll be looking at 200-300 different lawnmowers and you need to eliminate a few of them so you can find the right one."
What features in Ideal have helped you the most?
Hank: "The Accounts Receivable Transaction List. I had some issues with employees and money flow at first and I was trying to track where my money was going and to balance my credit card processing, which I now have through Ideal. That took an hour job at night down to 10 or 12 minutes.
The other thing I like is that I can track a customer's equipment history and know what we did the last time, six months ago, and a year ago to isolate problems that a customer is constantly having. That way we can find out if we're doing something wrong or if the customer is doing something wrong. And then help the customer, or educate the customer on what they're doing wrong."
What advice would you give someone who's looking to buy software for their business?
Hank: "Ask around. Ask the employees of dealerships what is user-friendly. That's what I did when I found Ideal. I called around and asked people who were using Ideal asking how they liked it and how hard it was to use. With Ideal, there is so much information you can gain, that you might not know where to start. But, as you go through it, every day you will grasp a little more and see all the information you can get out of the program and have compiled automatically for you. I thought the program was hard the first days and weeks I used it. Now I don't think I could live without it because it's so easy."
Any final thoughts?
Hank: "I don't think my business would've grown tenfold in 6 years if I hadn't invested in Ideal to help me track parts, track orders, track work orders, track sales orders, and everything else that Ideal does. I was losing sales because I didn't have a good way to track customers and parts, and Ideal makes it easy."