3 Tips for Communicating More Effectively with Customers About Inventory Issues

For many dealers, inventory is the primary source of revenue – that's why it's so important to make sure that customers are taken care of and that there's inventory on the lot. But what happens when we don't have it and how do we take care of customers with no inventory to sell them? Communication is key when it comes to relaying information to customers during ongoing inventory issues and delays.
Looking Ahead:
There are two things to note:
First, the inventory space is getting ready to start shifting. Manufacturers are feeling more and more confident in the fact that inventory will begin to stabilize. Things are turning around and will hopefully stabilize by the end of the year.
Secondly, as we enter a recession, it's important to remember that everyone else's recession isn't ours. Dealerships have had such a lack of inventory that there will still be demand from consumers for products going forward.
Nobody wants to be turning customers away because of the lack of inventory. Amid these circumstances, how do we communicate effectively with customers about inventory issues? There are three things you can do.
1. Communicate effectively and regularly – through text messaging or another medium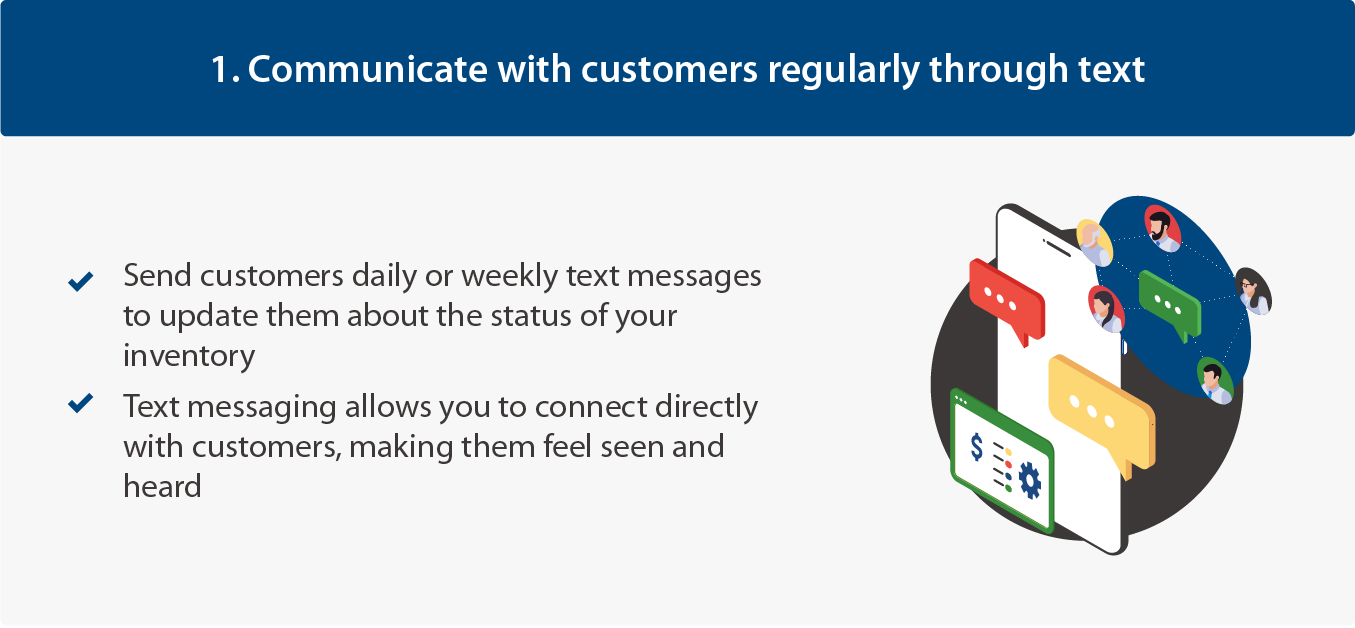 We need to find ways to communicate with customers about inventory in ways that work for them. Dealers who are seeing success with this are sending out daily or weekly text message updates to their customers about the status of their inventory.
This works because if a customer comes in wanting a specific unit that's back ordered, you can clearly communicate to the customer that although there's a backlog, you can update them daily or weekly about the status of your dealership's inventory.
Not only does this make customers feel seen and heard, but it also allows you to stay in consistent communication with them. A text messaging automation tool like TargetCRM can help you maintain those customer relationships.
2. Get customers' current units in working condition and offer them the ability to consign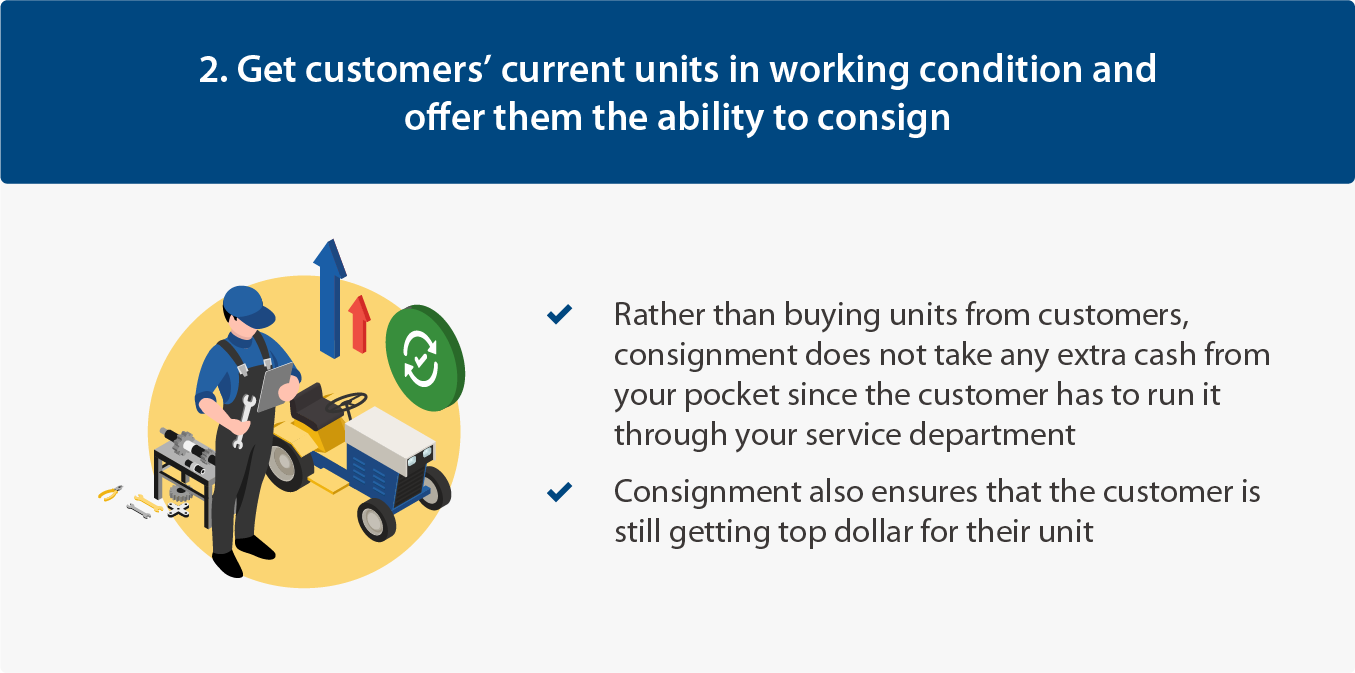 If customers already have a unit, have them bring it in for service. This allows you to get the current unit up and going and allow your dealership to collect revenue while taking care of the customer. The other benefit of doing this is that it allows you to make sure that if it's up to OEM specs, it can be brought on consignment as soon as inventory gets straightened out.
Consignment is a great tactic instead of buying used units from customers because:
There's no cash out of your dealership's pocket, (there's extra cash in your pocket because the customer has to run it through your service department), and
It allows you to make sure that the customer gets top dollar
Get the customer's existing unit up and running with the understanding that as soon as you get a new unit, you can allow them to consign that unit.
3. Have a process in place to take reservations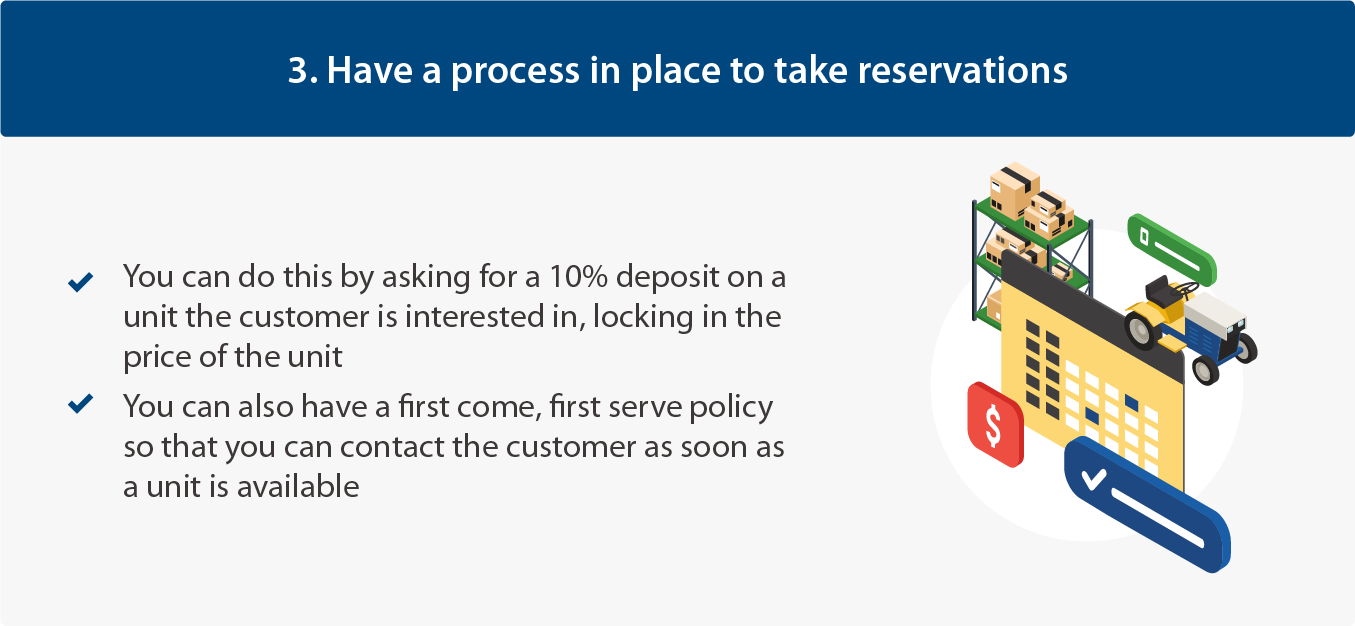 You might be concerned that this will just end up being a whole new process to manage. But taking a deposit or picking people from an existing list will cause less stress and headache for your dealership. Having this process in place creates an order for getting people to come in as the inventory becomes available at your dealership.
There are different ways that dealerships can do this:
Some dealerships ask for a 10% deposit on the unit a customer is interested in and for some of these dealers that means they're locking in the price for the unit.
Another way is to simply say you have a first come first serve policy. This lets you get the name of the customer and then as soon as a unit is available, they'll be the first ones you call.
Whichever way you go about it, make sure you're keeping track of customer information in a customer relationship management system (CRM).
During these inventory struggles, it might seem overwhelming to have so many different processes to think through. But, if you can treat customers right and communicate with them well amid these inventory trials, customers will stay with you for years to come.
For more expert tips and advice from Sara Hey on how to streamline your dealership's processes and increase profits, check out her vlog series:
Improve Efficiency at Your Dealership This Busy Season