OPE Dealer Revamps Inventory Counting Process with the Mobile Inventory App

Inventory control can literally make or break the profitability of an OPE dealership. For General Manager John Engelsman of Thornhill Lawn Equipment, inventory control was an area of the business that needed some added attention.
Making the switch from non-industry specific software to Ideal in March of 2013 already had a positive impact. The Thornhill, ON, business soon began reaping the benefits of an overall snapshot and reporting analysis of their inventory. With all of their inventory data at their fingertips, it was time to take it to the next level by saving time and reducing costs with inventory counts. Ideal provided an answer with its new mobile inventory app.
Business Results since Implementing Ideal's Mobile Inventory App:
Quick and Accurate Inventory Counts
John and his staff noticed an immediate improvement in how quick and easy it is to conduct inventory counts with Ideal's new mobile inventory app. They are able to scan all of their inventory from an Apple device and immediately update all of the quantities and bin locations in the Ideal software. The direct updates into Ideal saves time and ensures a higher level of accuracy.
"I think Ideal did a great job developing this new mobile inventory app. You can easily scan the bar code, or enter the part number, look up the inventory on-hand, and update the count without having to go back and forth to the computer. It also prevents human error in that you don't have to worry about someone accidentally entering in the wrong quantities."

Reduction in Cost and Staff during Inventory Counts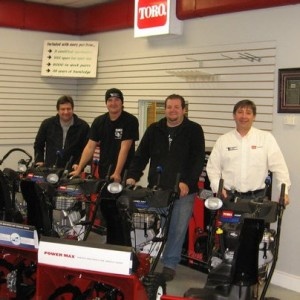 Thornhill noticed an immediate reduction in costs needed to conduct inventory counts. Since the app allows him to conduct rapidly quicker inventory counts, the amount of staff and man hours needed to count inventory is greatly reduced, which also greatly reduces operating expenses.
"This app has become a huge time and money saver. We've been able to reduce the staff needed to conduct year-end inventory counts by half which makes a tremendous difference in the costs involved to perform inventory counts."

Increased Tracking of Fastest Moving Parts
The ability to perform quick inventory counts has also provided John and his staff with the ability to keep better tabs on their fast moving items. Being able to track their quickest moving items on a more frequent basis will ensure that Thornhill always has their most popular items on hand, the quantities in the Ideal system are accurate and they can serve their customers quickly and efficiently.
"The ability to do spot checks for fast moving inventory items has been a tremendous advantage with the new mobile app. This is an area we always have to stay on top of and it has been made much easier with the ability to do quick scans on these items and update them straight into Ideal.

Bottom line is that Ideal, as a whole, is the perfect match for our company. Its straightforward simplicity makes this the ultimate software for the OPE dealer and I have not regretted my decision."