5 Tips for Dealing with Supply Chain Disruptions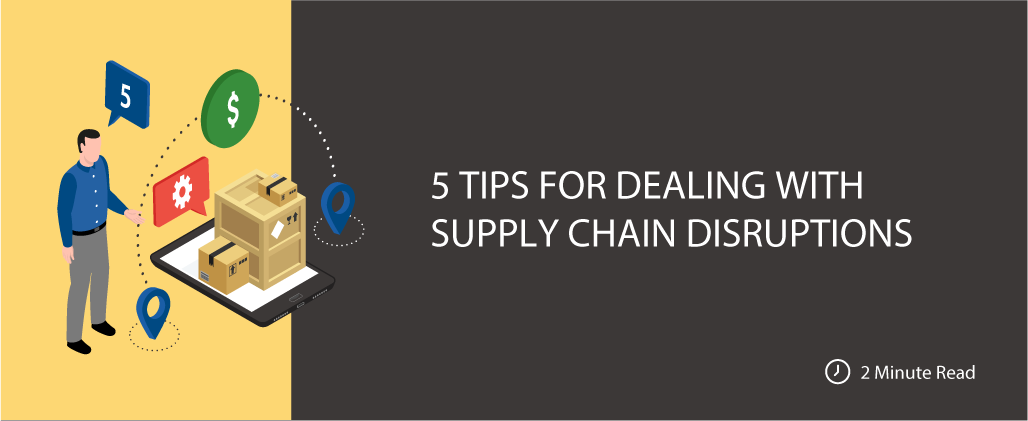 This article originally appeared in OPE Business Magazine.
The supply chain backlogs that have burdened the industry for over a year now have carried over into this year. But despite the difficulty obtaining new equipment and parts, OPE sales are still going strong.
While the situation is largely out of our control, there are things within your control that you can do to mitigate the challenges caused by supply chain disruptions. I reached out to OEM representatives to get their tips for how dealers can leverage technology to manage the impact of ongoing supply chain disruptions.
1. Manage seasonal inventory min/max levels
When your shop is slammed with work orders, it's important you know what you have in stock. Not only that, but you also want to ensure that inventory space isn't being taken up by superfluous parts.
Tracking your inventory digitally can make all the difference here. Automating your inventory min/max levels in your dealer management system makes it easier to ensure that you're ordering the right parts at the right time.
Don Miller, Senior Data Consultant at Constellation Dealer Group, has shared some insights on this:
"As inventory became scarce in the latter half of [2020], the dealers utilizing their DMS's inventory management systems and the ones taking advantage of online parts locators seem to do well."
2. Liquidate dead stock
One of the biggest ways to passively lose revenue is to have dead inventory sitting on your shelves. That's why you should look for opportunities to move dead or aging stock on a regular basis. You can do this by making your parts available to other dealers, in your dealer group or using a tool like Ideal Parts Locator.
3. Cross-reference parts prices
It pays to shop around before buying. Before putting in an order, it can be worth it to cross-reference related parts pricing from multiple manufacturers.
Now, cross-referencing parts can be time-consuming since it involves searching parts numbers on multiple sites. But there are tools out there that can help speed up cross-referencing. The goal should be to make price cross-referencing something your team does as part of their regular ordering process.
4. Keep your price lists up-to-date
It's all too common for dealers to forget to update their price lists. With commodity prices on the rise, many manufacturers are releasing updated price files more frequently. If your prices are out-of-date, that's money left on the table.
Look at it this way: if you have $100,000 in part sales and your outdated price lists are off by 5%, you need to increase sales by 25% to bring in the same amount that you would with the updated price list. With supplies short, you might not be able to make up for those sales.
John Bauersfeld, Vice President of Field Sales at Stens, had this tip to share:
"Make sure you have your cross-reference files, your price data files, and all your supplier information updated so that you can easily look for inventory. It's doubtful that today, one supplier will have everything that you need. You're going to have to shop around."
5. Project parts sales and stocking numbers in advance
Wouldn't it be nice if you had a crystal ball that could show you what parts you need to order and in what quantity? Scientists are still working on that one. But in the meantime, you can get an idea of what your order numbers should be by leveraging reporting.
Some dealership management systems have data recording and reporting built-in to make it easier to track historical data and project future numbers. Market data reports are also helpful for aggregating data like dealer count, wholegood unit sale count, and total sales numbers for dealers within your region, so you can plan accordingly.
Shawn Carothers, Marketing Manager at Toro, shared this piece of advice on preparing stocking numbers in advance:
"Plan and think ahead to the next season. One, your OEM will have visibility into what you need and two, you will be at the front of the line when they get them into stock."
Prepare and prevent, don't repair and repent
We can't control the universe and we can't control supply chain disruptions. The best that dealers can do is build safeguards in their business processes to put them in the best spot possible to overcome adversity.
Author Bio:
Dave Johnson is the OEM Sales Manager at Constellation Dealer Group. Dave has a long history of working directly with manufacturers and dealers to identify areas for business improvement. His goal is bringing time saving integrations and performance reporting to the OPE industry providing better visibility on important key performance indicators and streamlining processes for the dealer. Dave's focus is on dealer profitability and his commitment to the industry has won him the American Honda Premier Partner award as well as the recognition as a valuable business partner from several manufacturers and professional organizations. Learn more about the Constellation Data Solutions OPE Market Data report at constellationdealer.com/ope-market-update.