Guide: Key Metrics Every Dealer Must Track to Keep Themselves Profitable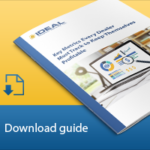 How good are you at measuring your business performance? Even though businesses are all about numbers, numbers only mean something when placed within proper context. What you should really be looking at are trends, so that you can base your business adjustments on them.
If you've missed dealership expert Bob Clements' webinar on key metrics, you can now check out the metrics he recommends for tracking each department in the guide below.

This guide will show you:
Key performance indicators for each department
How often you should be checking different sets of metrics
How to streamline the tracking process
And much more!