3 Questions to Ask Before Bringing on a New Line

The past two years have presented the industry with an insane situation of inventory scarcity. Since then, manufacturers who you don't carry have been walking through your dealership doors asking you to carry their line. If you agree, they promise to provide you with a huge inventory for your dealership.
What do you say and how do you know it's time to bring on a new major line at your dealership?
There are three key questions that you can ask yourself to guide your decision-making. Check them out below!
1. Is this product complementary to or competing with my current inventory set-up?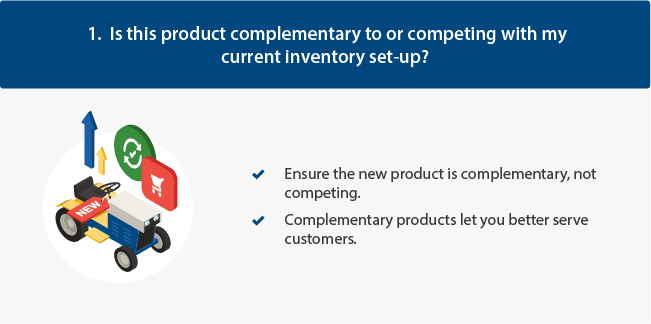 When bringing on a new product, make sure it's complementing – rather than competing – with a product you already have. A competing product creates less clarity for you, your salespeople, and your customers. Complementary products let you better serve customers. It'll also attract a wider range of customers.
When a customer walks into your dealership, they'll have access to a full range of products at your dealership. It will also meet customers' needs at every single price point. Communicate to the manufacturer that you're not looking at competing product lines. You want only complementary ones.
2. If you could get inventory for your current lines, would you bring on the new line?
Imagine if a manufacturer reached out to you and said they could put 100 mowers on your lot if you sign up with them today. Ask yourself,
if you could get 100 mowers from the manufacturers that you now represent, would you want this brand at your dealership?
If the answer is no, then it's not the right move for you.
You must be sure that even in the best circumstances, when you can get inventory from your current manufacturers, that you would still want the new manufacturer represented at your dealership.
3. At a minimum, are you willing to support this product line for the next 5-7 years?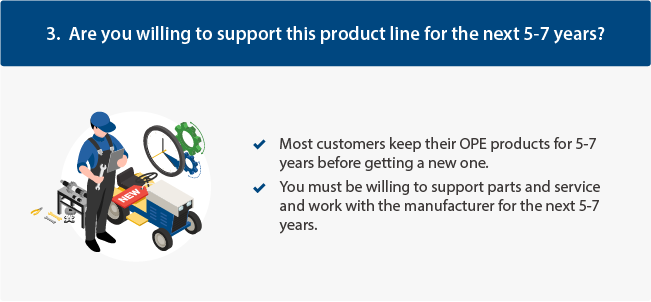 When a customer buys from you they expect that you, as a servicing dealer, will take care of their needs for years to come. What we see is that most customers will keep an outdoor power equipment product for 5-7 years before they're ready to move on to a new one.
What does that mean for you as a dealer?
You must be willing to support parts and service for the next 5-7 years, at least. The manufacturers you move towards during inventory struggles are the ones you're going to have to work with for the next 5-7 years. Be sure that they're manufacturers you want to work with long-term.
The Bottom Line:
If you can answer yes to all three of these questions – go for it and take on the line. But if you're on the edge and can't say yes to all three, take a step back and reevaluate before you sign on the line.
For more expert tips and advice from Sara Hey on how to streamline your dealership's processes and increase profits, check out her vlog series:
Improve Efficiency at Your Dealership This Busy Season