Longview Lawn & Garden Experiences Unlimited Growth with Dedication to Service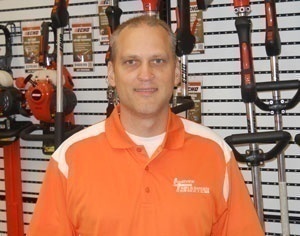 In 1982, KT Mize started Longview Lawn & Garden Equipment as a small, 1280 square foot building. As word of mouth spread about their superior service, KT was able to rapidly expand the business and take on new, more mainstream lines in order to serve the masses. Today, KT's son, Keenan, his brother Corey, and his staff operate a brand new 20,000 square foot facility. Thanks to the inspiration and teaching from his father, who passed away in 2008, and implementing Ideal, Longview's business growth appears endless.
To what do you attribute the success of your dealership?
Keenan: "The business was founded by my father, KT Mize, in 1982 with VERY humble beginnings and the strength of my business is simple. I was brought up in this business as a kid. Nothing breeds knowledge and success better than being raised in a business and learning from a very smart teacher (my dad). He taught me that the way to attract and keep customers, from word of mouth, is to treat each of them as if they are just as important as the next customer."
"I attribute the success of my business from several things. First, we take pride in a huge selection of both whole goods and parts offerings. We have a great staff in both the show floor and service departments. Secondly, If we can get the parts, we will work on almost anything. Dealers are sometimes too choosey in what they work on. To me that is throwing parts and labor business away. Therefore throwing potential future wholegood sales."
How do you go about attracting new customers and maintaining a returning customer base?
Keenan: "How we attract new and retain customers is simple. Having parts in stock when people are searching for them is huge. New customers will come in looking for parts they haven't been able to find. When we return to the counter with their parts, they are amazed. At that point that customer is ours from here on out. The next time he needs a piece of equipment, he's coming to us. Parts sales breed equipment sales. We strive to put our customers ahead of the box store repairs. That keeps customers buying from us."
How do you manage your inventory and keep the right items and quantities in stock?
Keenan: "Inventory management is sometimes complex due to the weather. All I can do is base stocking levels on previous years' sales. In Ideal it's quite simple to look at history to adjust both stocking levels and find items that are dead stock to return."
What do you think is important in order to manage an effective and efficient service department?
Keenan: "Labor efficiency is something we all struggle with. Before we built our new facility, we had a huge problem due to the lack of room and the amount of time just to get equipment to the workbench. Our new facility puts equipment just around the corner. Additional personnel have been added and employee focus shifted to keep shop efficiency rolling. My brother Corey has taken over as a shop administrator to manage service jobs for grabbing parts and taking care of contact with customers rather than wasting service time. We have four full time technicians going nonstop. The shifting of Corey to the shop has greatly improved the amount of equipment serviced per week."
Most consultants emphasize the importance of analyzing your financials daily, weekly and monthly. How do you go about managing this aspect of your business?
Keenan: "I rely heavily on sales reports, particularly on a weekly basis as well as monthly. I compare to previous years' periods to gauge our sales. I set goals for all departments and use the Ideal dashboard quite regularly in conversations with all personnel."
Which features in Ideal do you find most beneficial and why?
Keenan: "My only experience with a management system has been Ideal. I love how I can micromanage all aspects of my business. I am still learning on the service end of it since we just recently changed our shop's way of business. Sales tracking is quite simple and informative. There is not much I could ask more of a system than what we are using."