7 Tips for Managing Dealer Supply Chain Disruptions Using Technology
Since the pandemic slowed down supply chains, manufacturers and dealers alike have been in a bind. Supply chain disruptions don't seem to be fixing themselves any time soon.
According to a Cervus Equipment report, total inventory in March 2021 decreased by $70 million from March 2020. What's more, in an Ideal survey of dealers across North America, 56% of respondents said they expect supply chain disruptions to be one of the biggest challenges they will face in 2022. This pain is being experienced world-wide.
But despite these snags in the dealer supply chain, consumer demand has not slowed down.
The situation is out of any of our control. We don't have the answers. But there are things within your control that you can do at your dealership to mitigate the challenges caused by supply chain disruptions.
We pooled together the insights of our team members, OEM representatives, and dealers across North America, to come up with some of the most effective ways dealers can leverage technology to manage the impact of the ongoing supply chain disruptions.
1. Market Your Parts and Service
If your wholegoods stock is lagging, you need to find alternative revenue streams to focus on. Many dealers have been putting more focus on their dealership's shop to compensate for slower wholegoods sales.
But this comes at a price: service employee burnout. Not to mention, the industry as a whole is already facing a technician shortage.
That's why, realistically, you need to find a way to automate your customer communications during the service cycle. We're seeing more dealers using customer relationship management tools like TargetCRM to manage customer emails and SMS messages.
Dealer Tip: Use a CRM to send customers service reminders. Often enough, customers won't know when their unit is due for servicing. You can fill in the gaps here by letting them know. This will help build trust with your customers while also helping you drive business to your dealership year-round.
At the beginning of 2021, Don Miller, Senior Data Consultant at Constellation Dealer Group, shared his insights on how dealers can leverage customer communication tools to keep business flowing: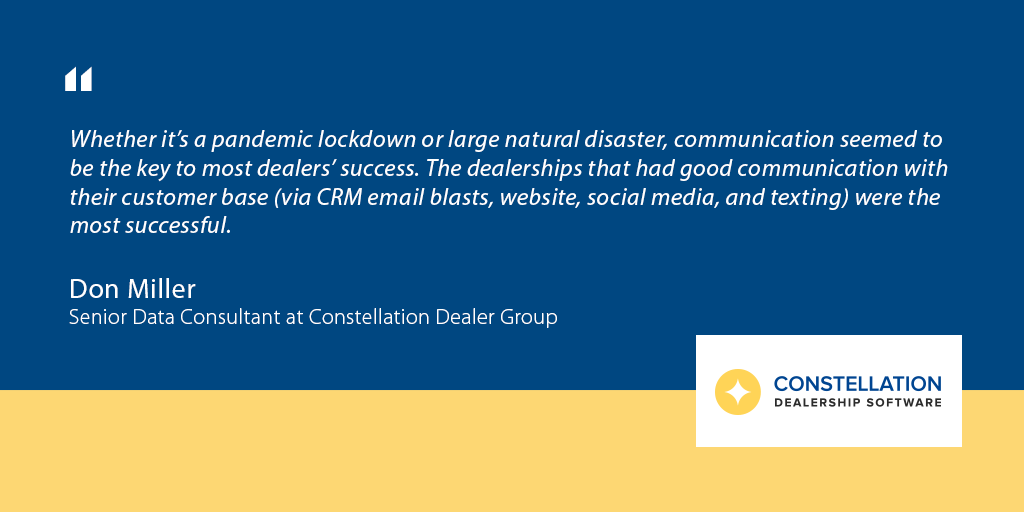 "Whether it's a pandemic lockdown or large natural disaster, communication seemed to be the key to most dealers' success. The dealerships that had good communication with their customer base (via CRM email blasts, website, social media, and texting) were the most successful. This allowed the dealers to communicate hours of operation, inventory information, and available services."
2. Manage Seasonal Inventory Min/Max Levels
If the parts aren't available, there isn't much you can do about it. But you will be in a much better spot if you stay on top of your seasonal parts ordering than if you take a haphazard approach.
When your shop is slammed with work orders, you want to make sure that the parts you need are easy to find. That means knowing what you have in stock, having enough of each part in stock (to the best of your ability), and ensuring that inventory space isn't being taken up by superfluous parts.
Dealer Tip: Automate your inventory min/max levels. Track your min/max levels in your dealer management system and put a cap on how many of each part to order, at what time of year. That will help ensure that unnecessary parts aren't being ordered.
Not only that but tracking your inventory digitally makes it easy to know how much inventory you have in stock. Many dealers are still managing their inventory with a clipboard. That leaves a lot of room for human error—something many dealers can't afford right now.
Don Miller weighed in: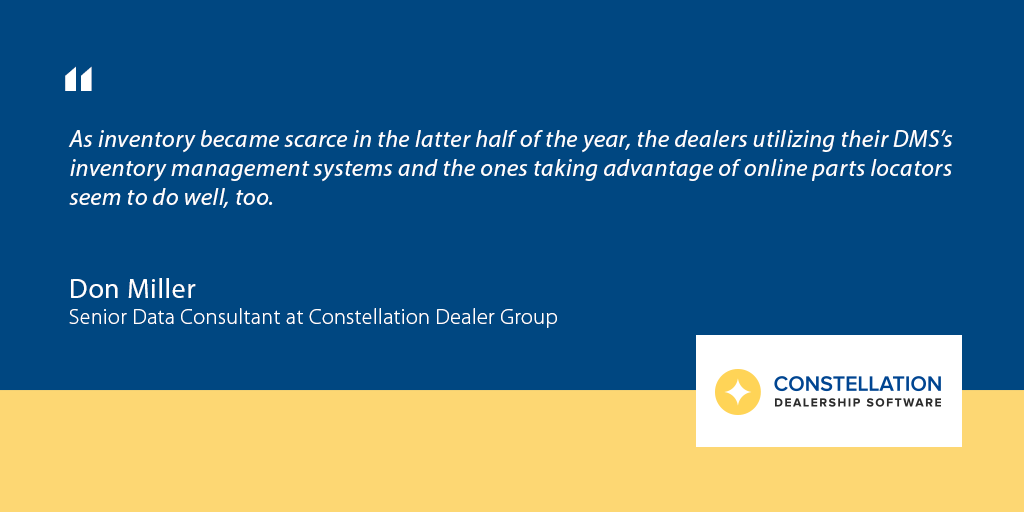 "Another key to success we could see in the data was inventory. As inventory became scarce in the latter half of the year, the dealers utilizing their DMS's inventory management systems and the ones taking advantage of online parts locators seem to do well, too."
3. Liquidate Obsolete Parts
Having dead inventory sitting on the shelves is costly. The longer they sit there, the more their value depreciates.
That's why it's a good idea to have a system in place to liquidate old or obsolete parts. One of the best ways you can do this is by making those parts available to other dealers in the area.
As the saying goes, one man's trash is another man's treasure.
Dealer Tip: Make your inventory available for search online. This enables other dealers in the area to find your parts, giving you the opportunity to still turn a profit on outdated stock.
Here's how one dealer used Parts Locator to move old product:

"We moved a component that was either NLA or was not going to be available for a long time, that we were stuck with, to a dealer that couldn't get it and really needed it to help a customer out. We were happy to get rid of it and that dealer was thrilled to get it." – Don Stewart, Owner and Dealer Principal at Stewart's Power Equipment
Click here to read how Stewart's Power Equipment are using Parts Locator to meet customer demands.
4. Source Parts from Other Dealers
On the flip side, you can also source discontinued and aftermarket parts from other dealers in your area. By doing this, you can avoid going through the OEM for parts—particularly handy when you need to find parts fast.
Dealer Tip: Search for out-of-stock or discontinued parts using a parts location tool.
Here's how a dealer we spoke to is using Parts Locator to source hard-to-find parts: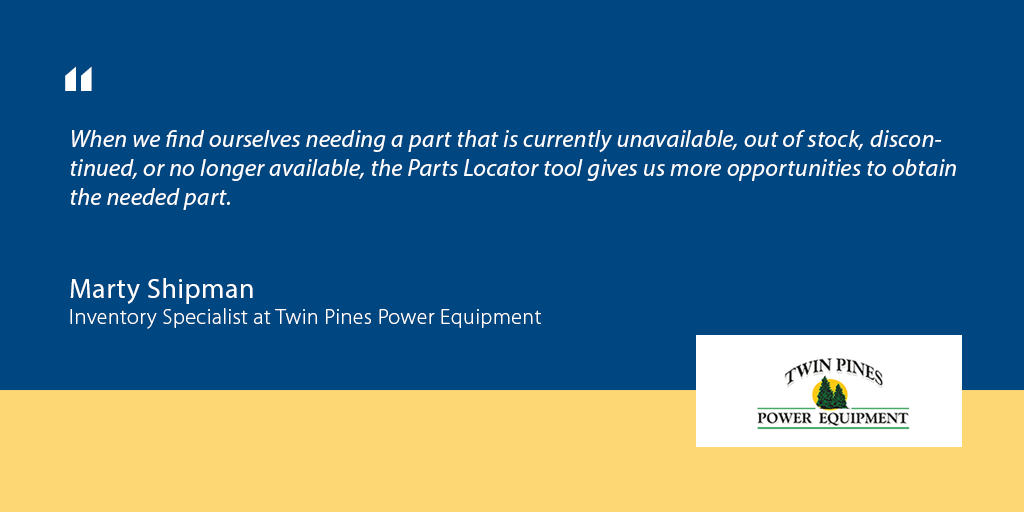 "When we find ourselves needing a part that is currently unavailable, out of stock, discontinued, or no longer available, the Parts Locator tool gives us more opportunities to obtain the needed part." – Marty Shipman, Inventory Specialist at Twin Pines Power Equipment
5. Keep Your Price Lists Up to Date
A common oversight we've seen is dealers forgetting to update their price lists. Commodity costs are on the rise, due to inflation, and many manufacturers are releasing updated price files more frequently to stay on top of it. Because every sale counts right now, out-of-date pricing means money being left on the table.
For example, if you have $100,000 in part sales and your outdated price lists are off by 5%, you need to increase sales by 25% to bring in the same amount as you would with the updated price list. With supplies short, you might not be able to make up for those sales.
Dealer Tip: Automate your price list updates. Rather than needing to manually check current prices, leverage a system like Ideal Price Lists that automatically update price lists periodically.
6. Cross-Reference Parts Prices
It pays to shop around before buying. That's why it's worth it to cross-reference related parts pricing from multiple manufacturers before putting in an order.
But cross-referencing parts can be time-consuming since it involves searching parts numbers on multiple sites. Luckily, there are tools out there that can help speed up cross-referencing—making it something your team can do as part of their regular ordering process.
Dealer Tip: Streamline cross-referencing parts pricing with multiple manufacturers to ensure you're getting the best-priced parts. The easiest way to do this is to use a portal that integrates with your DMS, like the Stens Cross-Reference Guide.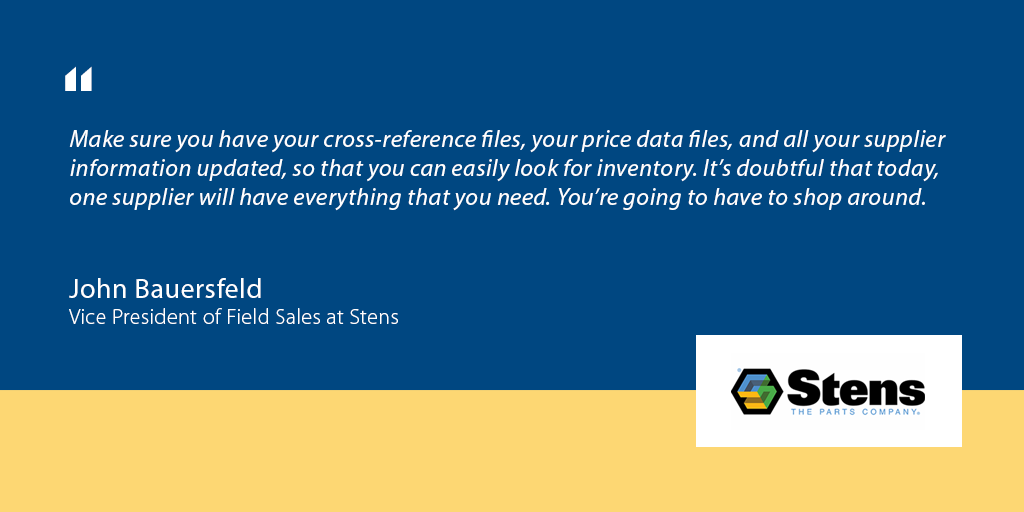 "Make sure you have your cross-reference files, your price data files, and all your supplier information updated, so that you can easily look for inventory. It's doubtful that today, one supplier will have everything that you need. You're going to have to shop around. Constellation Data Solutions can make that easier if you've updated all that information in your system." – John Bauersfeld, Vice President of Field Sales at Stens
7. Project Parts Sales and Stocking Numbers Further in Advance
While data won't exactly be your crystal ball for knowing how many parts you need to order, it can certainly help you project what you will need so you can do your best to prepare in advance.
When it comes to forecasting, many dealers still rely on gut feeling. They swear there's an art to it—and to a certain extent, that may be true. But feeling alone won't give you reliable numbers. Particularly if you're trying to plan not just for the weeks ahead, but for the coming months.
Dealer Tip: Leverage reporting to project parts ordering months in advance. There are resources out there to help you do this. One example is Market Data reports, which aggregate data like dealer count, wholegood unit sale count, and total sales numbers from dealers in a given region. Some dealer management systems will also have their own reporting modules, which allow you to track seasonal trends.
Here's one dealer's tip for using your DMS reporting tools to project parts sales and ordering trends: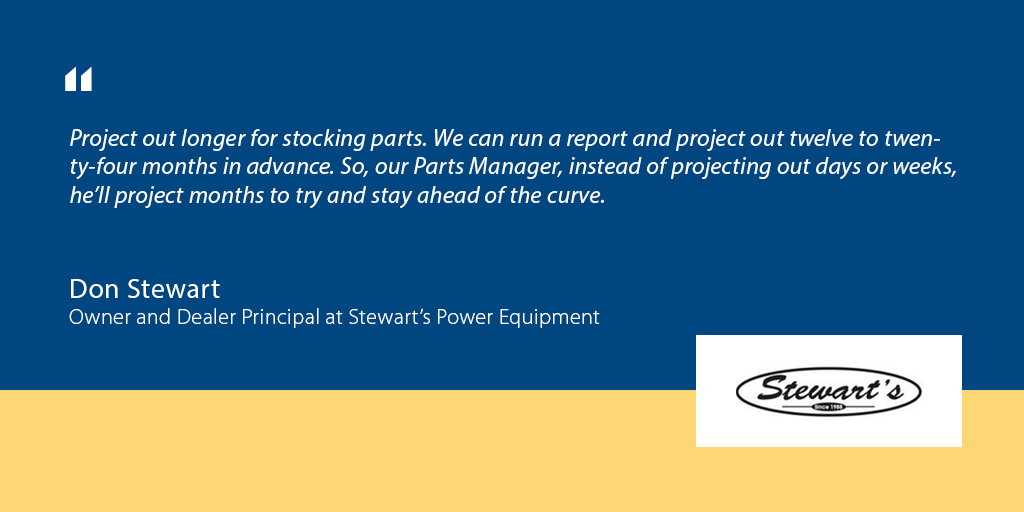 "Project out longer for stocking parts. We can run a report and project out twelve to twenty-four months in advance. So, our Parts Manager, instead of projecting out days or weeks, he'll project months to try and stay ahead of the curve." Don Stewart, Owner and Dealer Principal at Stewart's Power Equipment
"Plan and think ahead to the next season. One, your OEM will have visibility into what you need and two, you will be at the front of the line when they get them into stock." – Shawn Carothers, Marketing Manager at Toro
For Now? Cover Your Bases
We can't control the universe and we can't control supply chain disruptions. When big events like a global pandemic or a natural disaster happen, roadblocks inevitably arise. The best that businesses can do is implement safeguards into their processes, to put them in the best spot possible to weather the storm.
We're seeing a similar call for better risk mitigation strategies in the automotive industry as well. What the supply chain disruptions has shown us is that dealers need to prepare for the unknown. Challenges create opportunities – opportunities to create stronger, more effective strategies than before.
Want to learn more about some of the tools we've mentioned here? We'd love to chat! Reach out at 800-737-1620.