The Ultimate Checklist Bundle for Dealership Department Managers
From sales to the service department, from the parts department to finance, and everything in between – there are a lot of different elements that need to be managed and coordinated to keep a dealership running smoothly.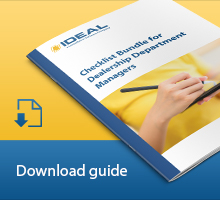 Checklists are an easy and effective way to prioritize tasks and keep all those moving parts of your dealership organized. That's why we worked with dealership experts to put together five checklists that cover everything from daily operations to end-of-month processes.
In this bundle, you'll find checklists for:
Owners and GMs
Service Managers
Parts Managers
Sales Managers
Controllers
You can also easily customize the checklists to fit the unique needs of your dealership.
(No Form Required)