How OPE Dealers Use Ideal to Boost Dealership Profitability & Productivity

Finding the perfect dealership management system (DMS) can be challenging. What works for one dealership might not work for another. One thing's for sure – the best DMS is one that helps all the different departments of a dealership work together.  
We can tell you why Ideal may be the perfect fit for your dealership, but we'll let our dealers do the talking. Here's what Ideal users had to say about the many features of our dealership management software that have helped them boost their dealership's bottom-line profitability, run more efficiently, and increase productivity.  
Keep everything organized within Ideal's Dealership Management Software
There are many moving parts in a dealership – from customer service to work orders to invoices. Keeping everything organized and ensuring that your dealership runs smoothly is no easy task.  
The good news is that you don't have to do it alone. Ideal helps you stay organized and on top of your dealership's operations. Here's what Ideal users had to say: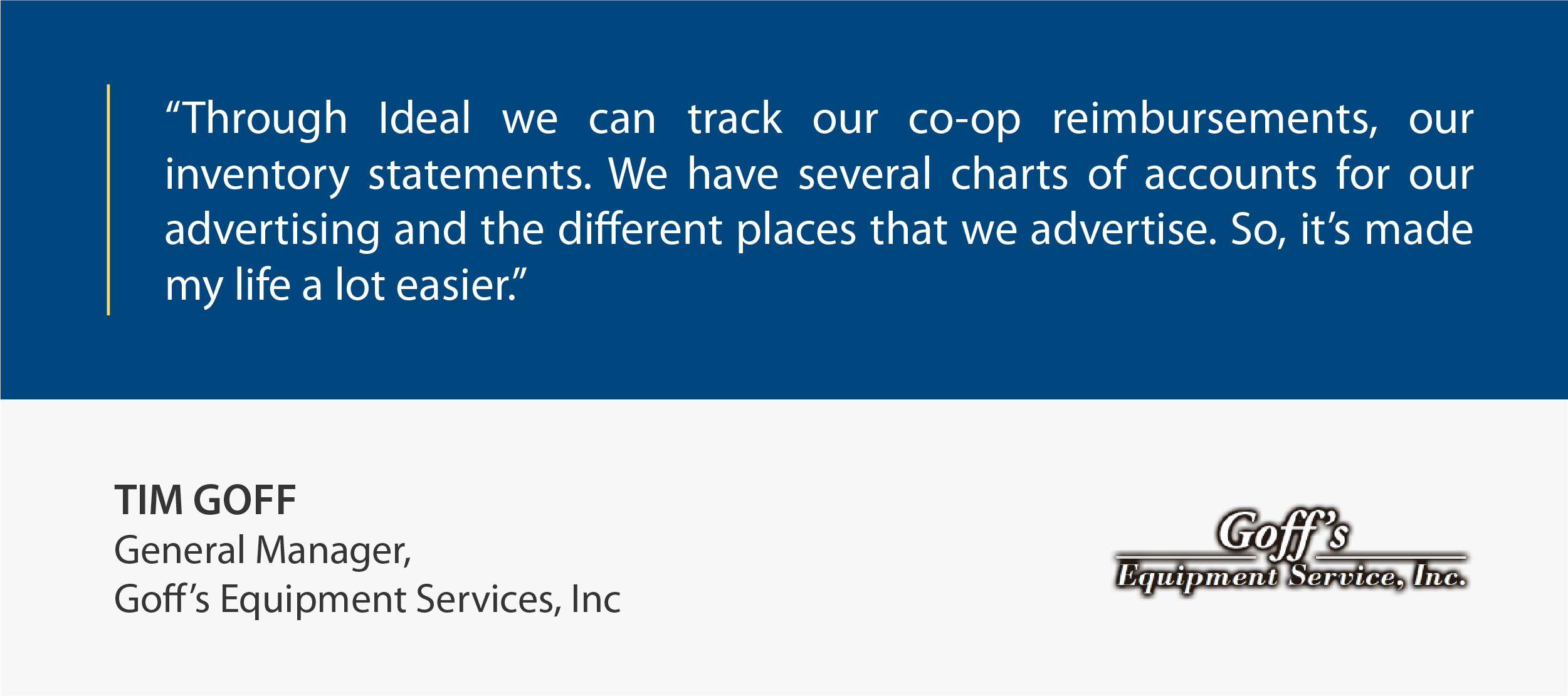 Tim Goff, General Manager, Goff's Equipment Services, Inc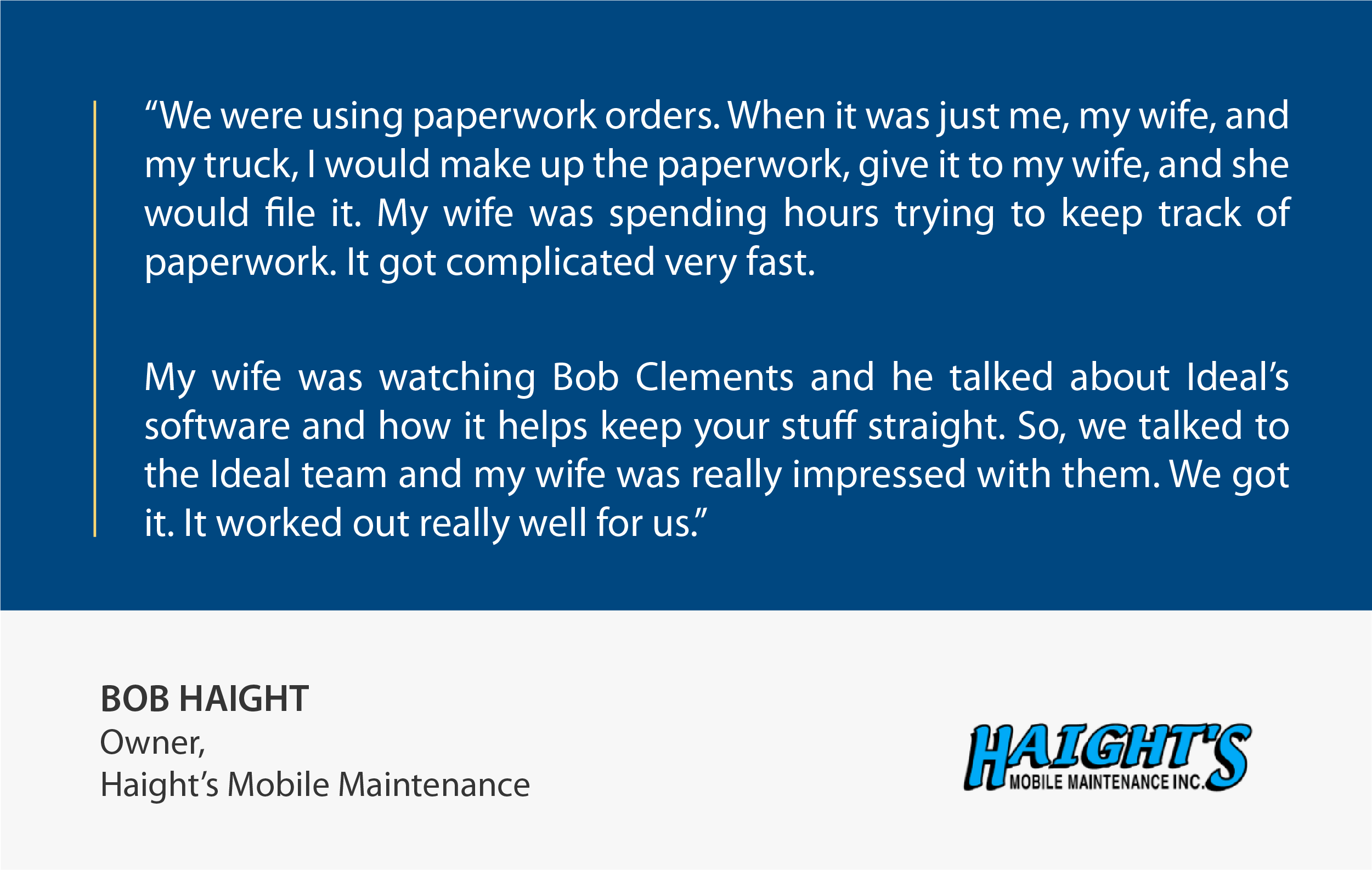 Bob Haight, Owner, Haight's Mobile Maintenance 
Streamline communications and improve service department efficiency with TargetCRM
TargetCRM is designed to help you connect with your customers through tailored marketing communications. This software integrates effortlessly with mobile devices, making it easier for dealers to connect and communicate with customers through text messaging, e-mails, and surveys.  
Here's what dealers had to say about their experience with TargetCRM: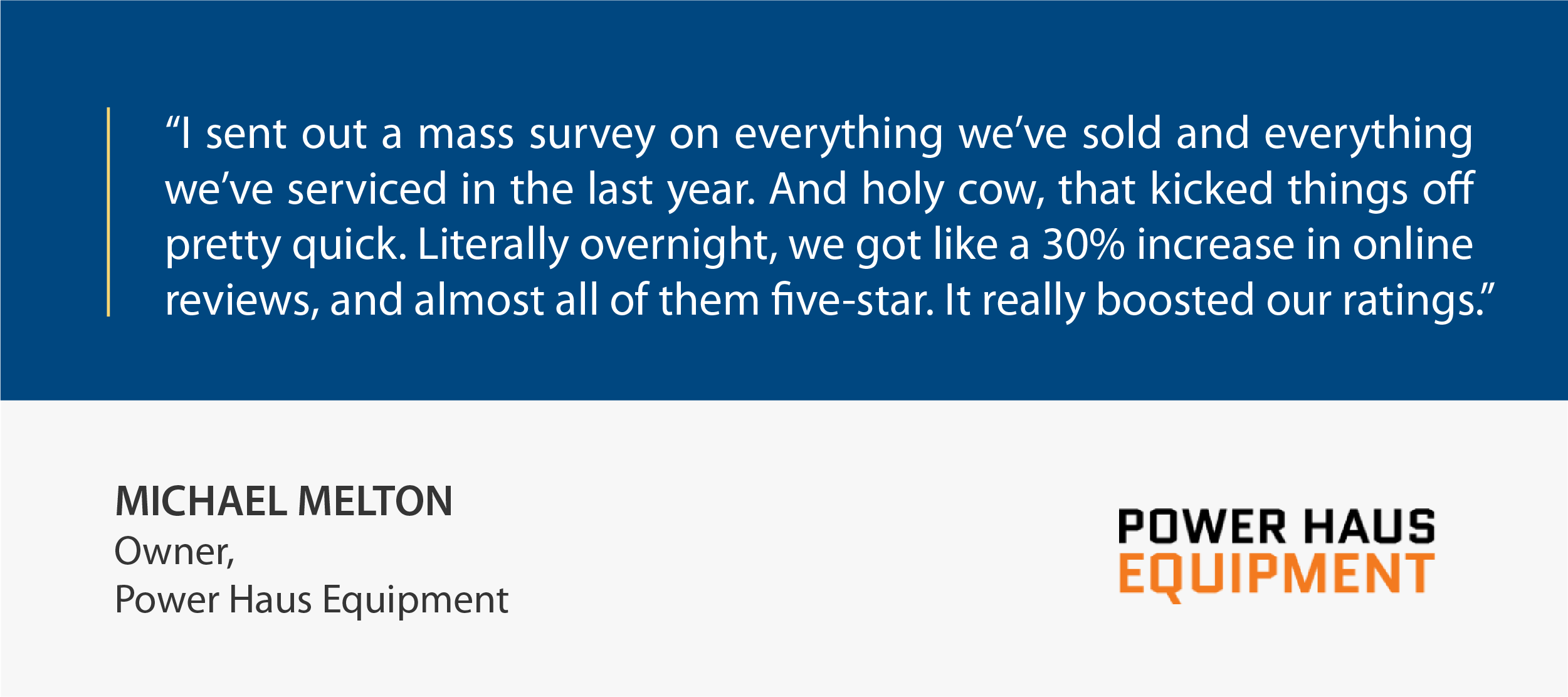 Michael Melton, Owner, Power Haus Equipment 
Cody Armstrong, Co-Owner, ATS Outdoors 
Protect your dealership from cyber threats and keep data secure within
Ideal Cloud
According to Roger Grimes, Data Evangelist at KnowB4, there are on average, 4,000 – 20,000+ new cyber threats a year, or 11-55 new threats per day. Transitioning from on-premises dealership systems to a cloud system can help boost your security.  
At Ideal, we have a team of IT professionals who monitor your server 24/7 to help take care of all the complicated technology so you can focus on what matters. Here's what dealers had to say about making the switch to Ideal Cloud: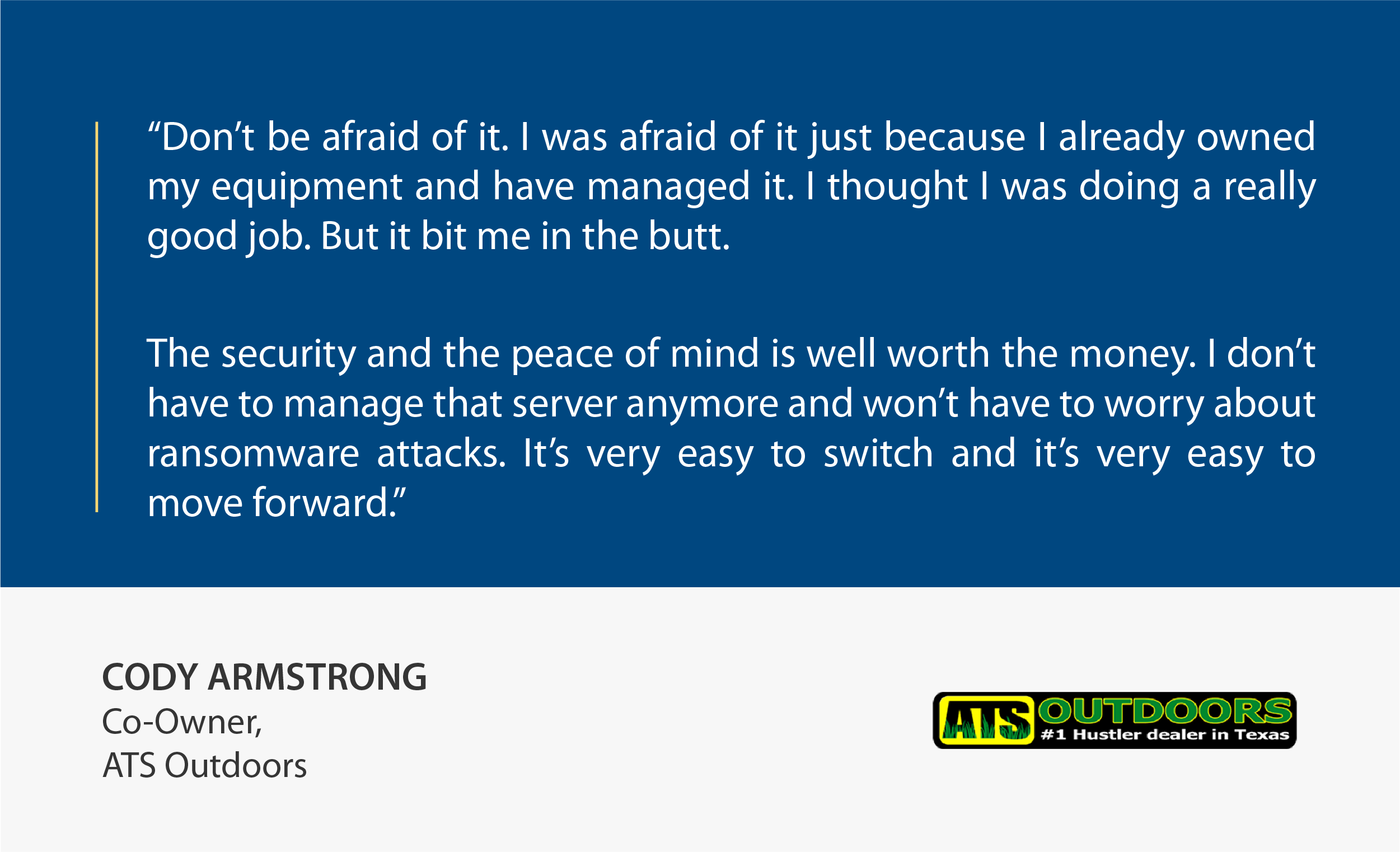 Cody Armstrong, Co-Owner, ATS Outdoors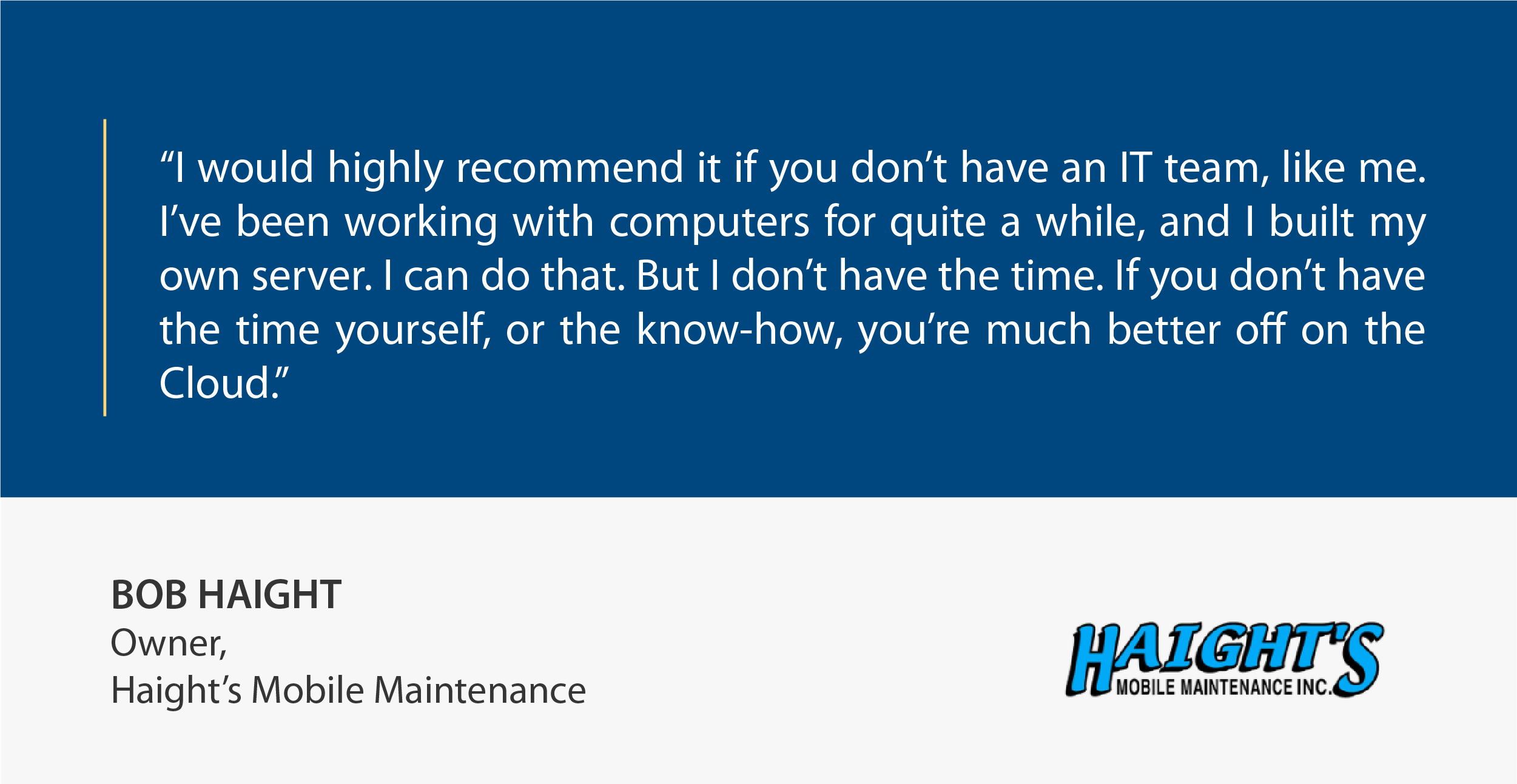 Bob Haight, Owner, Haight's Mobile Maintenance 
Find affordable parts near you and sell old stock with Parts Locator
Parts Locator is a search tool within Ideal that lets you quickly look up the parts you need at nearby dealerships. The easy-to-use search functionality lets you narrow your search for parts based on criteria, such as distance and quantity.  
You can also allow other dealers to see what you have in stock so they can buy parts from you. Here's why dealers love using Parts Locator: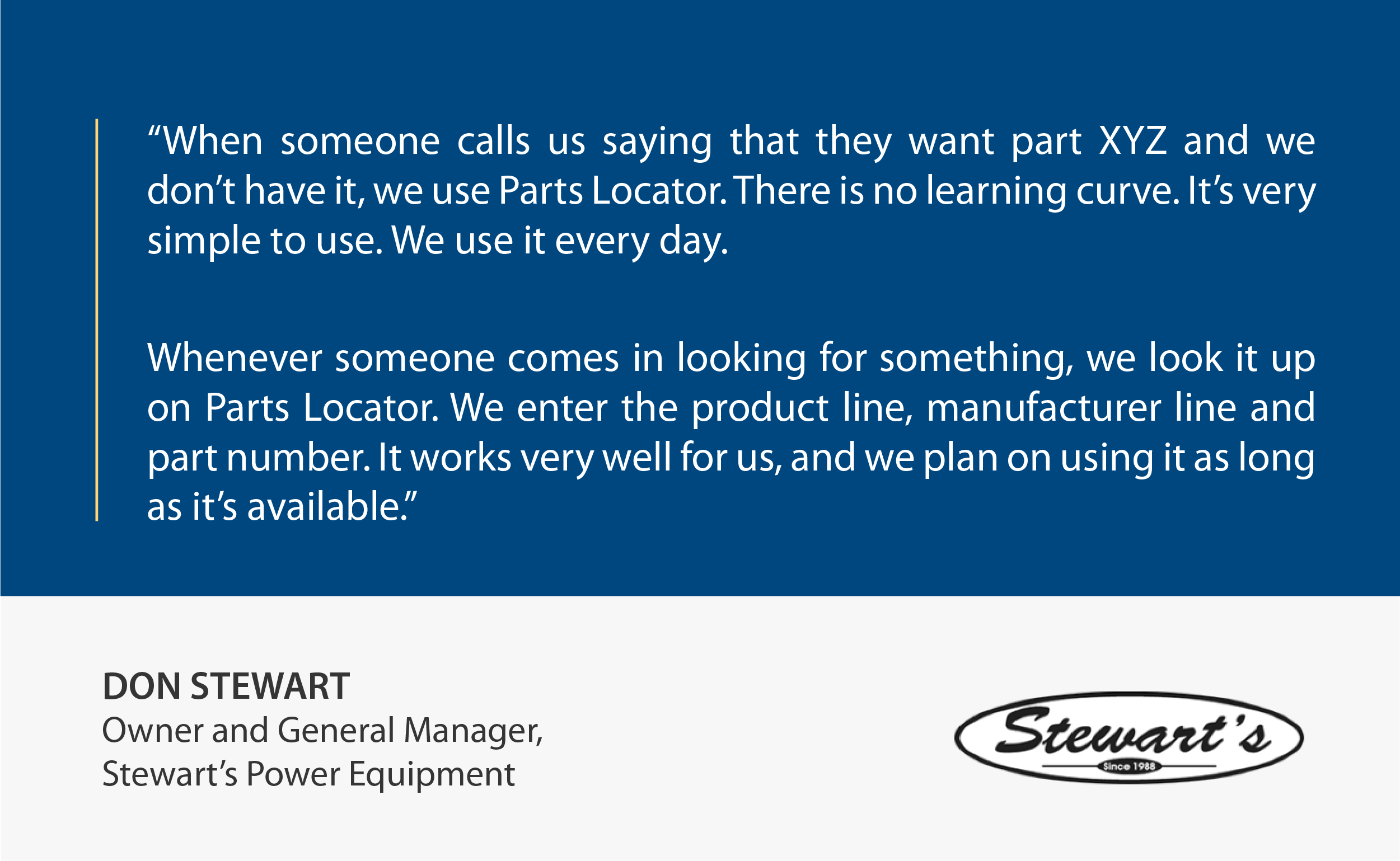 Don Stewart, Owner and General Manager, Stewart's Power Equipment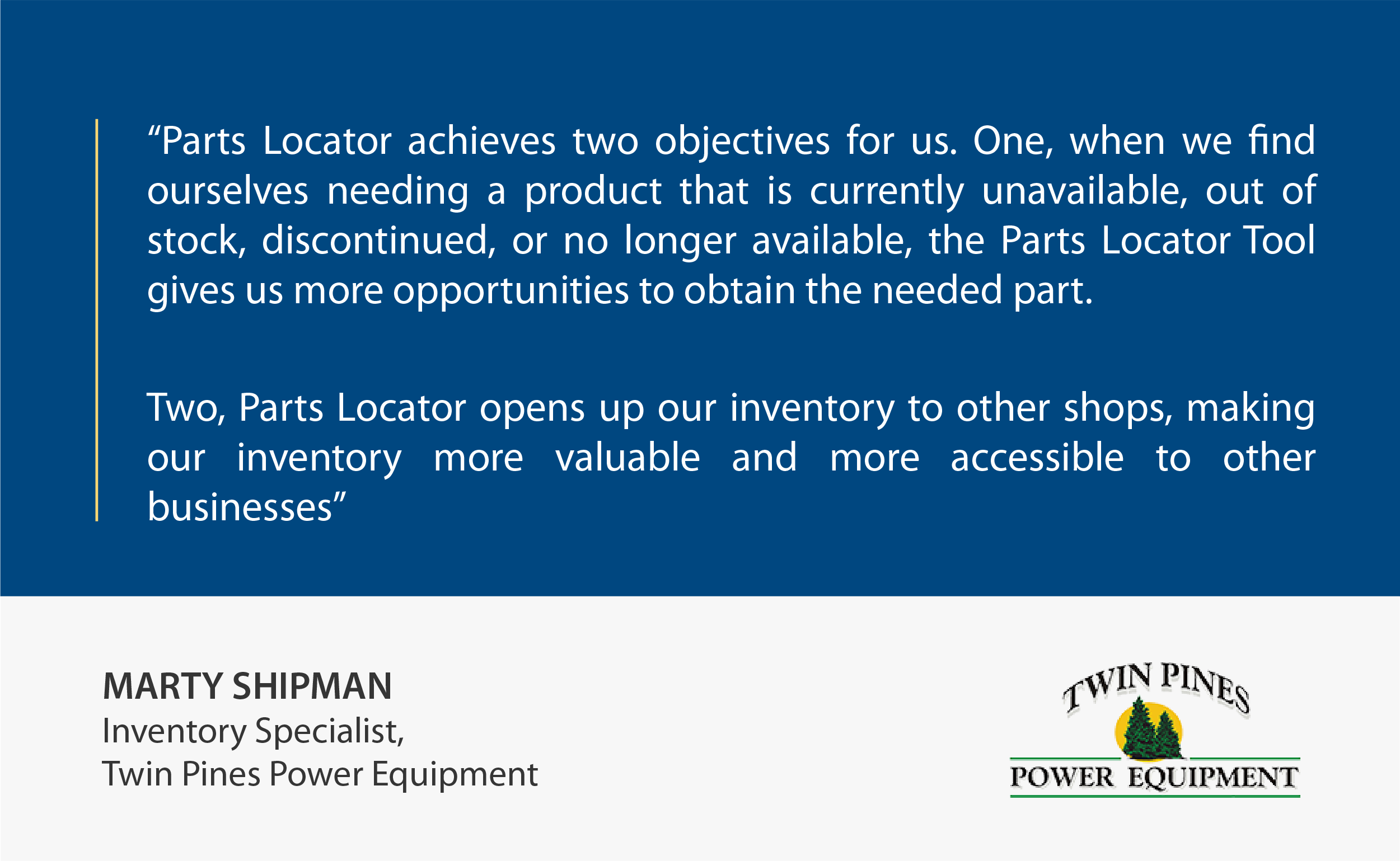 Marty Shipman, Inventory Specialist, Twin Pines Power Equipment 
Stay connected to your dealership – no matter where you are – with the Ideal Mobile App
In the age of convenience, keeping connected to your dealership anytime, anywhere is a necessity. Our mobile app allows you to take your workstation anywhere and keep you connected to your dealership.  
One of our first mobile app users, Frank Buchanan, Parts Manager at Mike's Lawnmower, shared his experience with the app: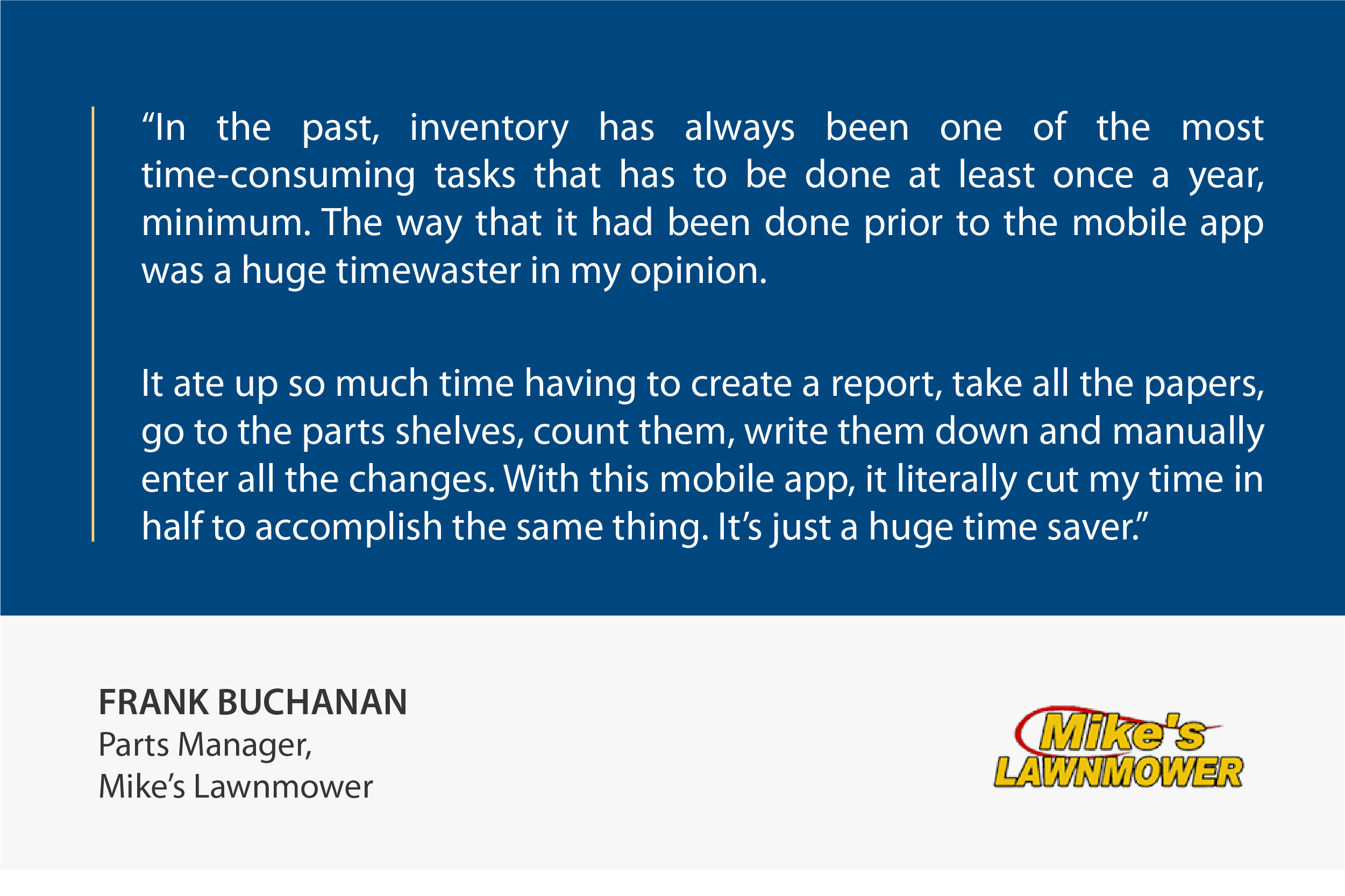 Frank Buchanan, Parts Manager, Mike's Lawnmower 
Reliable training and support you can trust from The Ideal team
It's hard to navigate new waters without some guidance. But our support team is here to help you every step of the way. We have a dedicated support team that understands how dealerships operate and want to help your dealership succeed.  
We've helped over 2,500 dealers manage their businesses and reduce inefficiencies. No problem is too big or small for our support team.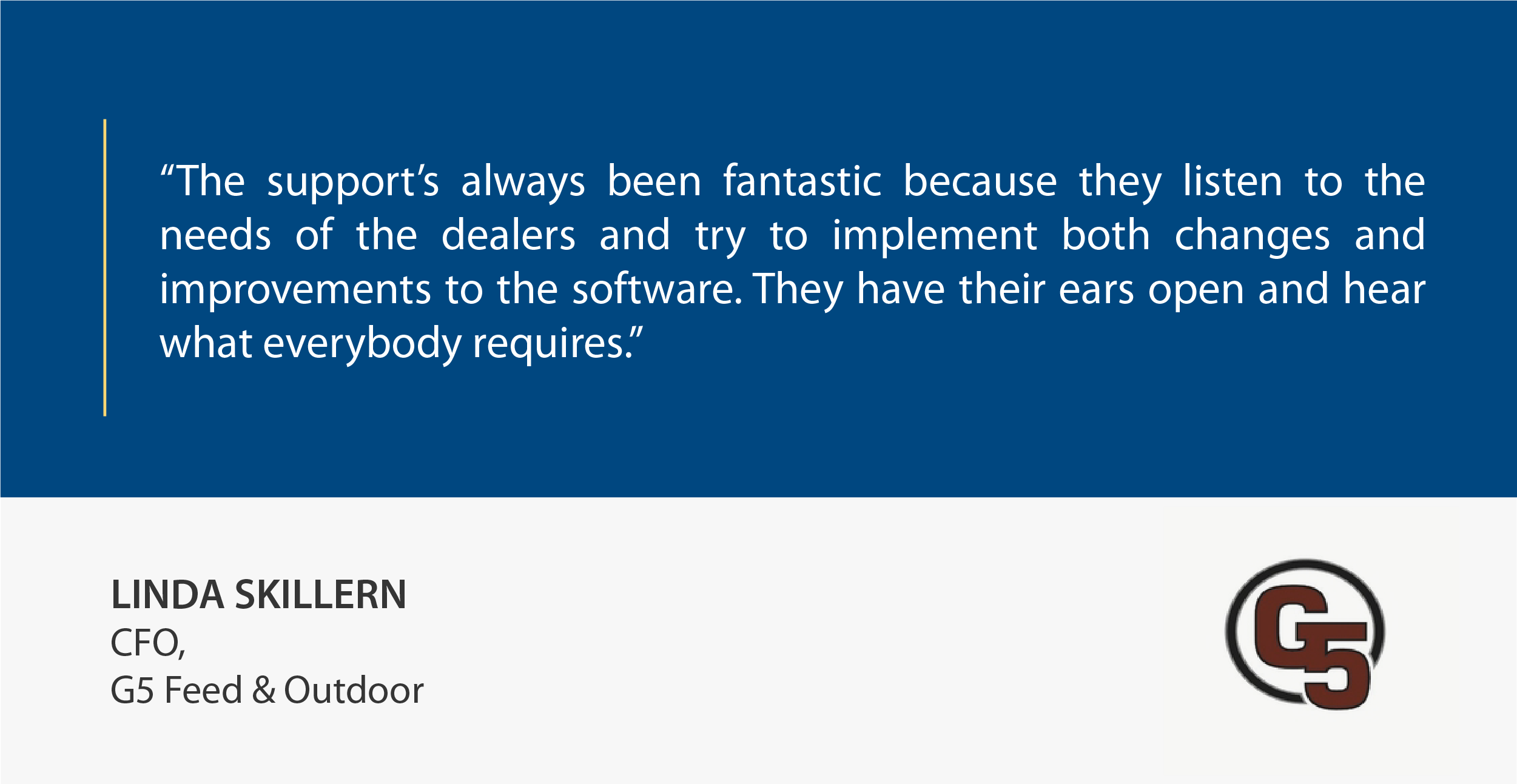 Linda Skillern, CFO, G5 Feed & Outdoor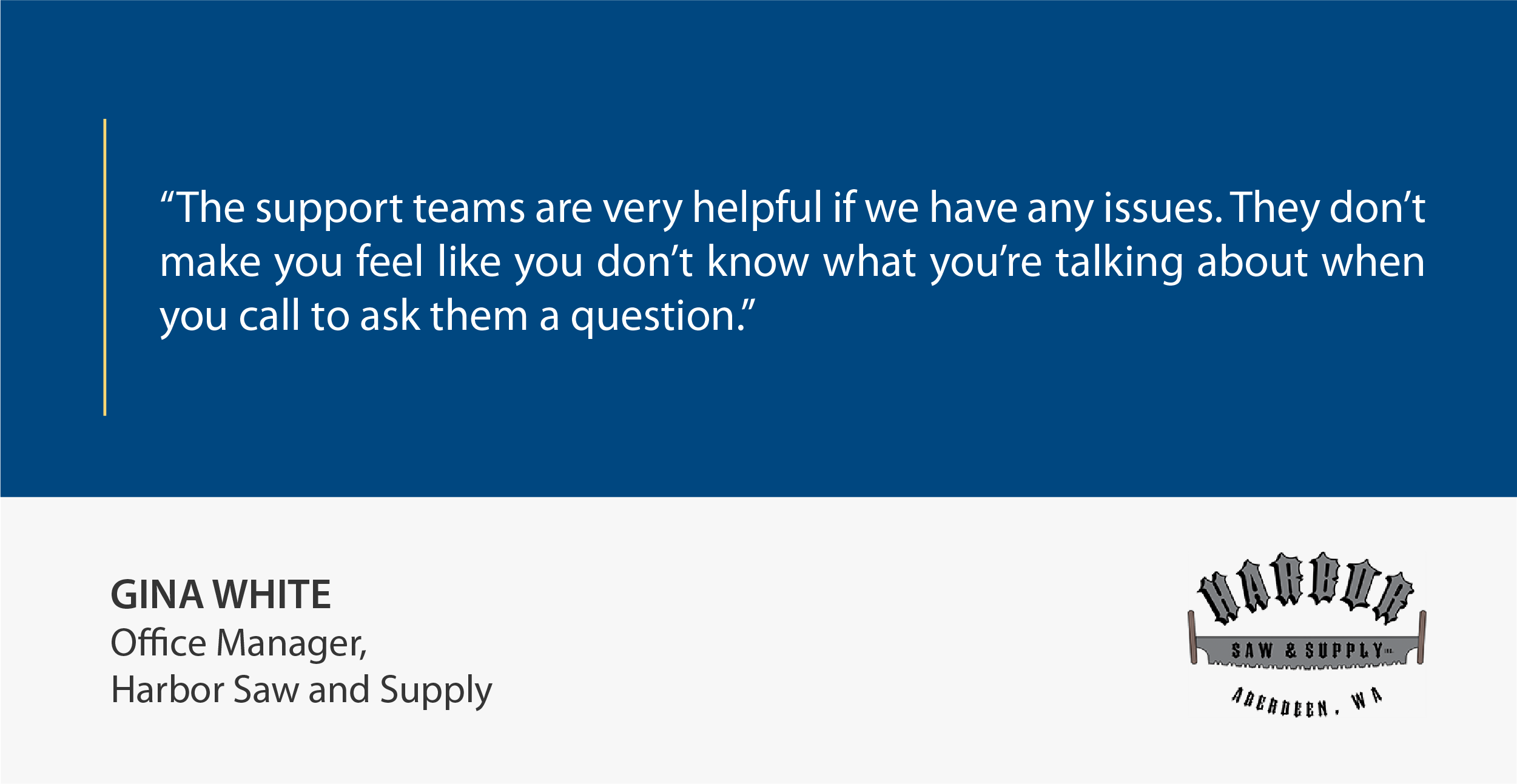 Gina White, Office Manager, Harbor Saw and Supply 
Boost Dealership Profitability & Productivity with Ideal
 Ideal's proven solutions equip your dealership with progressive, problem-solving tools that help you overcome outdated, inefficient processes. For more than 30 years, we have pioneered new and exciting dealership technologies. 
From reporting dashboards that give you insights into how your dealership is doing, to our exclusive Parts Locator tool that lets you find and sell parts from other dealers, we're committed to providing dealers with unique and innovative solutions.  
Solutions that scale with your business and help you overcome any market changes, so you never have to switch software again.  
Want to learn more about our products?