Arbor Tech on How to Quickly Build a Business from the Ground Up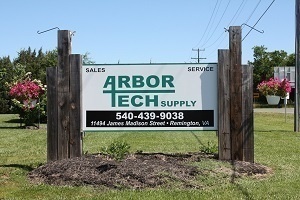 As a 30-year veteran in arboriculture, Michael Wintermyer began Arbor Tech Supply in 2008 with the goal of providing professional arborist equipment to both the general public and professionals.
The Remington, VA, business started small and has grown significantly over the last six years thanks in large part to carrying some of the industry's top product lines and the hiring of April Dehn, a former bank manager, to help manage the daily operations of the business.
April's main goal was to find additional ways to save time and money and her banking experience led her to develop a plan for improving Arbor Tech's merchant services.
We sat down with April to discuss how she became involved in the business, the challenges she's faced and the obstacles she's overcome in order to help make Arbor Tech the thriving business it is today.
How did you become involved with Arbor Tech Supply?
April: "I came onboard three years ago to help build the business, work on some of its efficiency, and pretty much manage everything. Having served 15 years in the banking industry, I immediately started looking for ways to cut costs, save money and improve our overall daily process."
What areas did you notice were costing you the most time and money and how did you go about improving them?
April: "In looking at ways to improve the business, one of the things that I came across was our merchant services. I wanted to find the cheapest and best way to take care of our customers. We wanted to be able to easily accept Visa, MasterCard, gift cards, etc., without it costing us a fortune. I got pricing from local merchant service reps and local banks. Everybody kept promising me cheaper pricing, but it was all pretty much the same as what we already had plus we'd have to lease or buy another piece of equipment. We did not want to go through that.
At the same time we started using Ideal and loved everything about it. It was making a huge improvement in our efficiency as a store, how we did our inventory, how we kept track of things and how we took care of our customers in our service department. We used significantly less paper, our data was all in one place, and everybody was getting used to it. I was still in the process of thinking about what I was going to do with merchant services and that is when I talked to Brian Mohr, our sales rep, and he mentioned Ideal's integration with ChargeItPro. We got everything setup and we love it!"
How hard was it to transition your business into utilizing ChargeItPro?
April: "The implementation went very smoothly. They did a great job of explaining how it worked, how it integrated with Ideal and what kind of pricing we would have. The price was better than what I was currently paying, so I was already saving money in this regard.
Once we got through all the contracting and all the paperwork was done, it only took a few days to process. Within a couple hours of installation, ChargeItPro walked us through how to use it and we were off and running. It was so easy to do!"
In what ways has implementing an integrated merchant services system contributed to the growth of your business?
April: "There are so many things. The equipment is easy. All I need is a little inexpensive scanner to attach to my system to swipe a card. I don't have to go away from my computer and go to the counter to use another piece of equipment, which I previously had to do.
Not only are we saving money because the processing itself is cheaper, we're also saving a huge amount of time. I don't have to stop interacting with the customer to walk to the counter, enter all the credit card information, wait for the receipt to process, print out receipt, go back, have customer sign, close that on the POS system, then staple all that together and make sure we didn't lose anything. ChargeItPro makes this process so easy. You swipe the card, everything transmits directly to the Ideal, you print out one receipt, the customer signs on the signature pad and the signature is in the computer. What a perfect system! It just works so smoothly! We've been so thrilled with it.
I get calls all the time now from people who want to sell me one of the merchant services. I say to them, 'You know what, I'm extremely happy with what I already have, there's nothing you can do to convince differently, so have a good day!' They tell me they can save me more money and I say, 'Nope, you can't save more than what my company already does for me.' So needless to say, we love it!"
Balance statements can be a nightmare without the proper tools in place. What impact has integrated merchant services had on your bookkeeping?
April: "It's so easy! At the end of each day my team prints out a report, sends it up to me, I input into the system, match it up with the bank statement and I'm literally done. It takes no time at all. Previously it was a nightmare. Now it takes me just minutes to balance my merchant services account, rather than an hour or two. It's just tremendous."
How has this new process improved your customer service?
April: "It's the time. Even if you're taking two minutes to process a payment, it feels like eternity and they wonder what is taking so long. When the machine is slow they're afraid that their card was declined or something's wrong. Just the fact that's it so quick allows us to provide the customer with a better experience. We feel It's the best thing we can do for our customer.
Another thing ChargeItPro has allowed us to do is gift cards. This has worked really well for us over the last two years. We had little cards designed and they look great. I talked to our representative about what our business was and they sent me samples of cards. They created several different designs for us to choose from and a week later I had my cards in my hand. That was a real benefit for us, as well as for our customers. All mass merchants out there have gift cards, but we're just one small independent business and we felt like we couldn't compete with that. Now we can because of ChargeItPro and it wasn't very expensive at all. It makes us seem like a big store when we're just a small independent business. So that was really nice."
What advice would you give to someone that is looking to implement new tools to help them save time and money?
April: "Get Ideal and get ChargeItPro! There's nothing else I could say. When I was a bank manager, so many of my customers would come and complain about their merchant services. They complained about the costs and how long it took them to get their money. With ChargeItPro I get my money into our account the very next day. This makes it easy to pay bills and get everything done right away. When I was dealing with customers at the bank, it took them 2-3 days to get their money. For a small business that's huge because they need that money right away.
Everything that ChargeItPro has done for me is save time and money, probably in even more ways than I even realize. I'm a full supporter of it. It's gotten to the point where there may be somebody out there that can promise me something cheaper and It's just not going to matter to me. The ease of using it and the costs has provided so many benefits for us. My employees can't make mistakes. There's no way to make a mistake because the computer does all for you. This process just makes sense for a small business. It cuts out errors and anything that can possibly happen. It just does it all for you. What else could you possibly want?"