How B&B Sports & RV Saved Thousands of Dollars Each Month on Professional Fees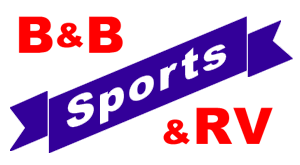 Have you ever thought that you could save on professional fees… if you only had the time?
Sometimes a dealer is so busy with their day-to-day tasks, that it seems that there is not enough time to reduce costs. Jeremy Crosby, the owner of B&B Sports & RV in Hutchinson, Minnesota, found a way to automate accounting reports that used to cost him thousands.
B&B Sports & RV is a year-round RV, Marine and Ice House dealer tucked in scenic Central Minnesota, located along the South Fork of the Crow River. Unlike similar retailers, B&B is open for all four seasons to serve outdoor enthusiasts of all kinds. We sat down and talked to Jeremy about how he saved money and got more efficient.
How did you get involved in the dealership?
Jeremy: "Our dealership was started back in 1992 by Butch Hausladen. I was a kid at that point and grew up just two blocks south of the shop. I used to ride my bike to the store and help him put together snowmobiles with my good friend Jeff, who was Butch's son.
After I graduated from college and worked in other businesses for a while, Butch offered me a job, and so, I eventually ended up taking ownership of the business. Eight years ago, he and I came up with a plan to make that happen, and here we are today."
Can you talk a little bit about your role and key responsibilities?
Jeremy: "I started in the parts department, but we all wear many hats. We tell all of our employees that the job description around here is 'yes' – meaning, 'I can do that.' And that's the same responsibility that I have as the owner.  I track parts inventory and invoicing, and I work on the sales floor. There really isn't anything here that I don't do."
When did you implement Ideal and what was the initial reason for getting it?
Jeremy: "When I started here in 2011, they had a software system in place, which was adequate, but it had no reporting. It was very hard to see trends such as gross profit and labor, for example.
At the time, the accountant came in, printed off reports, and turned them into a makeshift profit and loss statement with summaries. This was not the best experience, since I wanted to see those totals broken down, so we could get some business intelligence out of them.
I almost fell over when I saw how much we were paying the accountant for this custom reporting! We started looking for alternatives and were approached by an Ideal representative. We saved thousands and thousands of dollars by having an integrated accounting system and reports that reflected costs versus profits on inventory."
What would you say are some of the must-haves when it comes to a system like Ideal?
Jeremy: "The accounting module built-in that I just mentioned is huge. But the most important element, with the way the world operates today with money, is having ChargeItPro attached to Ideal. That is, hands-down, one of the best parts of this platform, because you never have to touch it. Once it's set up, it automatically integrates with the accounting system."
Tell me a little bit about your experience with ChargeItPro.
Jeremy: "In the eight years that I've been here, I have only had one transaction that was not correct, and ChargeItPro had it fixed inside of 24 hours. They saw it and called to fix it – we didn't have to do a thing. Their track record is impeccable."
What were some of the highlights of the implementation process?
Jeremy: "The trainer that helped us with the accounting side was the highlight – I'll never forget her. She knows her stuff. She is direct, blunt and honest, just like us. She impressed on us the importance of setting everything up correctly from the beginning. That's why our system works so well from 2012 to today. I can look back at our history and access a trend in 30 seconds because we started out correctly."
What Ideal functionality or module helps you the most with your job?
Jeremy: "I like the way the reporting system works. The fact that I can customize it to suit our needs is amazing.
I use the Financial Statement and Balance Sheet frequently. I like my reports to be comparative, and I usually look at a year's worth of data. I also make a lot of use of the Total Sales report. I break it down by wholegoods versus parts, and sometimes I'll look at the stronger times of the year, so that we can forecast what we need to stock when we do our fall stocking orders. The Sales Tax report is also helpful at the end of the month."
How much has Ideal contributed to the overall success of your dealership?
Jeremy: "It's way easier, on the reporting side, to see our strengths and weaknesses. It gives us the opportunity to focus more time on our weaknesses and continue to improve. I put a great deal of focus on expenses. This dealership can't get any bigger, so now we have to work on getting more efficient by watching our expenses carefully. I like being able to monitor each account and make relevant comparisons. That's a big benefit for me."
How has Ideal changed your professional life?
Jeremy: "Once you get the data inputted correctly, the reporting system helps you focus on the right areas to make your business better. We also have another independent dealer in town who uses Ideal. It's nice to bounce ideas off another business like mine."