Wright-Way Trailers Benefits from Industry-specific Software Features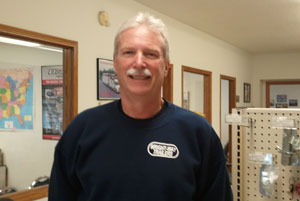 Bob Wright knows what it takes to run a successful trailer business. When his father started the business back in 1973, the focus was primarily in the RV market. Over time the business shifted primarily into trailers and now, under Bob's ownership, Wright-Way Trailers has expanded into one the of premiere trailer businesses in Iowa.
And with the help of Ideal's industry-specific software features, Wright-Way has taken its success a step further with the ability to streamline its operations and provide the best in customer service. Continue reading to see how Bob and Parts Manager, Jeff McLaud, help Wright-Way achieve success.
What do you consider to be the strengths of your business compared to most other retailers and what sets you apart from the competition?
Bob: "We are fortunate in that the trailer business isn't nearly as complex as automotive or even RVs, so we have the capacity to provide more attention to detail and handle all of our trailer operations in a more professional manner. We can also back up our trailer business with a full-time parts and service staff, which most of our competitors do not. This allows us to work on a lot of competitors' products because we have the capacity to do so. There's a lot of competition in the area, but a lot of them don't have the ability to handle the full-time needs of the trailer market."
Jeff: "I'd say our employees are also a big factor that sets us apart from the competition. We always look for quality and dedicated people who are all about taking care of the customer. We have 10 great people on our staff broken down into administrative, sales and service."
What methods do you use to advertise your business? Which method is most effective and why?
Bob: "Over the last few years a lot of our advertising has gone to more internet-based. We have our own website that we work on maintaining and improving all of the time. We advertise on specific websites that are geared for racing trailers and horse and stock trailers. We also do some TV advertising for our local people. Even though we get a lot of traffic, we feel it's necessary to keep our name out. Lastly we advertise a lot of used products on Craigslist, which hits up the local people."
What are some best practices you've incorporated to manage your service department more effectively and how has Ideal helped?
Jeff: "We try to keep everything, in particular the scheduling, in the Ideal system. We track all of our customer information in the system and maintain their equipment history. Equipment history is a big factor for us because we can look up everything to see what's been done on the unit before and what previous issues there were. Being able to pull history up at your fingertips a year or two later has been extremely valuable for our business."
"We also use internal work orders a lot. Basically every unit that comes in has an internal work order assigned to it. A lot of trailers will come in disassembled, so we have quite a bit of prep and shop time that we track in Ideal as an expense against the unit, which has been very valuable."
How does Ideal help you with Parts Management?
Jeff: "Ideal has been a vital part of our inventory management. It's really helped us with maintaining stock levels and tracking locations, sales and purchase history."
How has Ideal's F&I module benefited your business?
Bob: "It's been very helpful to be able to do the purchasing and title work all from one system. Before Ideal developed its own F&I module, we used a different program that integrated with Ideal. It worked alright, but we weren't happy with the support and wanted more integration. So we were really glad when Ideal came out with its own module and it's worked out really well. The added income potential has been very beneficial for our business deals."
Which other features in Ideal have benefited you business?
Jeff: "We really like the ChargeIt Pro credit card integration. We recently implemented that system and the transition has been seamless. The General Ledger is also very helpful in allowing us to generate the reports we need for our accountant."
What factors influenced your decision to purchase dealer management software and what made you choose Ideal?
Bob: "Our business had grown to the level where we needed it more streamlined, so we knew we had to go with some type of software system. We looked at two or three other programs, but liked that Ideal was a local company, so we purchased it about eight or nine years ago. The system has come a long way during that time. We've made tons of upgrades and the service we've gotten from the support staff has been excellent. It's nice knowing that a company listens to your wants and needs and works with you to help benefit your business."
What advice would you give to someone that is looking to buy software for their trailer business?
Bob: "I know a lot of dealers around the country and I know whatever system you go with is going to be a challenge because it's new and different. You want a system that's tailored to your business where the units, parts, service, and F&I is all integrated and Ideal does all of it in a good fashion. If there's something you need in particular for your business, they are also good at working with you to help make the product work for your needs. The product Ideal has out now has all of the bases covered and we are very satisfied."