How Ideal Computer Software Has Helped Drive Dealership Success for Over 35 Years and Counting
Managing all aspects of your dealership to ensure profitability is challenging.
The ability to perform this task well fuels our team at Ideal to improve, update, and innovate our software for dealers – the same way it fueled Dennis Haefner, the founder of Ideal, and his partner, John Herman, when they started Ideal in 1985.
We take the time to understand dealers' unique challenges so we can effectively adapt our software to meet their needs. After all, dealer feedback is the foundation of all we do at Ideal. It's how we have helped dealerships thrive for over 35 years and will continue to help them succeed.
Here's a look back at how we've used dealer feedback to develop our dealership management system over the years and help over 2,500 dealers become more organized, efficient, and profitable.
Ideal's DOS Years: 1985 – 2004
Ideal was the OPE industry's first business management software, operating entirely in the MS-DOS computer operating system and revolutionizing how dealerships did business.
Ideal helped dealers move from slow and time-consuming processes, such as pen and paper, to more efficient and modern tools using the computer, such as electronic price lists and purchasing capabilities. This made it easier for dealers to keep track of sales, stay on top of OEM price updates, and have better inventory organization.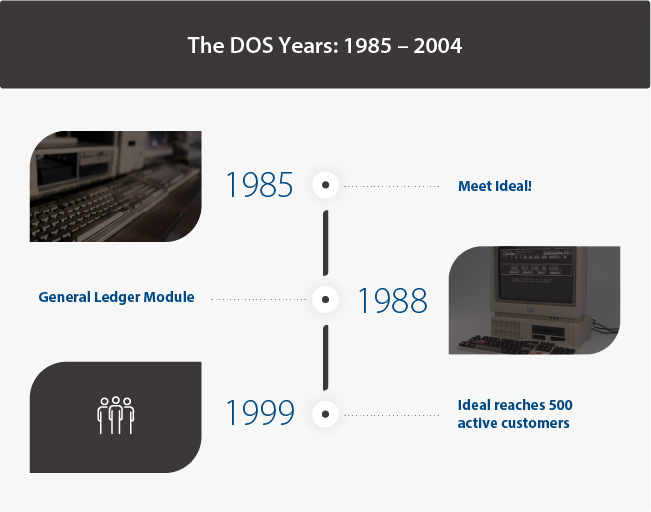 In 1988, the general ledger module for the DOS program was launched, paving the way for future digital enhancements at dealerships when it comes to accounting. This allowed dealerships to reduce double-entry and human error and save hours of manual work.
By 1991, Ideal was already testing the waters in a new vertical market – the Powersports industry. Right before the end of the millennium, in 1999, Ideal reached 500 active customers.
Ideal's Windows Years: 2005 – 2012
In 2005, Ideal for Windows was launched, bringing Ideal and its customers into a new era. The Windows update was another effort by Ideal to bring more modern solutions to dealers, helping them become more profitable in an increasingly digital world.
In particular, Ideal launched new modules for finance and insurance and a shopping cart, showing the first signs of a new movement towards eCommerce integrations. Although online shopping started to take off in the 90s, with the rise of marketplaces like Amazon and eBay, its combination of convenience and cost-effectiveness became more desirable to customers in the 2000s.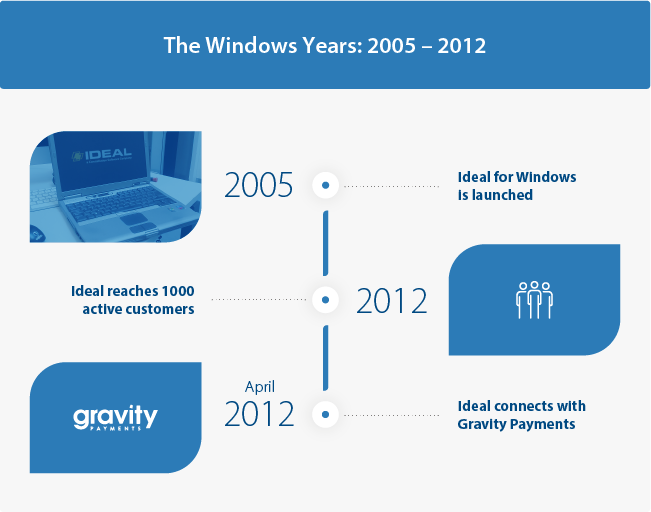 In 2012, Ideal linked up with Gravity Payments to offer streamlined payment processing. With a better payment processing service, dealerships could complete and expedite customer transactions and purchases. It also gave customers more payment options and flexibility while ensuring secure transactions and minimizing the potential for fraud. With payment processing, dealerships could serve more customers, increasing their sales and improving cash flow.
Watch Next: On-Demand Webinar: Gravity Payments Integrated Payment Processing Solution
Ideal's Mobile App Years: 2013 – 2019
By the early-2010s, smartphones became commonplace, allowing people to access the internet from anywhere on their mobile devices. Recognizing this, Ideal was the first dealership management software in the OPE industry to launch its mobile app in 2013.
The Ideal Mobile App is offered on both Apple and Android devices, empowering teams to perform their key daily tasks from anywhere in the dealership.
Continued enhancements to the app in 2014 included new service and parts capabilities. Now, dealers can use their mobile devices to take important information about work orders and keep more detailed records to support warranty claims.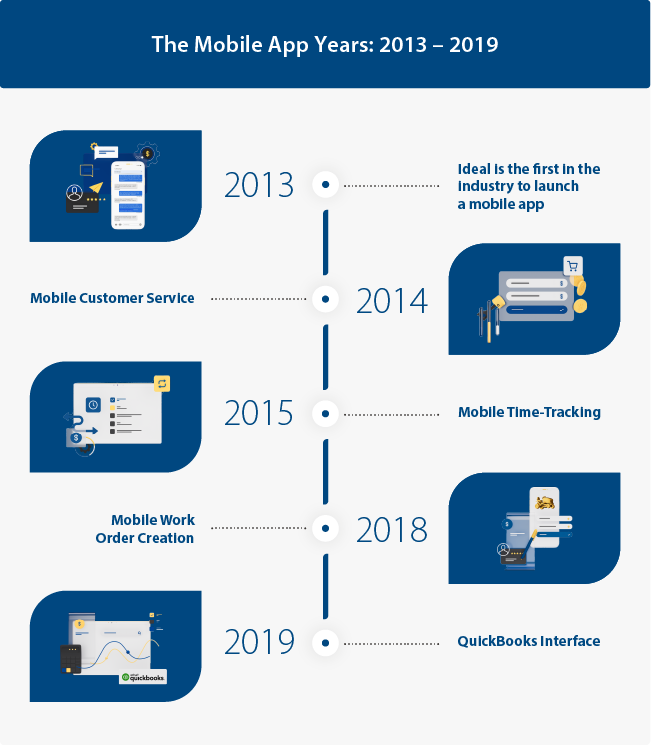 By 2015, Ideal introduced additional features within the Mobile App, such as unit check-ins, work order clocking, labor time-tracking, and picture files. In 2018, a major update to the Mobile App gave service managers the flexibility to create work orders within the app itself. This meant they no longer needed to return to a designated terminal every time they checked in a unit for service.
In 2019, Ideal added a QuickBooks Interface so dealers automatically have all their transactions and invoices flow from Ideal into QuickBooks. The integration further automated accounting tasks to help small and medium-sized dealerships keep all their financial records in one spot and reduce the hassles of paper-based bookkeeping.
Ideal's Target Platform Years: 2020
2020 marked the release of Ideal's Target platform and Ideal Cloud which paved the way for a new era of mobile dealership management applications in Ideal.
In contrast to local or on-premises servers, "cloud" software works on and is accessed through the internet. With on-premises servers, dealerships store their dealership data (such as customer information, financial transactions, work order history, etc.) on physical hard drives.
But with Cloud, dealers now had the option to securely access their dealership's data and information from anywhere with an internet connection. This means technicians could be in the field helping a customer and still be able to access any dealership data.
Dealerships could also reduce their costs and save money they would have normally spent on maintaining their servers, such as server replacements and other regular hardware updates. And because Ideal is responsible for monitoring the system, dealership data is regularly backed-up and encrypted underneath multiple layers of protection to prevent cyberattacks.
Read Next: Top 10 Reasons NOT to Wait on Moving to Ideal Cloud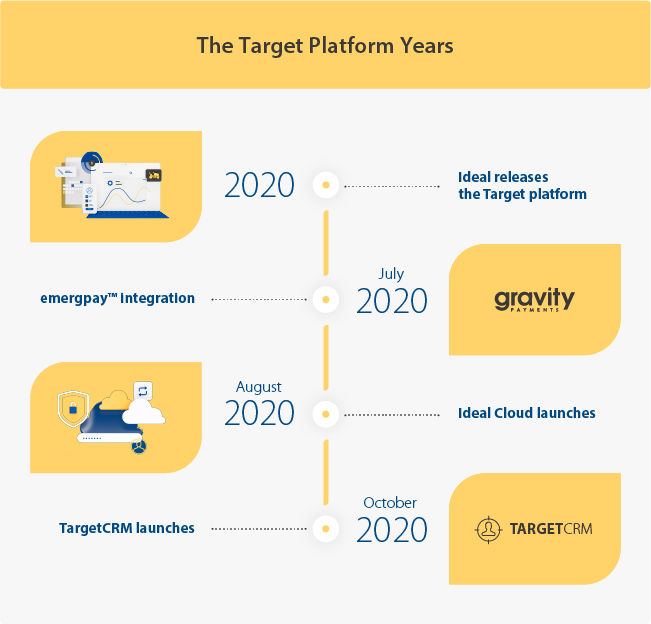 Ideal's Target Platform Years: Present Day
Further strengthening its partnership with Gravity Payments, Ideal integrates emergepay to provide remote payments that automatically connect with customer invoices in Ideal's dealer management system.
In late 2020, TargetCRM – an automated communication platform utilizing text messaging technology – is launched. Dealers can now send target promotions via text or email, survey customers to gauge satisfaction, and offer text-to-pay convenience. The new tool helps dealers reduce voicemails and boost communications with customers through the convenience of text messaging.
The following year, in 2021, Parts Locator is released, making it easy for dealers to look up parts at nearby dealerships and to sell aging stock to other dealers. The massive parts database connects Ideal's dealership community of over 2,000 users and quickly becomes a favorite among Ideal users. With Parts Locator, dealers can locate hard-to-find OEM parts at other dealerships, purchase parts for less, and remove inventory that would have otherwise gone to waste.
The same year, Ideal also announces key manufacturer integrations, such as LEPCO, and STIHL Purchase Order Integration, which allows dealers to submit their STIHL purchase orders directly to Crader Distributing and Blue Mountain Equipment through Ideal.
Click here to see all manufacturer integrations within Ideal.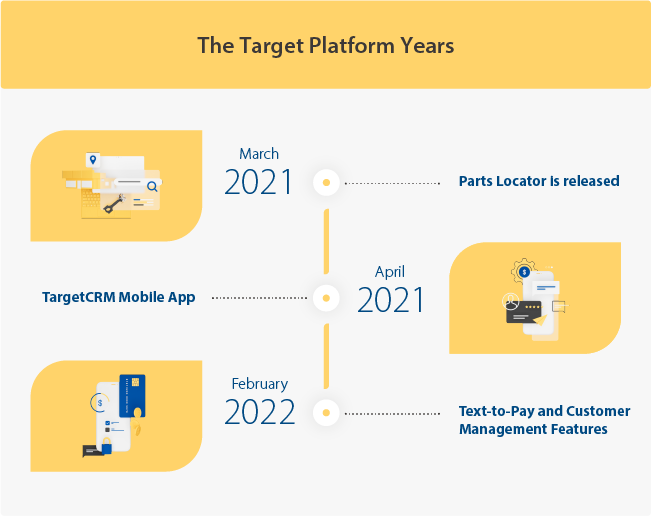 In mid-2021, Ideal updates TargetCRM with the TargetCRM Mobile App, creating even more convenient and efficient customer communications. It allowed dealers to manage two-way text messaging with customers, send and receive pictures, and update customers in their DMS—directly from their mobile devices.
A further update of TargetCRM occurred in early 2022, enabling customers to make payments from their mobile devices using a credit card or online banking. The update also made improvements to customer details and history tracking. In effect, these updates now made it easier for customers to purchase items online from the dealership's website.
Ideal Data Warehouses
In addition to its software updates, Ideal has been working hard to become the most significant data warehouse of OPE market data. In a joint venture with sister company c-Systems Software Inc., Ideal launched the Outdoor Power Equipment (OPE) Market Data Report in April 2020.
Drawing from over 1,500 dealers on a nightly basis, this data warehouse is the industry's largest, most accurate source for dealership and market year-over-year trending information.
Just a year later, in 2021, Ideal teams up with Honda Motor Co., Inc. to deliver the Honda Performance Report for power equipment dealers.
The industry performance reports include aggregate retail sales information from more than 1,600 Ideal and c-Systems dealers. It establishes industry benchmarks for performance, which dealers can use to inform their business decision-making.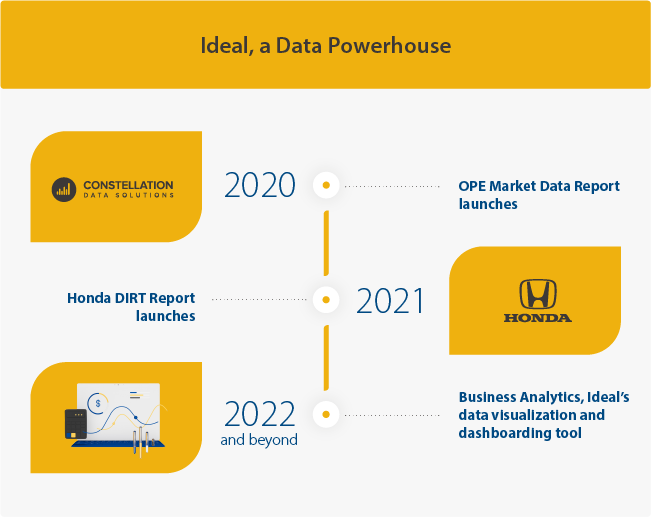 We're continuing to build on the Target Platform to bring dealers a more effortless, seamless, and easy experience that will handle all their business needs.
In the pipeline, Ideal is working on enhancing its reporting functions through a customizable data visualization and dashboarding tool. The tool will allow dealers to make better decisions based on real-time insights into their businesses and industries.
Our Commitment to Dealers
Today's dealerships have more opportunities to use technology to grow their business and replace slower, less accurate processes.
At Ideal, every software update and new feature we've introduced – or will introduce – is driven by feedback from dealers.
We take care of the heavy lifting to develop the necessary tools and technologies that dealers need to run more profitable businesses, serving not only the dealerships of today but innovating our software to help future generations succeed for years to come.
Want a closer look at how Ideal has helped dealers over the years?