OPE Dealership industry Data You Should Know [On-Demand Webinar]
Over the past couple of years, we've seen unprecedented changes in how the dealership market is behaving. But despite the challenges dealers have faced, the market is still going strong. 
The OPE industry has been rapidly evolving, with new trends and developments appearing every day. To keep up it's important for dealers to stay informed about the latest industry data.  
Watch the full webinar below to see the solutions the Data Solutions team provides for some of the challenges highlighted in this article:  
Where is our OPE dealer market data sourced?
It's important that dealers know where our market data is sourced so that they can understand its full meaning and value. 
To bring you the latest insight into the OPE industry we've enlisted the help of Constellation Software. Constellation Software owns some of the most widely used dealer management systems across multiple dealership industries including OPE, powersports, construction, marine, and tractor dealers. Data from just over 3000 dealers across those industries feeds into our data warehouse.  
With this database we found some of the top trends in the industry and developed solutions to help your dealership succeed. In this blog post, we'll discuss what these trends are and tell you how to leverage them to your advantage. 
You can access our free Monthly Market report here. 
The OPE market is growing
2021 has been an outlier for OPE dealers, with their average revenue growth significantly lower than in the previous three years. Despite the 2021 curveball, the trend for revenue growth has remained steady and aggressive.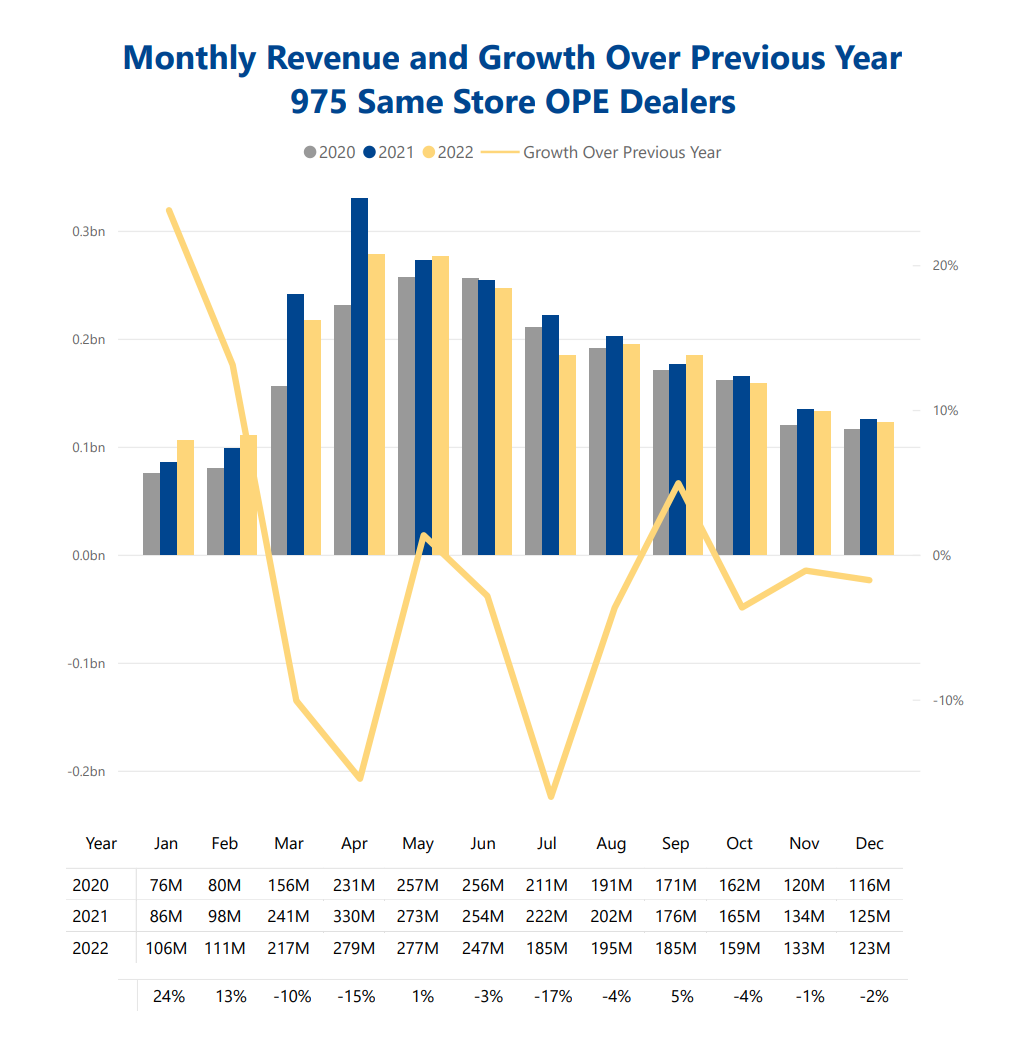 Prices are going up
A year-over-year comparison of OPE market parts' selling prices shows that inflation has caused prices to climb significantly in the past year.  
Now, more than ever, it's important to keep your price lists up to date. 
It's time to consider increasing your labor rates 
To mitigate the impact of product shortages on their sales, many dealers have been putting focus on making their service a profit center to drive work order revenue. To do this you need to have a dealership that prioritizes its customers so that when you have problems with one, the other departments can pick up the slack.   
This all starts with the employees. Improving the work environment and providing support to your employees is key. In an already competitive labor market, dealers are competing for top service talent. That means dealers need to offer more competitive labor rates as well as providing an optimal work environment.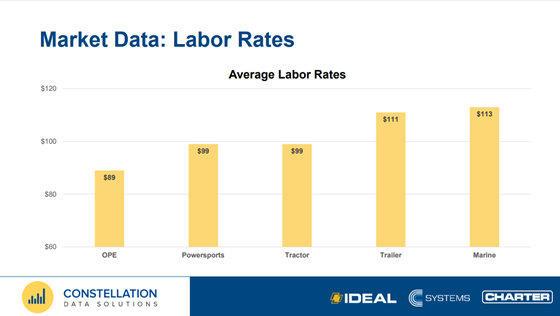 The top five market condition challenges
We're not out of the woods yet. OPE dealers will need to be mindful of trends in the market to guide their business strategy in the year ahead. Check out our 2023 OPE trends report to learn more about what trends you should be aware of.  
To summarize, here are five of the biggest challenges OPE dealers are currently facing: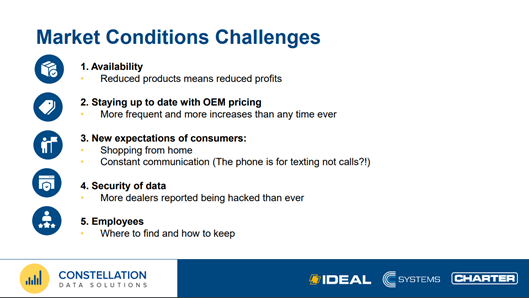 Want to see how your dealership is performing against market benchmarks? Read this month's OPE Market Data Report: