Guide: How to Optimize Your Service Department Processes Using Technology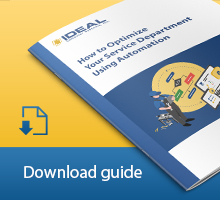 Is your service department operating as efficiently as it could be?
Every service department has a few bottlenecks that slow processes down—back and forth between departments, keeping track of multiple tasks on the go, and waiting on signatures from customers.
What if you could find a way to unblock some of these bottlenecks?
After working with hundreds of dealership owners, our team has identified 10 of the most common service department bottlenecks and how to unblock them using technology.
Read our guide to learn how you can:
Manage tasks more efficiently by streamlining scheduling, job status updates, and more
Get more leads and increase customer satisfaction by automating email and text communications
Cut down on data entry across all departments of your dealership
Save money by making parts ordering more accurate
And more helpful tips!
Download this guide to learn how you can use automation to take your Service department to the next level: