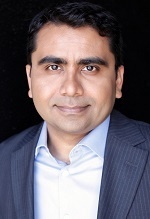 Ideal Computer Systems appoints Ajay Thakur, the Director of Strategic Initiatives at Ideal and Integrated Dealer Systems, as its new General Manager.
Cedar Rapids, Iowa, October 30, 2017 – Ideal Computer Systems, a leading North American dealership software vendor, is pleased to announce that Ajay Thakur will be stepping in as its new General Manager to deliver a more hands-on leadership approach and greater focus on customer-driven product innovations.
Prior to Thakur's involvement, Ideal was overseen exclusively by Sean Raynor, the General Manager of the North American Dealer Group – a division of Constellation Software comprised of five software companies, including Ideal. In his new role, Thakur will work with Raynor to align the grand, innovative ideas shared across the Dealer Group with the day-to-day operations within Ideal, making the company even more effective at developing new solutions for its customers.
"Having worked with Ajay before, I can say with certainty that he's a great fit for this role," said Raynor. "He has extensive experience in the software industry, proven leadership capabilities and knack for great ideas."
Thakur had previously collaborated with Raynor as the Director of Strategic Initiatives at Ideal and its sister company Integrated Dealer Systems (IDS). His role involved working with customers and partners to come up with innovative ideas and solutions that helped dealers grow and become more profitable.
"My goal for Ideal is to establish a much stronger focus on customers and their feedback," said Thakur. "This will allow us to move the product forward at a much quicker pace – and hopefully make it even more helpful to our users. I'm also hoping that my physical presence as the General Manager will help the team feel more connected to the business and in turn more motivated to deliver great results."
With Ajay Thakur at the helm, Ideal will operate with a much stronger emphasis on developing products and features that meet customer needs and ensuring that its dealer management system is as robust and widely used as it can be. To learn more about Ideal, visit www.idealcomputersystems.com.
About Ideal Computer Systems
Many dealers struggle to manage their dealership having to use multiple systems and often duplicating the data. Ideal gives dealers all the tools they need to manage each aspect of their business in one, easy-to-use software – backed up by 30+ years of industry experience.
With an all-in-one software, dealers are able to automate processes, gain control of their dealership and have peace of mind.