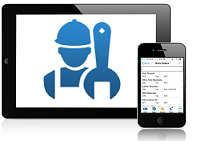 Cedar Rapids, IA – October 6, 2015 – Ideal Computer Systems, a leading provider of industry-specific dealership management software, is unveiling new service and parts features for its first-of-kind mobile app.
The Ideal mobile app, initially launched in 2014, has evolved to include a number of new features and is an on-the-go companion for the overall dealership software suite. It provides sales, service and parts employees with the ability to perform important daily tasks from anywhere in the dealership.
Equipped with this industry-leading mobile technology, dealers have been able to conduct quick and easy physical inventory counts and upload them directly into their Ideal system. Now, with the introduction of Ideal's latest version, dealers can benefit from several new technician-focused capabilities, allowing a dealership's employees to remotely:
check in a unit for service,
clock in and out of work orders,
add labor and comments,
take pictures for files and inter-office communication, and
complete jobs.
Another major enhancement that is popular with dealers is the ability to collect credit card payments and customer signatures, as well as email work orders and receipts – all from a mobile phone.
"We are thrilled with Ideal's new mobile app," says Ideal user Andy Tallman of Philbrick Farm and Garden Equipment in Vineland, ON. "By having the ability to handle important store operations directly from a mobile device, we're able to save time and get more done without having to go back to the computer all of the time. My employees love the fact they can provide customers service right on the spot with their phone, and love how easy it is to relay that information back into the Ideal system. We couldn't be happier with its capabilities and we look forward to its future developments."
To see Ideal's new app in action, visit http://www.idealcomputersystems.com/dealer-mobile-app or stop by the Dealer Resource Pavilion at the GIE+Expo.
# # #
About Ideal Computer Systems, Inc.:
Ideal Computer Systems offers the most comprehensive set of tools for automating dealerships across different industries of any size. We've used 30 years of product knowledge and dealer feedback to produce a solution that is maintained and supported by a team with real world dealership experience. Our focus is to offer dealers a system that's performance driven, has unrivaled service and support, and includes the most important tools your dealership needs to increase efficiency and boost profits. To learn more about Ideal, visit www.idealcomputersystems.com.