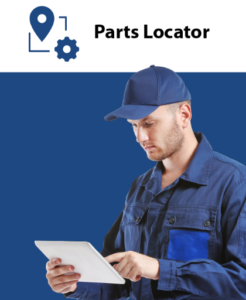 Cedar Rapids, Iowa, March 29, 2021 — Ideal Computer Systems, a leading industry-specific dealership software vendor in North America, has released an exciting new product that will make it a whole lot easier for dealerships to find affordable parts efficiently – Ideal Parts Locator. This product has also been released for their sister company, C-Systems. With Ideal Parts Locator, dealerships can easily look up the parts they need at nearby dealerships via an easy-to-use search functionality.
Ideal Parts Locator changes the game for dealerships by making it easy for them to:
Locate hard-to-find parts for brands no longer sold, niche parts, and back ordered parts
Liquidate old parts by allowing other dealers to view and purchase your stock
Improve customer satisfaction by directing customers to other dealerships in your area when you have parts out of stock
Streamline your search for parts by enabling you to use a variety of search criteria like parts number, manufacturer, distance, etc.
Purchase parts for less by finding old parts at reasonable prices from dealers like you
Easily find a dealer carrying the parts you need, including brands you don't carry
And more!
"Parts Locator is another tool in your arsenal to help assist and keep a customer returning to you time and time again," says Adam Zaayer, R&D Manager at c-Systems Software, a sister company of Ideal, "Above all else, being able to help your customer find what they need is how you generate return business."
"The Parts Locator tool achieves two objectives for us," says Marty Shipman, Inventory Specialist at Twin Pines Power Equipment. "One, when we find ourselves needing a part that is currently unavailable, out of stock, discontinued, or no longer available, Parts Locator gives us more opportunities to obtain the needed part. Two, Parts Locator opens up our inventory to other shops using the Infinity program, making our inventory more valuable and more accessible to other businesses."
Click here to learn more about Ideal Parts Locator and sign up today.
About Ideal Computer Systems
Many dealers struggle with having to use multiple systems to run their dealership, often leading to duplicate data and other inefficiencies. Ideal gives dealers all the tools they need to manage each aspect of their business in one, easy-to-use software – backed up by 30+ years of industry experience.
With all-in-one software, dealers can automate processes, monitor all departments of their dealerships, and have peace of mind. To learn more about Ideal, visit www.idealcomputersystems.com.