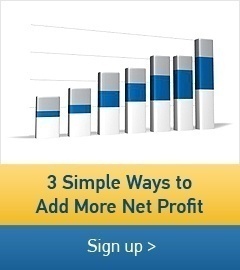 Cedar Rapids, IA – April 14, 2015 – Ideal Computer Systems, a leading provider of business management software for the OPE industry, has announced that dealership expert, Bob Clements will headline a panel discussion on dealership profitability with special guests Jeff Nicholsonof P & P Small Engines, and Ideal's Lead Software Trainer, Dave Baumgarten. The webinar entitled "Improve Your Margins without Losing Your Customers" will take place on Tuesday, May 5th at 1 p.m. (ET).
By attending the webinar, dealers will learn three simple ways to add more net profit to their dealership without sacrificing their customers in the process. This is a unique opportunity for OPE dealers to gain insight from the industry's top recognized dealership consultant, an OPE business owner who is applying these best practices in their dealership, and a software trainer with over 20 years of experience working in OPE dealerships throughout North America. Each panelist has their own perspective and will offer valuable advice for increasing business profitability.
Dealers can learn more and sign up for this free webinar by clicking here.
All registrants will receive a recording of the presentation.
# # #
About Ideal Computer Systems, Inc.:
Ideal Computer Systems offers the most comprehensive set of tools for automating Outdoor Power Equipment dealerships of any size. As the innovator in business management software development for the OPE industry, we've used 30 years of product knowledge and dealer feedback to produce a solution that is maintained and supported by a team with real world dealership experience. Our focus is to offer OPE dealers a system that's performance driven, has unrivaled service and support, and includes the most important tools your dealership needs to increase efficiency and boost profits. For more information, visit www.idealcomputersystems.com
About Bob Clements International:
Bob Clements International is a consulting firm that specializes in the development of high-performance dealerships. The organization works hands-on with dealerships throughout North America, helping them attain the personal freedom and financial wealth all owners strive to achieve. For more information, visit http://www.bobclements.com
About P & P Small Engines:
Located in Des Moines, IA, P & P Small Engines has grown to be one of the area's largest dealers in the outdoor power equipment market. They have been serving the needs of homeowners and lawn care professionals since 1976. For more information, visit http://www.ppsmallengines.com