9 OPE Dealer Statistics to Know for 2022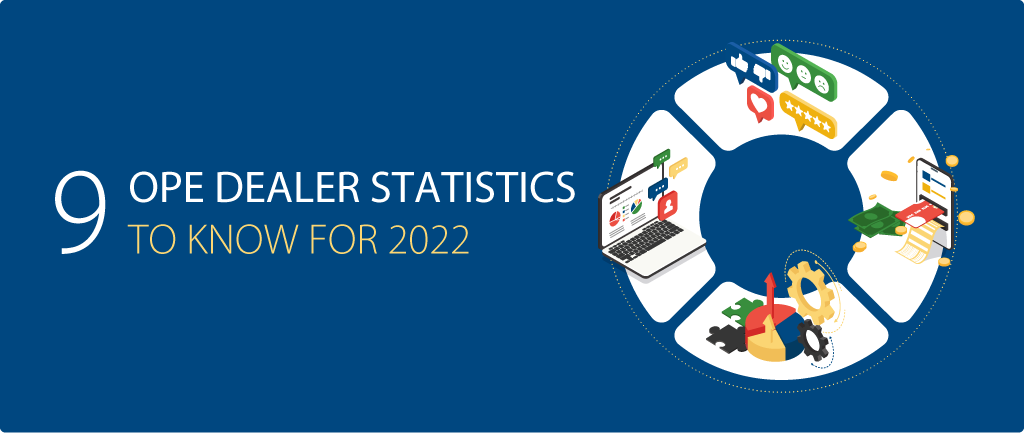 The OPE market is still experiencing the ripple effect caused by the pandemic. From supply chain disruptions to technician labor shortages and more, dealers have had to find smart ways to keep their businesses running as usual.
Because those challenges don't seem to be going away any time soon, it's more important than ever for dealers to fix efficiency gaps and embrace technology.
We surveyed OPE dealers across North America to find out what their biggest challenges will be for the year ahead, how they plan on leveraging technology, and what their priorities will be for their businesses.

1. What are the biggest challenges OPE dealers will face in 2022?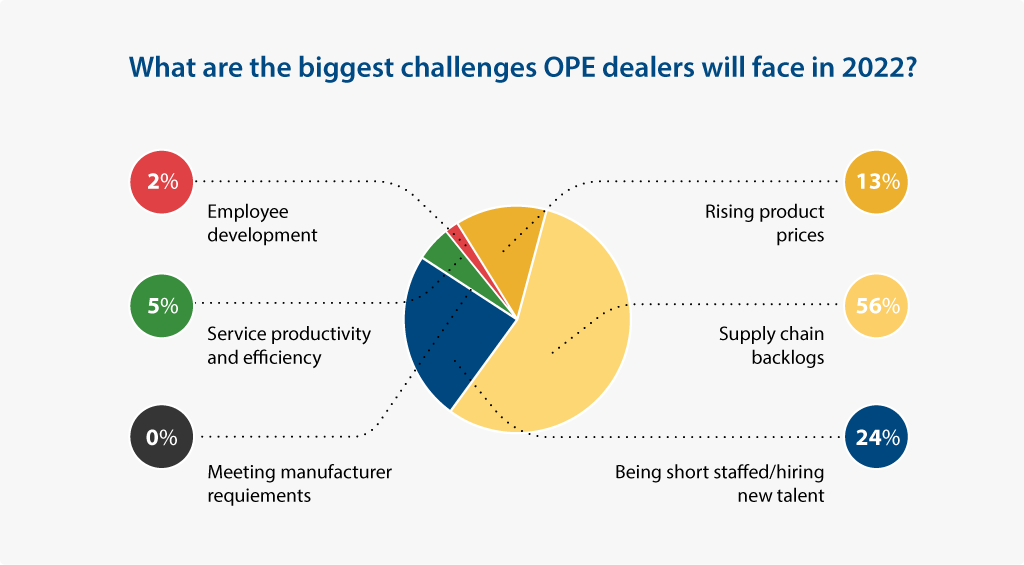 The biggest challenge dealers expect to face in 2022 is supply chain backlogs, according to 56% of respondents. 24% of respondents said that being short-staffed and hiring new talent would be a challenge, followed by 13% saying rising product prices.
Because these problems are set to carry on in the year ahead, many dealers are taking this opportunity to identify inefficiencies on their teams. Tools that enable dealers to track productivity and cut down on manual tasks will help to mitigate the impact of the challenges they face.
2.What processes do OPE dealers plan on optimizing using technology?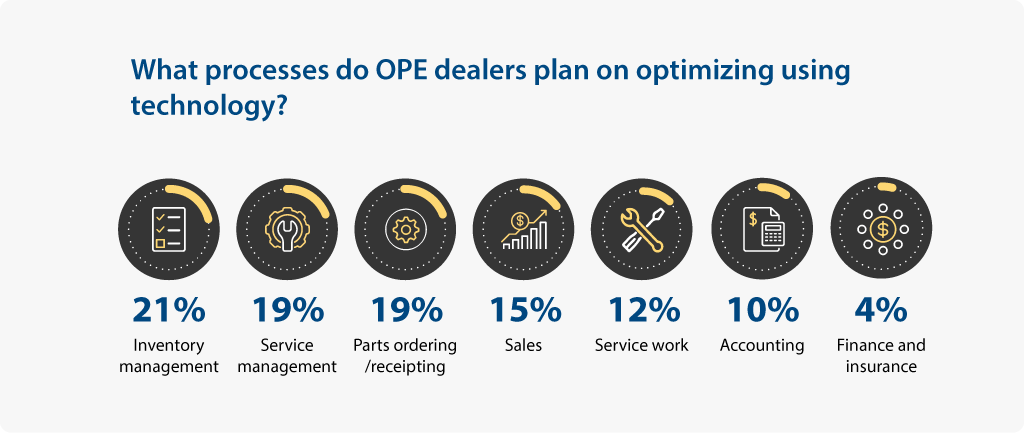 OPE dealers are planning on leveraging technology to streamline operations across all departments of their dealership.
21% plan on using technology to streamline inventory management. With parts supply tight, relying on manual inventory tracking methods leaves a lot of room for error and lost profits. Similarly, 19% of respondents said parts ordering and receipting is an area they want to optimize. 19% of respondents also said service management, and 12% service work.
Tools like Parts Locator enables dealers to locate parts from other dealers in their area, so they aren't relying solely on manufacturers for supply. You can read how one dealer has been using Parts Locator to meet customer demands here.
Tied with parts ordering is "service management" with 19%, which isn't surprising given ongoing labor shortages. Service work is also an area that 12% of respondents plan on streamlining with tech.
15% of respondents want to optimize their sales processes, likely due in part to the increased demand dealers are seeing for online sales and marketing methods.
3. Do OPE dealers have up-to-date online catalogs?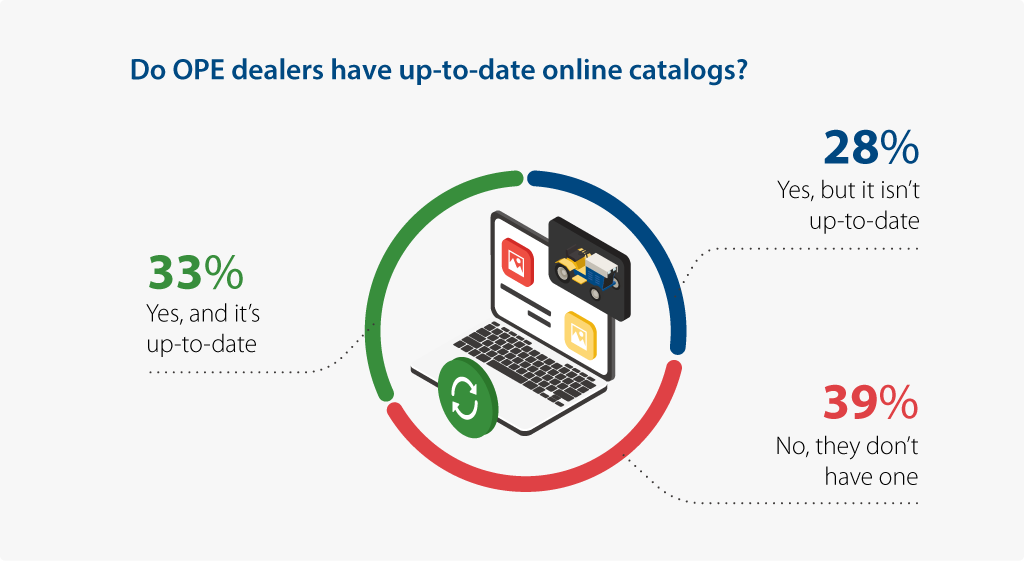 Pandemic social distancing restrictions spurred demand for e-commerce dealership shopping options. But many dealers still haven't started offering an online shopping experience. 39% of respondents said they do not have an online catalog, while 28% said they have one but it isn't up to date.
Even if you aren't ready to set up a catalog on your website, leveraging e-commerce platforms like Facebook marketplace is a great way to pull in high-intent, first-time buyers.
4. Will online marketing be a priority for OPE dealers in the year ahead?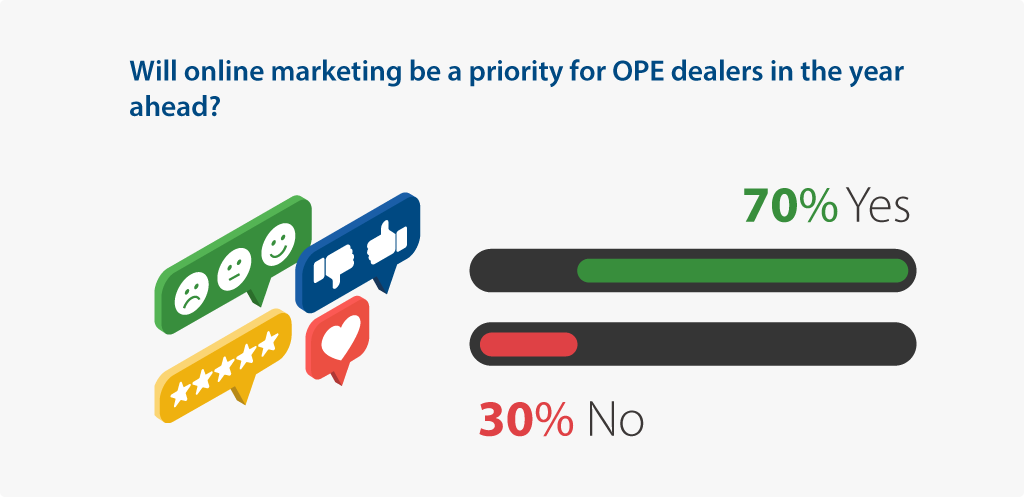 Online marketing goes hand-in-hand with e-commerce. These days, your dealership's storefront extends beyond the brick and mortar. Customers expect to be marketed to online.
Many dealers recognize this and have invested more resources into building up their Google Business pages and Facebook My Business pages.
Dealership sales tools like TargetCRM enables dealers to communicate with customers via text messaging and streamline the process of asking for online reviews. Ideal Initiative Manager Tim Berman wrote a great guide on how to get more dealership reviews.
5. Are dealers using cloud hosting?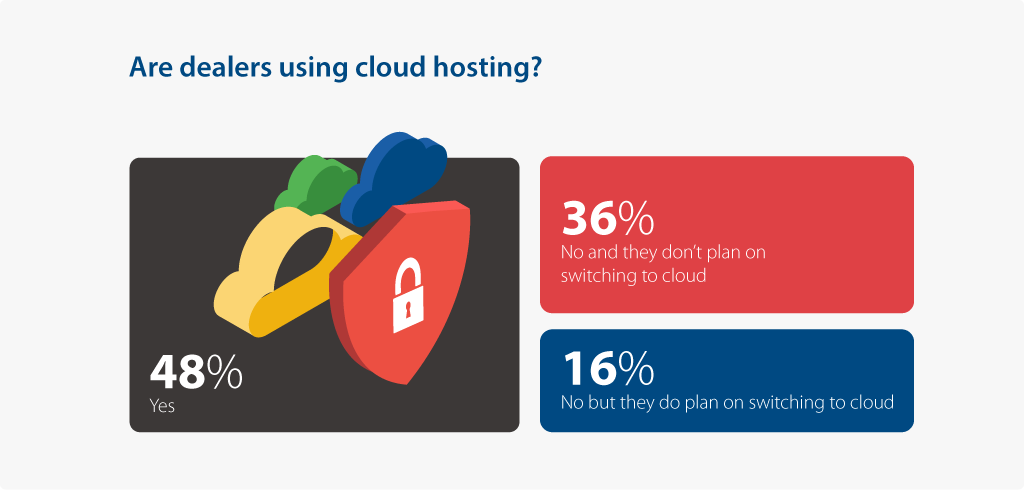 Ransomware is a growing threat for dealers, especially those who still rely on their own on-premise servers. Hosting your network on a dealer management system provider's cloud server can provide you with better security and faster disaster recovery.
48% of survey respondents said they are currently using cloud hosting, while 16% plan on switching to cloud. If you're still unsure if you're ready to switch to cloud hosting, we've got a great guide on what cloud computing is and how it benefits dealers.
6. Do dealers plan on using mobile apps for sales, service, payments and more?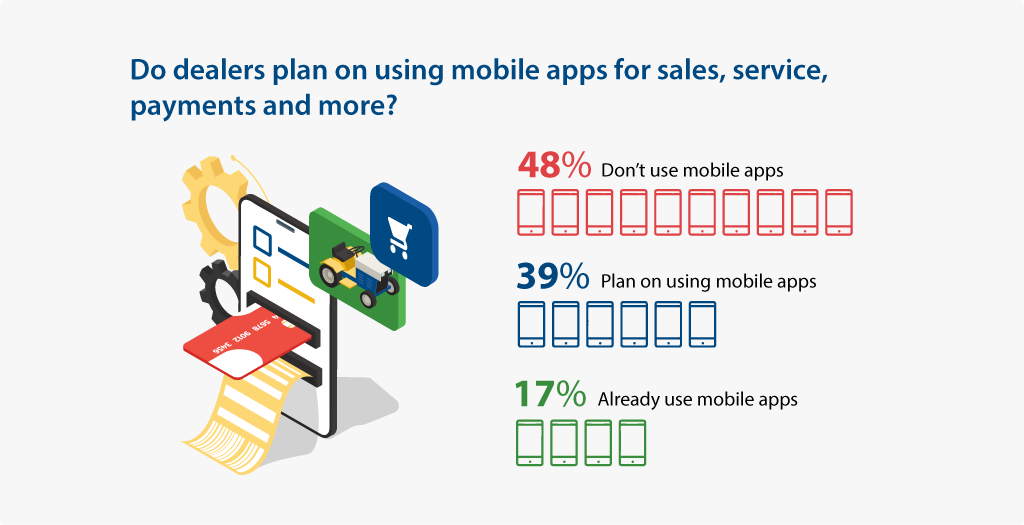 Mobile apps give your team the freedom and flexibility to connect with your dealer management system from anywhere, even on the road. We're seeing more and more mobile dealer apps enter the market, for all areas of the dealership.
Still, many OPE dealers have not adopted mobile apps for their business. 44% of respondents said they don't plan on using mobile apps in the year ahead, while a close 39% said they do plan on using them. 17% of respondents said they are already using mobile apps at their business.
7. Do dealers specialize in one manufacturer or multiple?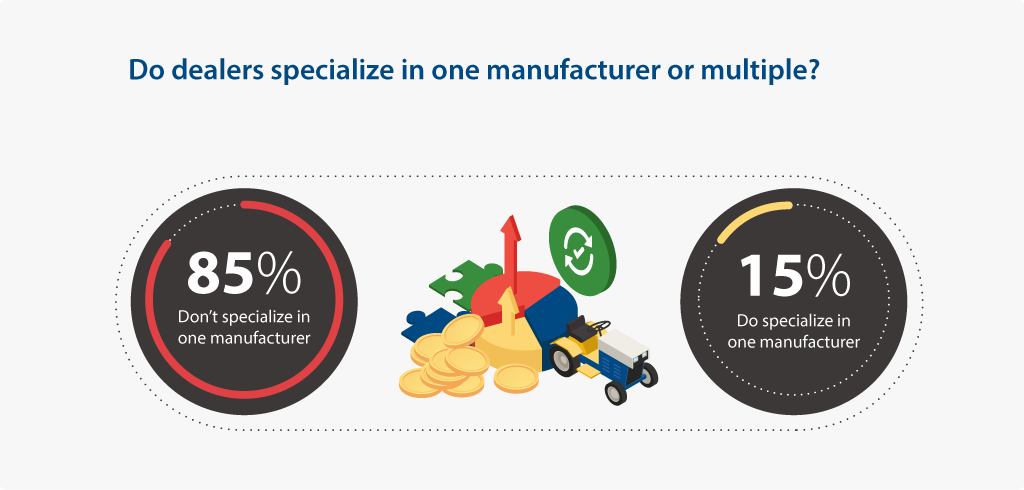 Most dealers surveyed work with multiple manufacturers – a whopping 85%. Only 15% of dealers surveyed specialize in one. With many manufacturers still experiencing supply backlogs, dealers with a diverse product line may be at an advantage.
8. Do OPE dealers plan on opening another dealership location in 2022?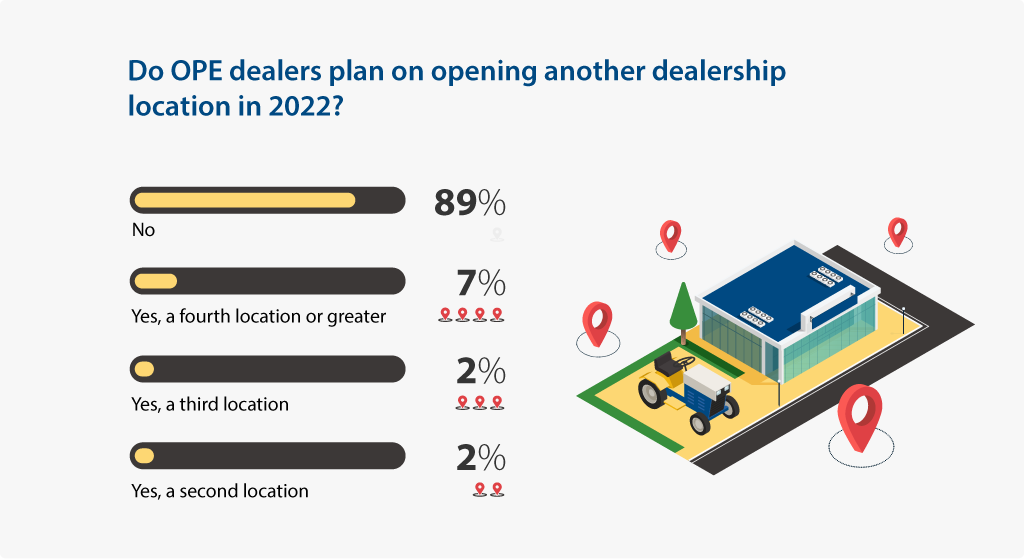 While the OPE market has been doing well on the whole, most dealers surveyed do not plan on expanding their business in the year ahead – 82% of respondents. 5% of respondents plan on opening a second location, while 8% plan on opening a third, and 5% plan on opening a fourth location or higher.
Will OPE dealers attend in-person events in 2022?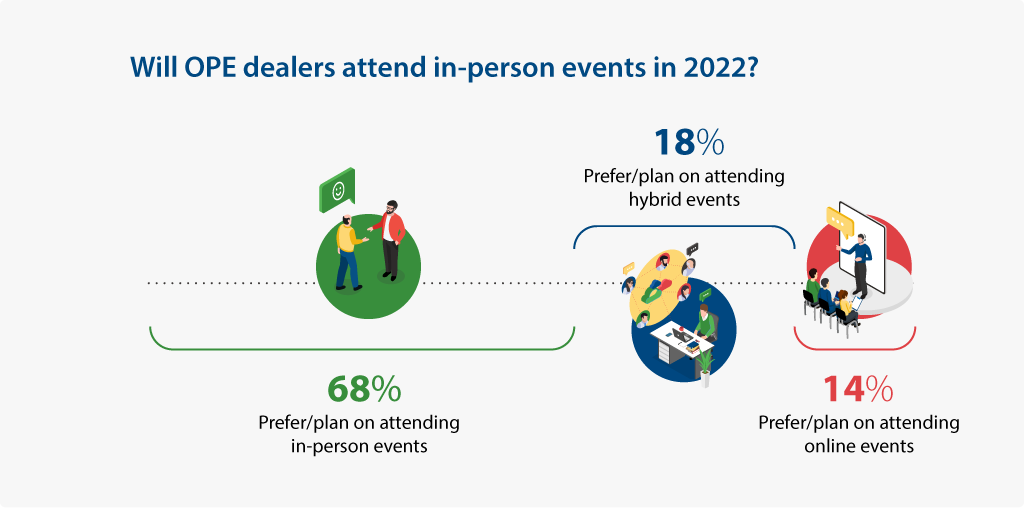 Pandemic safety restrictions caused many OPE groups and associations to move events online. But dealers are eager to get back out there and meet face-to-face. 68% of respondents said they prefer and plan on attending in-person events in 2022, while 18% said they would prefer hybrid events offering online and in-person portions.
Want more OPE industry trends?
The Ideal 2022 Outdoor Power Equipment Industry Trends Report is a comprehensive overview of what dealers will be focusing on in 2022. We've compiled insights from surveys, OPE industry experts, and hundreds of OPE dealers across North America.