How to Maximize Your Seasonal Profits: Expert Advice on Seasonal Inventory Ordering & Management for Dealerships

Click to Jump Ahead:
Are you tired of playing the guessing game when it comes to seasonal inventory ordering? You're not alone! It can be a challenge to determine what inventory to order and how much to order.
In this blog post, we've enlisted the help of Sara Hey, Vice-President of Business Development at Bob Clements International, for her expert advice on seasonal ordering, including projections for the 2023 season and advice on maximizing profits at your dealership during the busy season.
We'll also explore the key aspects of inventory management, how to manage your inventory, what to do if you have too much inventory, how to ensure you're ordering your seasonal parts correctly, and some other frequently asked questions.
WATCH HERE: Sara Hey's 5 steps to maximizing your seasonal profits
Select the link below to watch the video on each of the 5 tips
---
How Do I Know What My Seasonal Ordering Should Look Like?
When it comes to seasonal ordering, it's all about understanding your product mix. You want to ensure your dealership has complementary products, not competing ones.
This means providing a range of equipment for every stage of the customer journey, from entry-level push mowers to high-end pro-grade zero-turn mowers.
When evaluating your product mix, ask yourself where you fit in and strive to avoid having customers choose between very similar units.
The goal should be to have more complementary lines of seasonal inventory.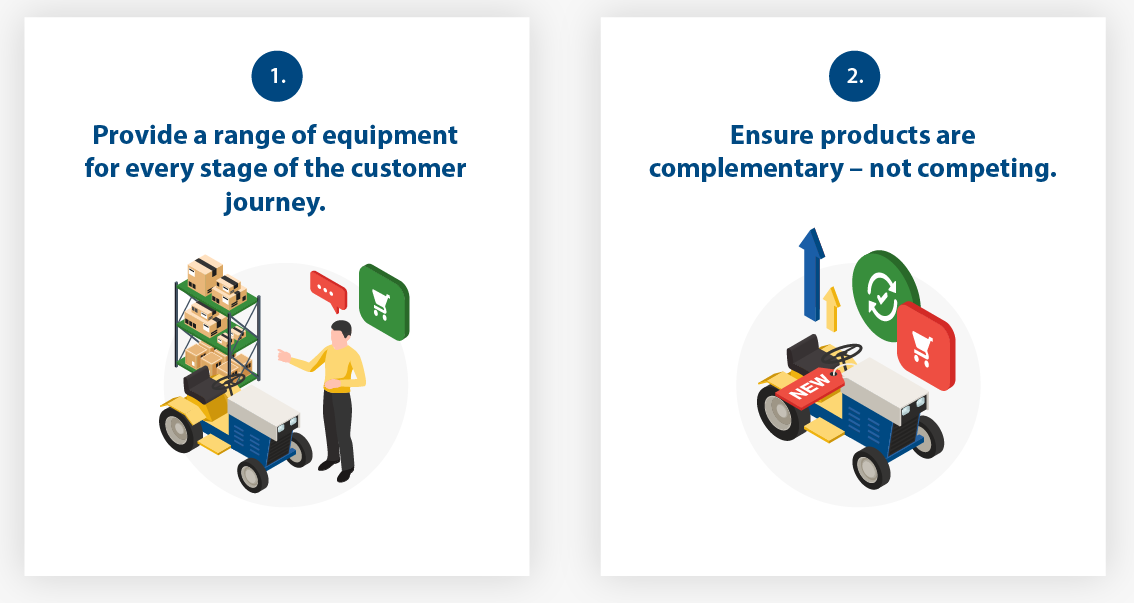 Do I have enough inventory to cover customer demand?
Manufacturers across various industries are experiencing a shift in customer demand, which is expected to change significantly this year.
Many dealerships are also beginning to have more inventory on their lot – more than they've seen in the past two years.
As a result, it's crucial to order enough seasonal inventory for the upcoming busy season so that there is sufficient inventory on the lot as you move through the peak season. This will help you meet customer demand and avoid running out of stock.
What if I am planning on growing a new segment?
If you're expanding into a new market segment, plan ahead and project what you'll need to succeed.
For example, if you're moving into the commercial business this year but you've been in the consumer or residential business, the commercial business will be very different. Be strategic and make sure you have the right whole good units on your lot for the consumers you're targeting.
Commercial customers can't be treated the same as residential customers. You'll need to have the right products, prices, and services to attract and support those customers.
If you're using Ideal dealership management software, TargetCRM gives you insight into your customers' buying habits and identifies those who may be interested in your upcoming season's inventory.
In TargetCRM, you can find a list of customers who have purchased from you in the last 5-10 years. This list is valuable because these customers likely have paid off their units, their warranties have expired, and they may be ready for an upgrade. Use this list to determine the potential demand for your new inventory.
---
What Will the 2023 Season Look Like?
Even if you've done your seasonal ordering – as we head into the peak season, now is the time to reset or adjust.
The industry trend is shifting back to the pre-pandemic levels of demand seen in 2019. Although the last two years have been characterized by high demand and low inventory, the situation is now reversing.
There's enough inventory to meet demand, but demand is going down back to 2019 numbers.
Despite the recent surge in sales in 2020-2022, it's important to remember that 2019 was actually one of the highest-grossing years in the past 3-5 years before that.
So even though it may feel like a downturn to go back to those numbers, it's important to recognize that we are still at a post-pandemic peak.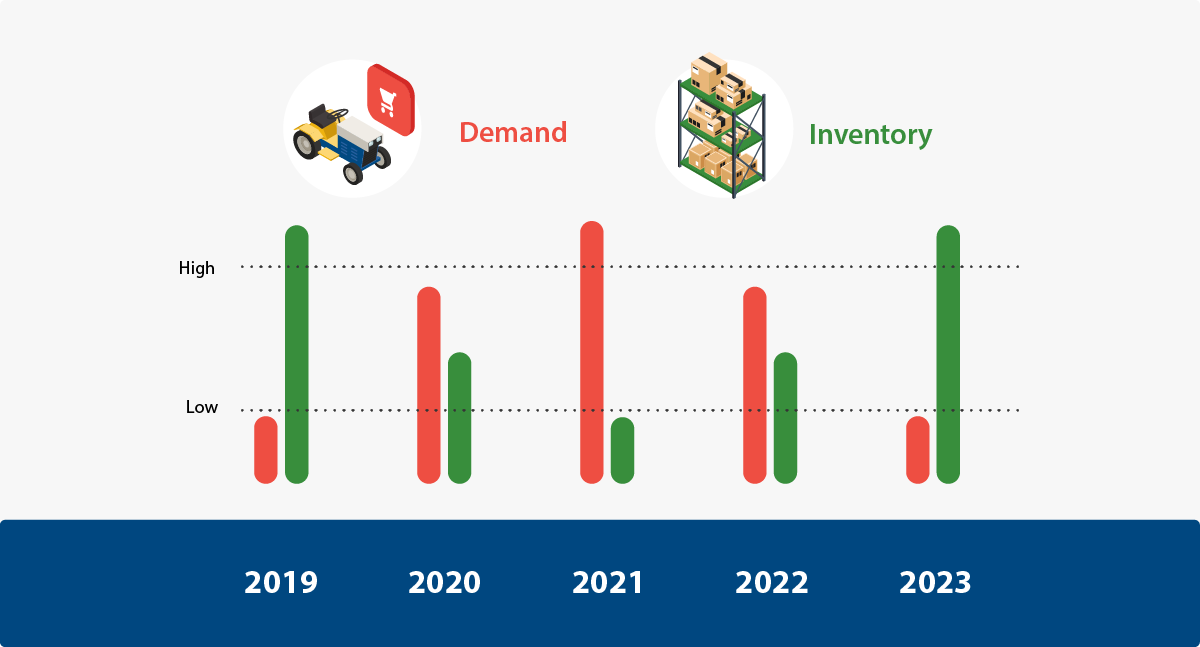 "After 2019, we start seeing these numbers go up little by little. This is the trajectory of the industry as a whole." – Sara Hey.
If your dealership was in business in 2019, examine your 2019 data and use it as a guide to help you make informed projections and inventory orders when it comes to seasonal or mid-season ordering. With Ideal, you can easily pull those numbers from the software.
How to Maximize Profits in Other Parts of Your Dealership:
As unit sales slow down, there's an opportunity to maximize profit in your parts and service departments.
This is because many consumers who purchased units in the last few years will need maintenance and repairs. When these customers bring their units in for service, you want to make sure that you add an extra 5% to the price of the parts that you sell through the service department.
This is because it costs you, the dealership, more to sell a part through the service department than to a customer at the counter.
Ideal has made it easy to add this 5% with a button that you can click when you sell a part to the service department. You can adjust this percentage up or down, but according to Sara Hey, "the majority of dealerships that we work with have 5% as their minimum."
---
How Do I Manage My Inventory?
When thinking about inventory coming onto the lot, inventory management is key.
It is crucial to have a process and strategy in place for managing inventory, regardless of the amount of space available for storing it.
Every time a new piece of inventory is received, it should be inputted into your dealership management system (DMS) to ensure that it is accounted for and easily trackable.
This is particularly important for floor checks, where it is necessary to know where all inventory is located, but also for maintaining the integrity of our inventory.
Sometimes orders arrive at inconvenient times and people may avoid dealing with them but it's crucial to have a clear process in place to manage these orders and ensure they are promptly addressed.
"What I have typically seen work best is when there is one person inside the dealership who is responsible for new inventory coming in. Whether its parts or whole goods, they are the keeper of the inventory when it comes in, and they are responsible for making sure it's put in the software effectively." – Sara Hey.
Keep Updated Information on Your Website: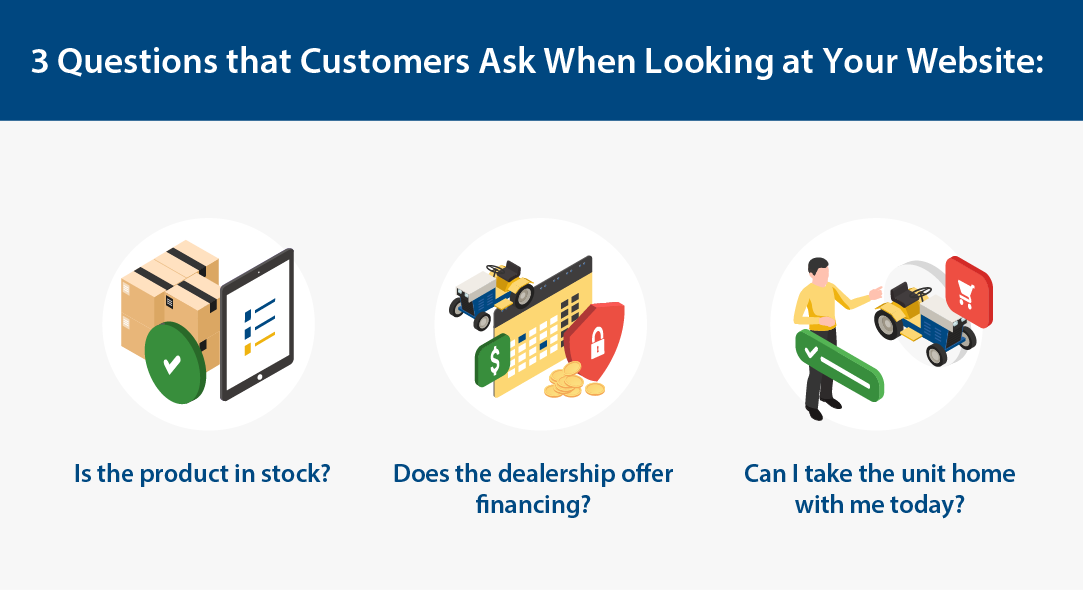 Having your inventory information in your software allows you to ensure that whoever is managing your website – whether it's you or an outside company – can keep your inventory up to date on the website.
This helps you increase sales since your website is usually the first place potential customers go when looking to buy new products.
To meet these expectations, you need to have accurate inventory information in your system and communicate with your website manager to ensure the information on your website is up to date.
If you're using Ideal for inventory management, you can do cyclical parts counts of your inventory. Ideal lets you pull a list of parts you need to do inventory for on a daily or weekly basis, whichever suits your dealership's needs best.
This is a major improvement over yearly parts counts, where you must shut down the parts department and count all of the parts at once. By utilizing Ideal, you can avoid this inconvenience and streamline your inventory management process.
Using Ideal's Parts Locator for Managing Inventory:
Ideal also has the Parts Locator tool that can help you manage stagnant inventory and quickly find parts when you're in a bind.
This tool allows you to connect with other dealers who may need the inventory you have on hand, enabling you to move old inventory more efficiently. On the other hand, when you urgently need a part, you can quickly search Parts Locator to locate it at other dealerships.
Seasonal inventory can be overwhelming, especially during peak season, but by having a solid plan for inventory management and leveraging Ideal's tools, you can take your inventory management to the next level and gain better control during your busiest times of the year.
---
What if I get too much inventory?
According to Sara Hey, "another common question when it comes to season ordering is: what if I get too much inventory?"
While this has not been a common occurrence in recent years – the situation is different this year – as many dealerships have lots filled with excess inventory.
As an owner or manager, it is essential to have a plan in place to avoid ending up with excess inventory at the end of the season. While this may seem like a desirable outcome, it is important to adjust our mindset to adapt to the current situation.
How do you know you're ready to do a blowout sale of your inventory?
There are three things to ask yourself:
1. What amount of inventory do I need to get through the end of the season?
"Typically, I like to see blowout sales happen in mid to late July because we still have some season that we can sell into," notes Sara Hey.
2. When is the peak buying time for products?
If you typically have peak buying times in April or May, don't have a burnout sale in July. You want to make sure you have our blowout sale when you're hitting the peak or right after the peak. This will give you enough time to still move through the inventory on the lot.
3. When will my inventory be due for floor plan?
This is the most important question. We want to avoid having excess inventory that we cannot sell and end up having to pay interest on. When we have a clear understanding of these three things, then we can address what to do with too much inventory and doing a blowout sale.
These three steps will ensure that you are prepared to handle any inventory situation that arises throughout the year.
How Do I Price a Blowout Sale?
With Ideal's TargetCRM, you can make sure that you have the correct information for your customers or potential customers, especially when a blowout sale is on the horizon for you.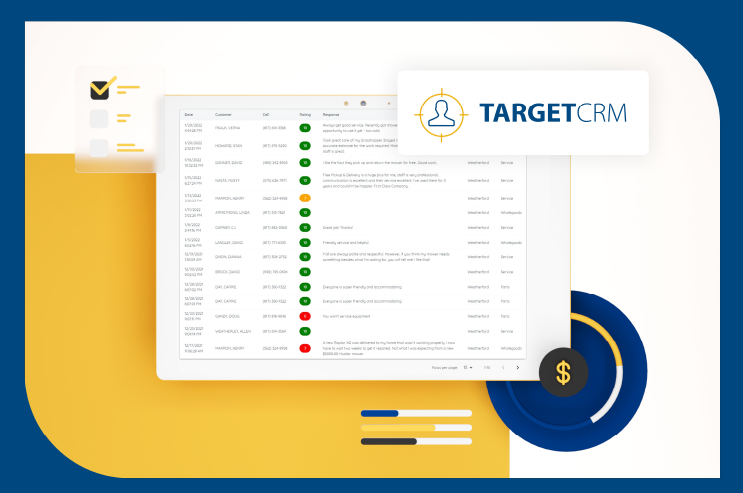 However, it's important to note that a CRM only works well if you've entered accurate and complete information before you need it. While it may seem like yet another task to add to your to-do list, having a plan in place for this is crucial.
At the very least, you should have the person's name spelled correctly, their physical address, and their cellphone number so that you can send them a text message when the time comes.
For instance, if you were planning a blowout sale in July to clear out inventory after peak season, you could go through your list of people who expressed interest but didn't buy and send them a text message and a mailer in the mail. Later on, you could follow up with a phone call to ensure they're aware of the sale.
"We never want to lose money on a burnout sale, but typically, it's between a 7-10% discount on what we'd be charging the customer." – Sara Hey
---
How Do I Make Sure I'm Ordering My Seasonal Parts Correctly?
At the national dealer meeting in the fall, we analyze our future needs by making predictions to decide what parts we need as we move through the year. While this can help us pick out discounts, we need a better strategy than simply taking the plain stocking order.
In the past few years, due to difficulty in getting parts, we've accumulated excess inventory in our dealership. However, as we look at the inventory coming in for the 2023 season, we're not expecting such extreme scarcity. So, we need to make logical decisions for our parts department, starting with determining our phase-in and phase-out part order numbers.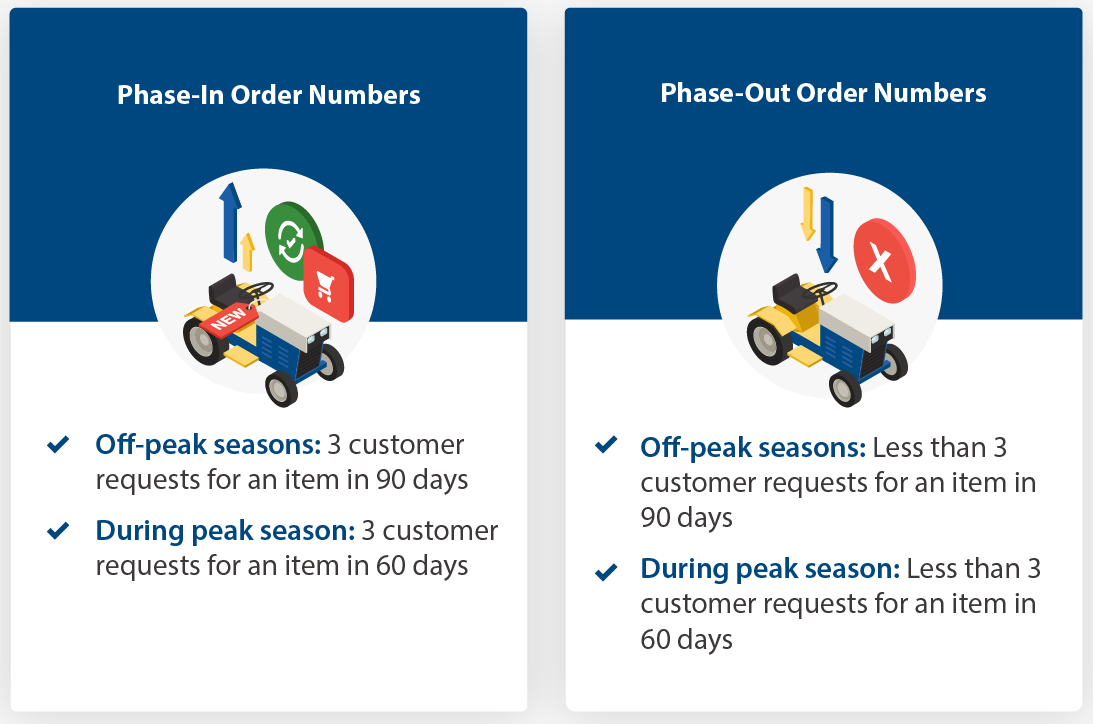 What are your phase-in and phase-out order numbers?
This means deciding how many customer requests for a part we need before we start ordering it regularly for our inventory.
For most dealerships, the threshold is three requests within either 60 or 90 days, depending on the season.
During peak season, we'll err closer to 60 days. During a slower time of year, 3 demands in 90 days is when we're going to phase that part into our standard or stocking inventory. The opposite is also true. If there are fewer than 3 demands in 60 or 90 days, depending on where you are in the year, we are going to start phasing that part out of our parts inventory.
Ideal gives you the ability to adjust your phase-in and phase-out numbers as you go through the season – taking the guesswork typically involved in parts ordering out of the equation.
How to Calculate Your Lost Part Sales:
The second thing to consider when it comes to your seasonal ordering strategy is calculating your lost parts sales. A lost part is one of the most overlooked things when running a parts department.
When a customer comes to the counter with a broken unit, they are eager to purchase the necessary part to fix it. As a servicing dealer, it is expected that the part is available, but if it's not, the customer becomes frustrated and turns to online retailers.
This missed opportunity is referred to as a lost parts sale.
It is essential to have a process in place within your dealership management system to track lost parts sales because they indicate customer demand. Based on the time of year, dealerships can adjust their inventory levels to ensure that lost sales are minimized and customers are satisfied with their experience.
During the peak season, it is recommended to reduce the parts inventory to approximately 30% of what it would be during that season. That is, come up with a strategy to ensure that your dealership has sufficient funds available to place new orders and to sustain the business during the slower season without relying on credit.
It is crucial to develop a plan that suits the specific needs of the parts department and make sure that parts are one less thing to worry about during the season.

Seasonal Inventory Ordering Doesn't Have to Be a Guessing Game
Seasonal inventory ordering can be a calculated process that involves evaluating your product mix, understanding customer demand, and projecting future needs. By taking advantage of advanced dealership management software like Ideal, you can maximize your profits during peak season and beyond.
With the right tools and strategies in place, you can successfully navigate the ups and downs of seasonal inventory ordering and set your dealership up for success.
Frequently Asked Questions:
What is seasonal inventory ordering?
Seasonal inventory ordering is when a dealership buys and stores a certain amount of inventory that is specific to certain times of the year.
What should I do if I'm unable to meet customer demands?
It is important to communicate with them regarding the situation. You can suggest alternative products or advise the customers when they can expect the product to be available. Additionally, you can proactively reach out to customers with updates on the product and its availability. Communication is key to avoiding customer frustrations and potential losses.
What technology solutions should I consider to streamline my ordering process?
Automated ordering systems can quickly and accurately place orders with suppliers, reducing errors and costs associated with manual processing. Cloud-based software may also be used to keep records of inventory and orders, as well as track customer preferences and purchase history. Point-of-sale systems can be used to make the payment process easier and ensure accurate tracking of customer purchases.
Can I automate my seasonal inventory ordering?
Automating order recommendations is an excellent way to ensure that your dealership is well-stocked and ready for each season. By setting up seasonal
minimum and maximum ordering
levels within your ordering system, you can set it up to alert you when it's time to order more inventory as the season approaches. This will help you stay on top of inventory and ensure that you don't run out of key items.